Otos eat brown and green algae. You can tell if an oto is well fed because his tummy will be like when a betta is bloated. Unlike other fish this a good sign for catfish (especially otos). It means he is eating well. The N#1&2 causes of death for otos are stress and malnutrition (not in quantity but quality). First of all you need a group of three to make them feel safe and the tank to be heavily planted and have hiding places (especially in an area where it doesnt get much attention / is not readily accessible, i.e. usually the back of a tank). An oto is perfectly happy when eating algae, however a group of 3 will most likely strip any brown and green algae growth in months (unless you want to replicate the conditions for algae growth on purpose and keep it well supplied, usually direct sunlight and plant ferts help). Assuming you dont maintain a constant algae growth rate, you must provide algae wafers as a primary diet. HOWEVER this is not going to keep them healthy and strong. Zucchini, cucumber, spinach and fruit are essential and not to be used as treats. They need their nutrients to make them live longer and fortify their health.

Otos are fragile and while they live a long time most die without their owners knowing the reason. Malnutrition and stress are those reasons most of the time. They cant persists on algae wafers alone.

To answer your question in regards to them stopping eating the algae: No they wont but they will reduce their efforts because they will be fuller. However you dont need to provide wafers and vegies every day. You need to find a balance of shorts. Also remember that it is young otos that are hunting down algae. Older specimens will grow lax and if you feed them every day with ready foods they might stop altogether (something bad for their health too).

Sorry for the huge post. I feel i know the diet and health issues of ottos better than i do for my own species. :p

EDIT: Otos will not cause problems to your betta. They are bottom feeders and he most likely will be exploring the upper/mid sections of the tank. If you keep a lot of plants they might not even see each other.
---
Last edited by Pilot00; 09-02-2012 at

04:44 PM

.
Wow, thanks for all the great information Pilot. While my tank is heavily planted with silk and live plants, and there are tons of hiding places, my tank is only 6.6 gallons. I thought I did all my research but I guess I didn't do enough as I was not aware that ottos needed more room than that and that they needed to be in groups of three or more. Adding more is not an option so I'm going to try to rehome him if the pet store won't take him back. Thanks again for all the info, now I know for future reference.
My otos loved their cucumbers XD
I kind of miss them :)
spinach also works very well.
They eat a lot! I'd put a cucumber in, and there would be a skeleton left hanging on the string in 24 hours :O
They cleared all my algae in one day too!
here's a photo to share :D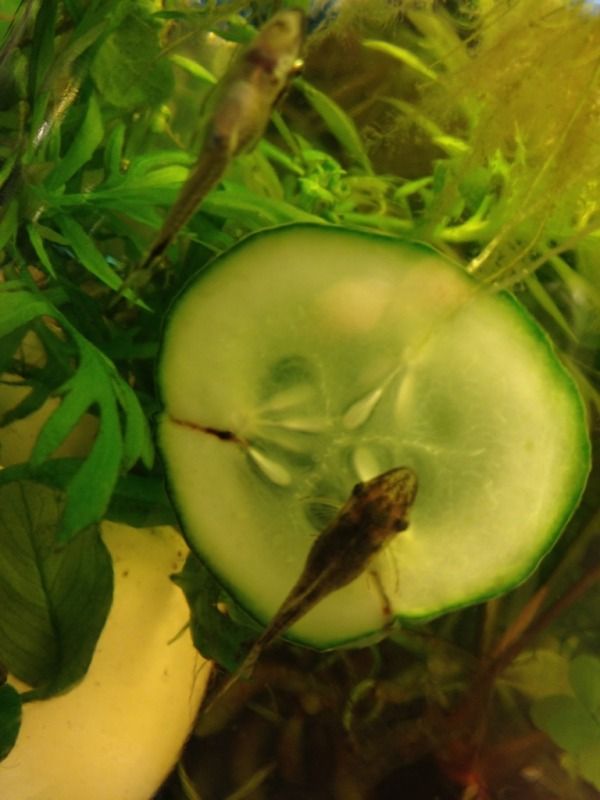 Banned
Join Date: Jul 2008
Location: Central Texas
Posts: 27,607