Emerald Cories (keep or return...)
---
I should have read up on them before I bought them, but I really didn't know what the Petco nearby would have (they're only pet store within 30min drive).

I looked around and knew I wanted some cories for my 10gallon. I asked the guy helping me in the fish department, and he said they'd be fine, but that they stress unless you have minimum of 3. After bringing them home I did some reading. Apparently they'll need a 20 gallon tank and are really optimal with 4 minimum.

I'm strongly debating returning them and getting a smaller cory. (I really do love the look of the emeralds, but they get 3".)

Unsure and worried about what to do, I'll call petco and ask about their return policy. What do you guys think?
*also suggestions for smaller cories that would work in a 10 gallon tank would be great. OTL
... going to be returning them *sigh*
I love the emeralds, but they really will just be too big. I've been reading around that Oto cats would be an optimal switch.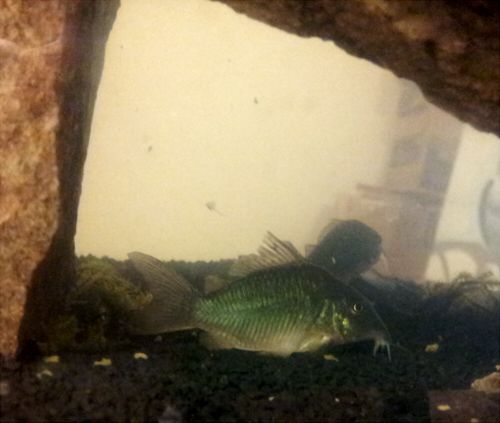 I'm going to miss the emeralds though.
Any other suggestions for a 10gal?
---
Last edited by Anne Dyari; 09-20-2012 at

02:51 PM

.
Member
Join Date: Jul 2010
Posts: 3,026
I have 3 spotted in a 20 gallon and yes, in a 10 gallon I think they would be squished. There are dwarf and pygmy cories but you will have to special order them from Petco. Be sure to quarantine any new cories, the last one I got from petco died within a day and for a week after that 3 of my sorority girls died also.
It's important to QT new fish
Will def. quarantine next time, how long is typically a good amount of time?
Member
Join Date: Jul 2010
Posts: 3,026
at least a week, sure wish I had done so
Pandas might work, I've got some and they are pretty small. But I'm still new to cory keeping.
Try the pigmies, get six of them and you will be set.