Feeding Otos
---
I recently brought home two otos who have been sucking every last bit of algae out of Michael's half of the cycled 10 gallon. They're active, chubby little dudes; I wanted to feed them hikari algae wafers, but I'm having one little problem.

Michael insists on eating the wafers.

He gorged himself on it last time and I ended up fasting him for 36 hours and giving him 2 pellets a meal instead of three last night and this morning. I just put another wafer in and the booger found and started eating in within 10 minutes. Should I swap over to using blanched veggies for a little while? Or break of the wafers and scatter them? I'm concerned what getting the wafers could do to Michael, but obviously don't want my little hoovers to go without.
---
Eliot Ness, DeT, & Little Girl, VT.
J Edgar Hoover, Pleco; The Cavalry, Tetras;
John, Rodney, Carson, and Ronin the Cory Cats;
Snap, Crackle, Pop the Black Kuhli Loaches.
Sammie Rae & Ianto, DSHs
You can break apart the waffers and feed them a smaller amount. Most fish will eat a lot thinking that they wont find food for a long time.
---
Be a master of water and the fish will follow
Most ottos ignore wafers and would prefer to starve to death...
there is a brand of food called repashy.. where you can paint the food onto surfaces and what not....

otherwise, you can always feed them blanched veggies. I used to microwave a slice of cucumber or spinach. squeeze out the water reallly well. and let it in into the tank tied to a piece of string/ oral floss.
I use a plant weight and drop zucchini into my tanks. They eat that up. :) Just give them about 18-24 hours to start eating it.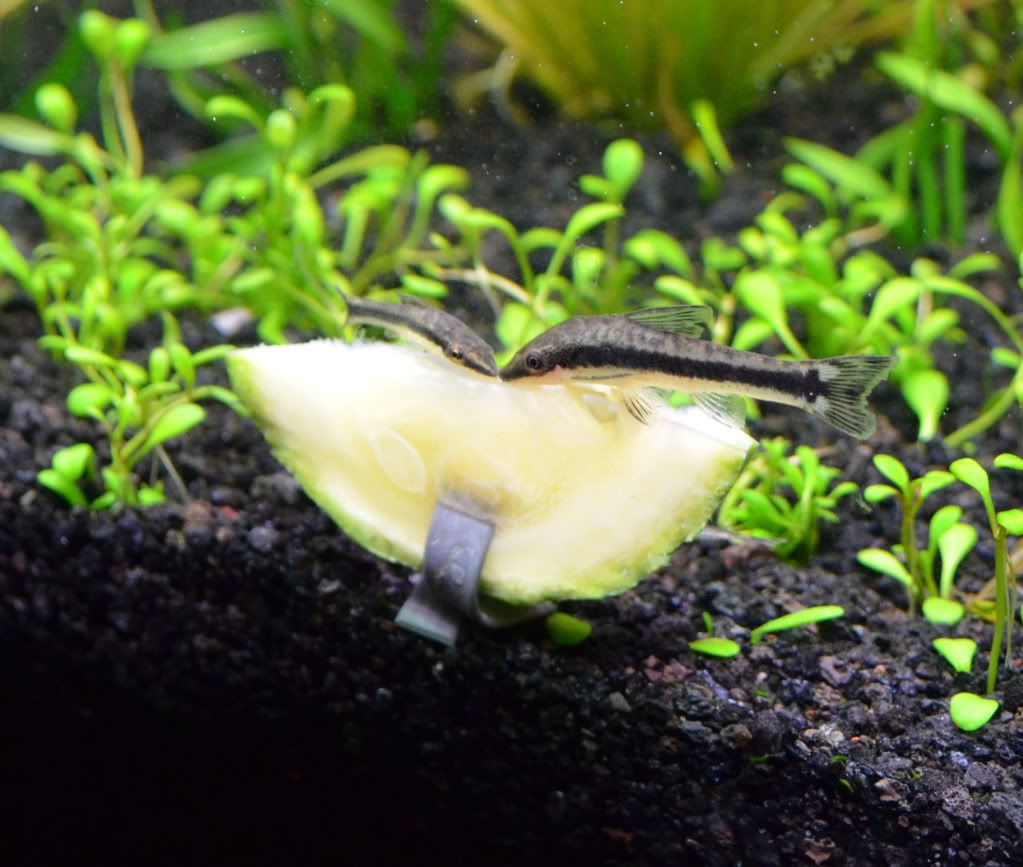 That's a supercute photo! And a great idea--I'll definitely try that.
---
Eliot Ness, DeT, & Little Girl, VT.
J Edgar Hoover, Pleco; The Cavalry, Tetras;
John, Rodney, Carson, and Ronin the Cory Cats;
Snap, Crackle, Pop the Black Kuhli Loaches.
Sammie Rae & Ianto, DSHs
Similar Threads
Thread
Thread Starter
Forum
Replies
Last Post
How many otos

Shockadine

Betta Fish Compatibility

13

11-09-2011

03:18 PM

Could I add some otos?

puppyrjjkm

Betta Fish Compatibility

1

09-23-2009

07:07 PM