Well, I just noticed them this morning. I'll see if I can get a picture at some point. So far she's fannnig them and being a good mom, curious to see what happens...
Quote:
mine is dark grey and still fanning, too. and does she have a gigantic appetite. she even bumped my piggy Curious Grace in pursuit of food but CG beat her to it.
Hahahaha, same with my pregnant shrimpy. She goes nuts as soon as a particle of food touches the water. Its so funny, shes so cute!
---
10 gallon planted
- HMDT male betta, 4 peppered corys, assassin snails, Amano shrimp
10 gallon divided bare bottom
- HMPK male, 2 VT males
29 gallon sorority planted [journal]
- 6 females, 4 bronze corys, trumpet & nerite snails, 3 Amano shrimp
Well, she's still holding her eggs. FINALLY was able to get a pic of her eating some carrot with one of my otos.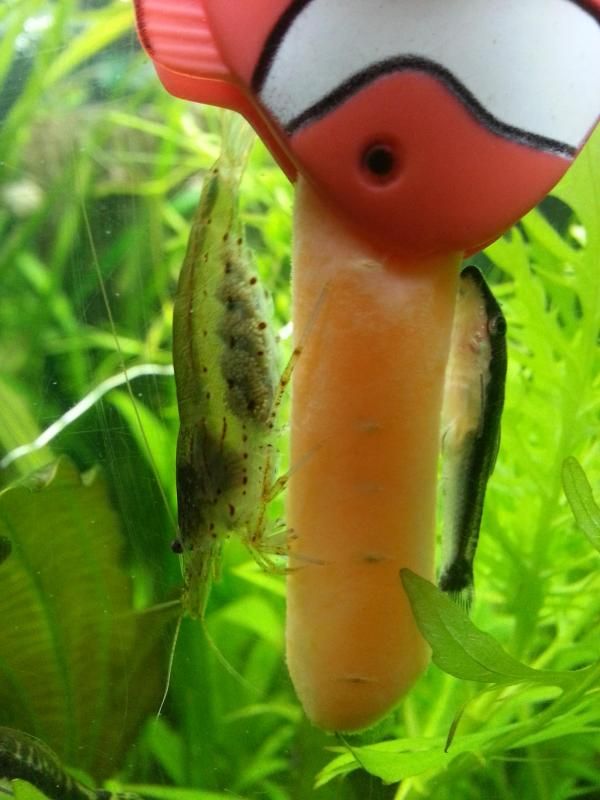 I just noticed that both my female amanos are carrying! They are so cute, and they look SO FAT now haha!
I'm planning on getting shrimps soon, how about crystal shrimps?
If you haven't had shrimp before, I would suggest you start out with Red Cherry Shrimp (RCS), Amano or Ghost/Glass shrimp. Red Crystal Shrimp are more sensitive to changing water parameters. The other three are more forgiving.
Someone correct me if I'm wrong; I don't mind...really.
That above statement is pretty much dead on start with red cherry or ghosties, ghosties are far cheaper and will give you some shrimp experience
The first time I tried ghosts they all died overnight (January 2012). Granted, in hindsight I did add them to a brand new tank after acclimation, one was harmed by the employee while getting caught so he died first and the other 2 followed. The spike in ammonia put my betta Lakitu in shock, and he died a week later. I was devastated.

So, this January (2013) I bought red cherry shrimp off a hobbyist, rather than a store, and gave them their own tank. They have since thrived and I have week old babies and another mama carrying eggs. They're so bright and fun. :)
---
"Education is the most powerful weapon which you can use to change the world." -N. Mandela
To my journal!
http://www.tropicalfishkeeping.com/j...ourami-592858/
I suggest starting with Cherries. Much more forgiving than Crystals. However I believe they have similar requirements.