If you could get some closer up pictures/videos of the two(that blue/MG and the Blue EE....the white EE looks feminine to me, its just those too seemed a little too manly IMO), I could probably tell you if they're male or not. Hold up a little mirror if you can too, to see how they react and get a good look at their beards/ventrals.
Will do! They are both gorgeous fish, but I don't want more boys.
It's tough to get the blue marble to flare- s/he a pretty laid back fish. When s/he does, it is beautiful. The blue ee flares more, but no on seems impressed. I've had a few sprint chases, posturing (awfully funny looking) but no nipping.
The one crisis: Two of my 5 corys were lying dead on the bottom of the tank this morning
I've lost 2 others b/f the tank had the girls. I noticed a marked difference in their behavior after I introduced the bettas- they seemed panicked. A few of the bettas were just too interested in them (the yellow betta is just smitten) but not in an aggressive way; just in a "are you another betta?" way. SIP, guys.
---
4 bettas: Butch, 3-year-old violet male PK EE & 3 girls in a 30 gal sorority. I do not name the girls anymore! 1/2 of them die within a month.
30 gal: 9 Oto cats, 4 Ocellifer cats. Inverts: Cherry shrimp & 2 assasin snails.
10 gal.: Butch, his 5 oto cats, 3 assasin snails, and a few snails the assassins haven't caught.
You may need to scoop them up and float them in a store cup(if you have one still)/other clear fish-safe floating container for a couple minutes to get a good picture/video of just them if you're having trouble, but just some kind of closer-up good shot where their ventrals and body shape(and possibly beard if you can manage to get either or both of them to flare)would be very helpful. :)

If they do turn out to be males....you can always post here on the Classifieds section to find them new homes. They're both gorgeous, I'm sure they'll go quickly. ;)

Hmm....what are the levels of your tank? And you're testing with a liquid kit yes? When was the last time you tested before the fish died and what were the levels then? Did you test after you removed the dead fish? And no other unusual behavior/change in physical appearance?
I got all mine from petco and one "female" was actually a very young VT male.
This:
Grew into this:
And you though you were breaking all the rules! I had my suspecions when the other young females I got at the same time stopped growing but his fins kept getting longer and longer. Normally when they age, they are supposed to get more aggressive but he never did.
However, some females do naturally have longer fins.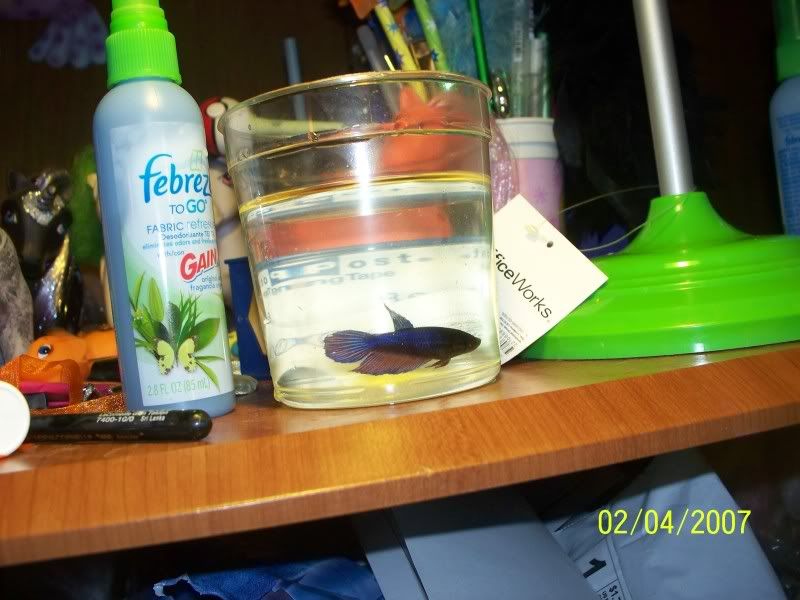 Is it possible the bettas harassed the cory's to death? Maybe some ground cover or places to hide will help. I use chiclid stones for my clown plecos - alot of people use PVC pipe for hiding places for them but i don't want ugly pipes in my tank.
http://www.walmart.com/ip/Underwater...ndingMethod=rr
---
---
Last edited by Tikibirds; 01-11-2013 at

11:55 AM

.
great girls, hope u have good luck with your tank,keep us updated
Do you only have one EE? I've always been curious as to whether or not an EE might be targeted more by the others because of her large fins.
---
Veyron Sprite Ayala
S.I.P. Okami, Bahari, Lotus, Mercy, Daihatsu, Ascari, Kuraokami, DaBaDee, Zenvo, & Stella <3