Thoughts? (cory's)
---
I recentally set up a 20 gallon tank and put my betta in there. He looked so incredibily happier in that one than his 2.5 gal (go figure, right?) I was origionally going to put a group of corys (pand cory) in the 20 gal, but now I have to give it a little more thought.

Will my male betta get along with 5 corys? Corys usually stay at the bottom, so I'm thinking that they wouldn't hardly be in eachothers way very often (in the event my fish turns out to be the aggressive type). Corys aren't exactly very "flashy" so... is this a good match? I'd hate to have to put my little love back into that horrid 2.5 gal again -.-...
I've seen so many people put this mix togeher. I'm sure if you provide with enough hiding spots and plants the match should be fine. Just so the betta doesn't get stressed. I had a few corys with my old male and they were fine. I guess it all depends on the fish.
Well panda cory like cooler water (low to mid 70s) so I'm not sure that's a good fit. I'm not sure how'd they do long term in a tank that is kept more like 78-80 as that is hot for them. No cory really likes warm water but some tolerate it better than others.

Sterbai cory, Amapa, Flag Tailed Panda Cory, and Emerald have higher upper limits around 80-82.
---
Last edited by callistra; 01-13-2013 at

07:19 PM

.
I've got dwarfs, albinos, and peppered with my sorority right now and they all get along just fine. (only the dwarfs are permanent residents)
Its definitely worth a shot. Mine are with females, but my females have never paid attention to them, so i can't imagine that they would bother a male either
I've been dying for some pandas!!! Lucky!! I found some today for the first time but they were so pricey it would have been cheaper to go through AB
---
10 HM, 3 HMPK, 5 HMPK fry
8 German Blue Ram, 5 Green Dragon BNP, 4 Albino BNP, 4 Calico BNP, 6 Red BNP, 5 Kuhli Loaches, 2 ADF, 7 Peppered Cories, & 6 Tiger Endlers + Fry
12 full time tanks, 4 NPT, 6 QT/Breeders
Member IBC
Thankyou! I was confident but I wanted to make sure that no one ever had their betta turn chainsaw massacre on them xD I trust you guys more than the "fish experts" at the pet store anyway..

As far as the water temp.. I could always take it down a few knotches. I'm sure my betta wouldn't lose his mind over a few degrees, keeping it still within his preferable range.
I have just moved my betta and a couple of Skunk cories into a ten gallon. The betta has chased them a bit, but they are so much more nimble than he is that they're not in any danger. I'm going to get a couple or four more when I can find a seller.
My Panda corys get along really well in the sorority tank. Betta and Panda completely ignore each other for the most part. I run my tank at 78 and had no problems although Pandas do prefer a lil cooler. Important to do regular gravel vacs with pandas as barbles could get infected if tank is really dirty. Great lilttle hard working fish very entertaining when the play in the bubbles and school in formations.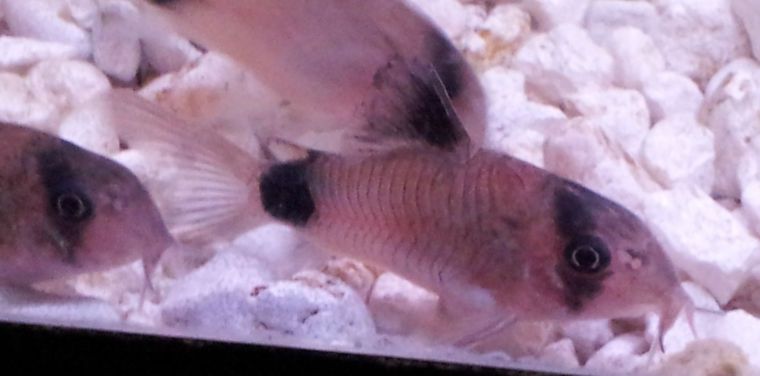 ---
Proud IBC member
we've got some leopard (julii) cories in our sorority and no one bothers them at all.
---
So remember, when you're feeling very small and insecure,
How amazingly unlikely is your birth,
And pray that there's intelligent life somewhere up in space,
'Cause there's bugger-all down here on Earth.

Godric/Eric/Sookie/Frodo/Sam/Vlad/Rasputin/Genghis/Hannibal/TARDIS/
LaVey/Crowley/Dahmer/Ripper/Al/Thor/Skadhi/Freija/Sunna/Mead/Mani/
Loki/Grendel/Gail/Beowulf/Camilla/River/Bathory/Arwen/Lafayette/Deb/Jack Skellington (soon)
My 5 or 6 emerald corys do fine in my 55 gal sorority. Mine are pretty active tho. They're all over the place. I love to watch them swim and search around.
New Member
Join Date: Dec 2012
Location: Virginia Beach, VA
Posts: 41
Quote:
My 5 or 6 emerald corys do fine in my 55 gal sorority. Mine are pretty active tho. They're all over the place. I love to watch them swim and search around.
I have a couple albino corys, and they are ALL over! Nice to see that mine aren't the only ones. They were all like that in the tank I got them from.