Member
Join Date: Feb 2013
Location: Alberta, Canada
Posts: 542
A tale of two sororities, with pix and questions
---
I have two sororities, one with 9 pet store bettas (20g) and one with 6 AB girls (also 20g, cycled wth tons of fake plants and hiding spots. They were supposed to be in a 33g but having a few issues with the canister filter at the moment, will be hopefully adding a few more females into the 33 gal when I get it sorted out.)
The "pet store" sorority has been going on for about three weeks. When I first put them all together there was... a little bit of chasing. That's it. I was pleased and relieved. Everyone seems to get along well so far. No problems.
The Aquabid sorority... Put them all in yesterday morning because I am free and able to be home all weekend. Two of the females hate each other. I will call them fish #1 and fish #2. Lots of flaring and posturing and tail slapping. When the biting started I removed the one that I thought was the more dominant one (fish #1) and put her in a containment tank that hangs in the main tank. After that, things were pretty good, some flaring and chasing but nothing too scary. Fish #2 alternated between patrolling her newly won territory, and resting wedged under a piece of driftwood or other hidey spot, as she was clearly tired out from all her flaring and patrolling. Fish 2 is now the alpha fish, and everyone backs down and she doesn't try to hurt anyone if they submit to her will. Fish 1 is still in her containment tank as of this morning, and not very happy about it at all.
My question is what to do about fish 1 and 2. Should I take fish 2 out for a while and introduce them both again at the same time? They both seem fine, more or less, with the other fish as long as everyone respects them. But neither one of them will back down to each other. I have a feeling that fish 1 will be living her life alone, which is fine and i have extra tanks ready knowing that this might happen, but I will try again if there's a chance I could make it work. Suggestions, comments, etc. are welcome and appreciated.
Here's a few pix.
Fish 1 in her containment tank.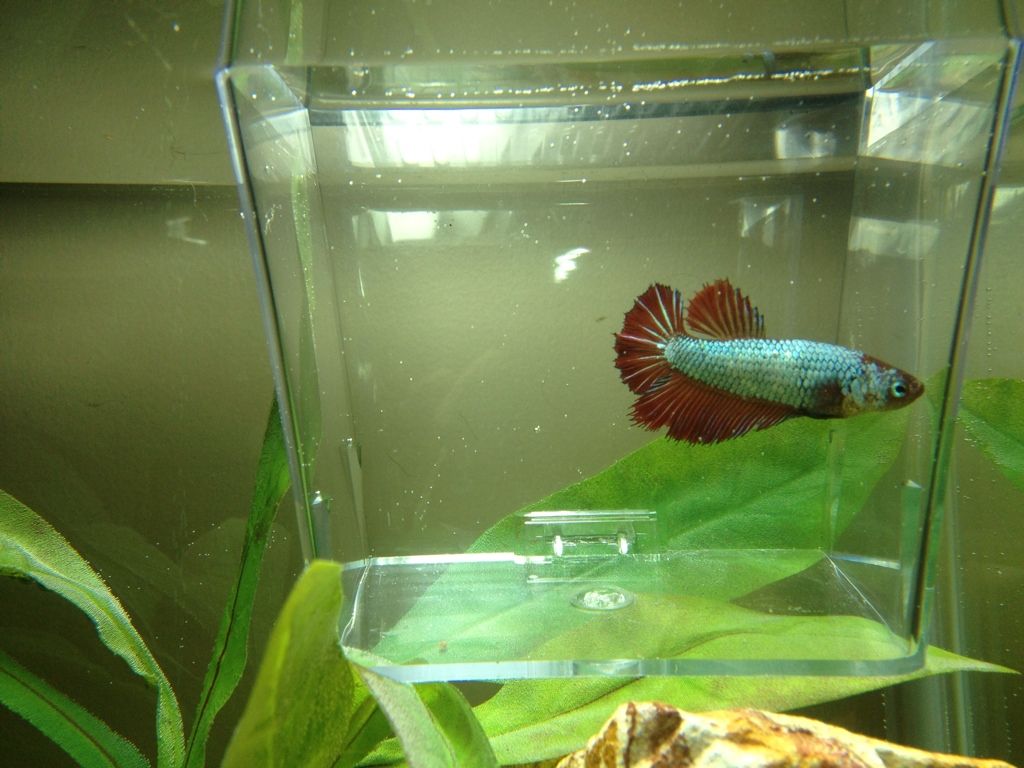 Fish 2.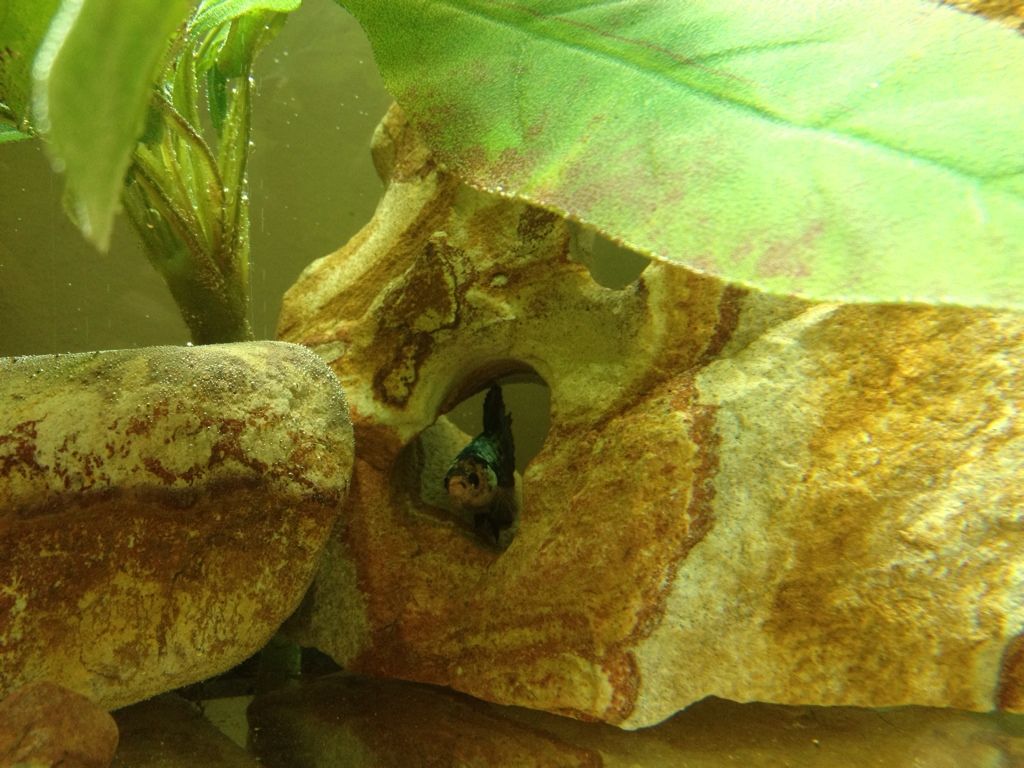 Fish 1 and 2 (both on the right) hating on each other.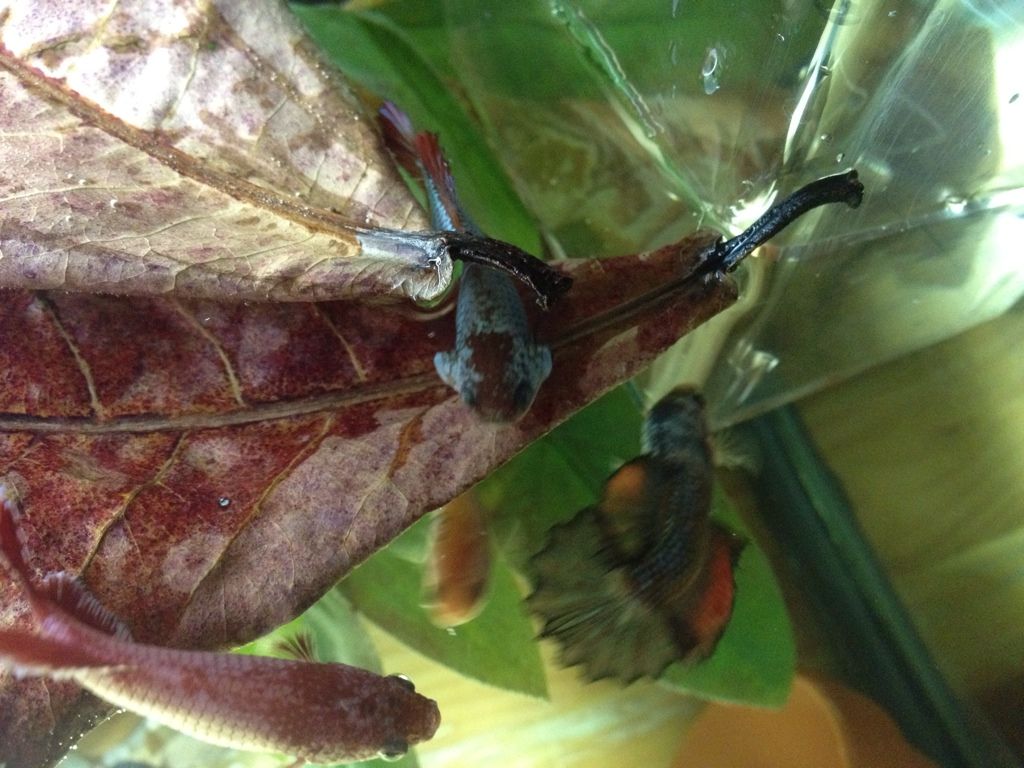 A few more random pix of the girls.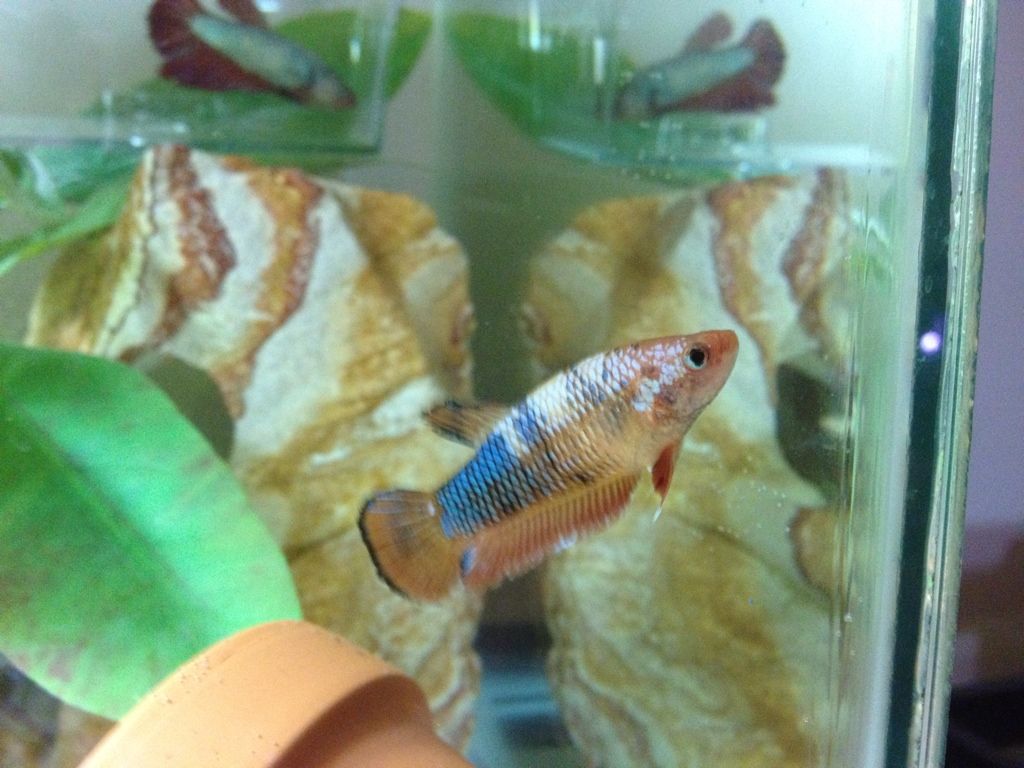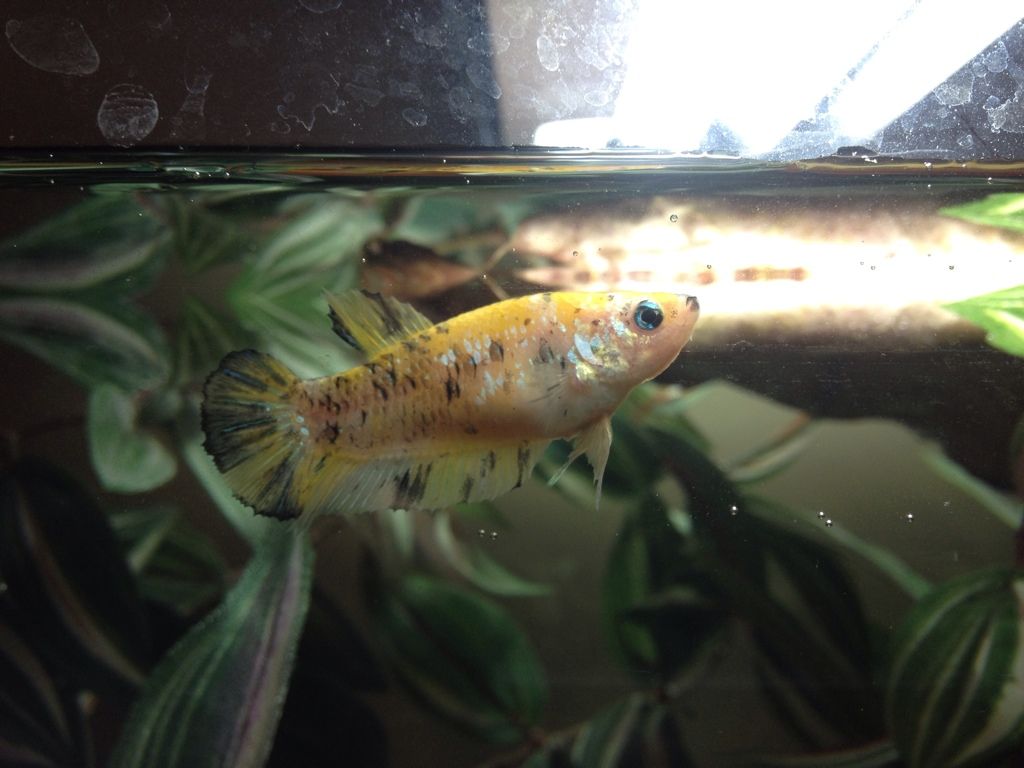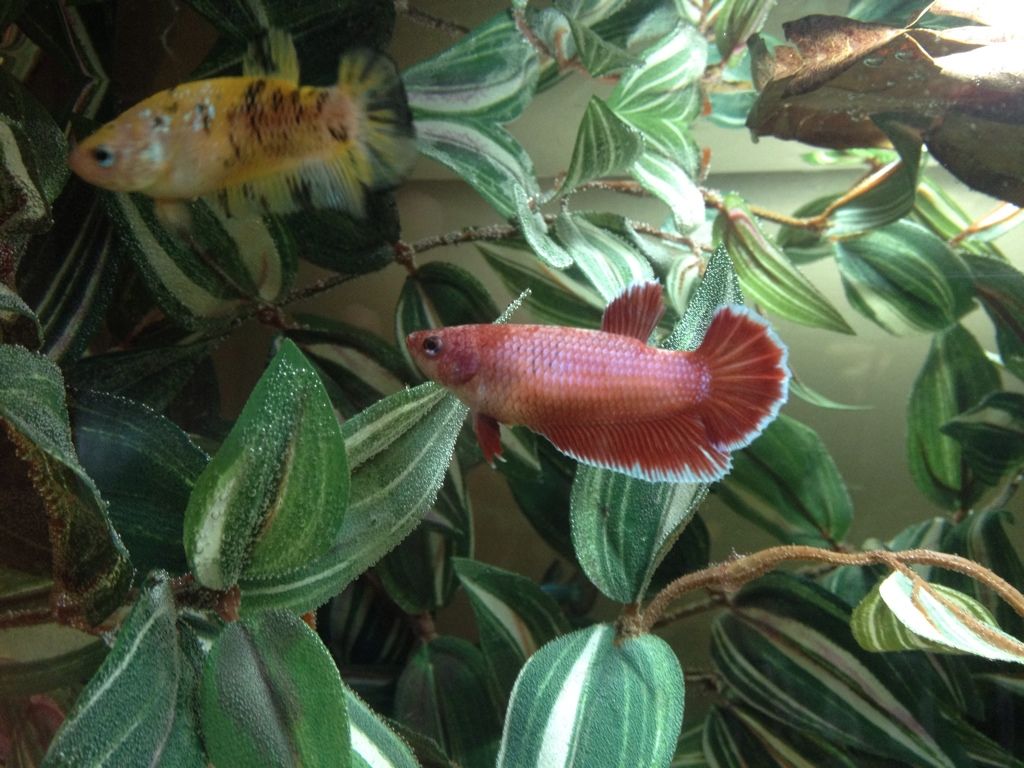 I would let her out of the trap... She might squabble with the alpha for dominance but that is normal. Unless one is getting beat up leave them together.

Is the koi girl an hmpk?
Member
Join Date: Feb 2013
Location: Alberta, Canada
Posts: 542
Thanks Matt, I'll try it. I might need a drink first... Stressful.
Yep she's a HMPK. Ain't she pretty?
If those two are going at each other to the point that they are starting to inflict serious damage and they are ignoring every other female in the tank, I would be inclined to do what you have done and place one of them into a breeders' box.

Your females don't look like they are extremely young, and it is not uncommon for two mature females to fight if one or both are introduced into a sorority. I noticed that when I used to introduce adult females into my sorority, many would find the biggest or most dominant female and pick a fight exclusively with her.

You can try keeping her in the breeders' box for a couple of days. It will allow both her and the other female she is squabbling with time to get used to each other's presence without constant fighting.
---
Member
Join Date: Feb 2013
Location: Alberta, Canada
Posts: 542
Thanks LBF. I reintroduced girl 1 back into the tank about an hour ago, and things have been much better so far. She seemed almost embarrassed by her previous behavior and went to each fish and reintroduced and apologized. (ok, projecting some human attributes here I know). She swam away when fish 2 flared at her. Hopefully itll work this time!
Yeah, I've found that with a lot of females, being in the breeders' box makes them more submissive to the others.

Good luck with your sorority. You have some beautiful females, reminds me very much of my previous sorority with all the marbles.
---
Pretty is an understatement! I love hmpk.

I use breeder boxes for time outs if any of my girls were being nasty... They are especially useful in the first couple of weeks.

Where in Alberta are you again? (I forgot lol.)
It seems like your questions have already been answered so I just want to say, they are BEAUTIFUL!
---
Veyron Sprite Ayala
S.I.P. Okami, Bahari, Lotus, Mercy, Daihatsu, Ascari, Kuraokami, DaBaDee, Zenvo, & Stella <3

Member
Join Date: Feb 2013
Location: Alberta, Canada
Posts: 542
Thanks Ayala! Matt, I'm way down south in Fort Macleod.
So update, still going well. Fish 1 is like a different fish after her time in the breeder box. If someone flares at her, she just swims off. Obviously, I'll be keeping a close eye on them. I have to go to work tomorrow, but I can come home at lunchtime to check on them. Here's a group pix.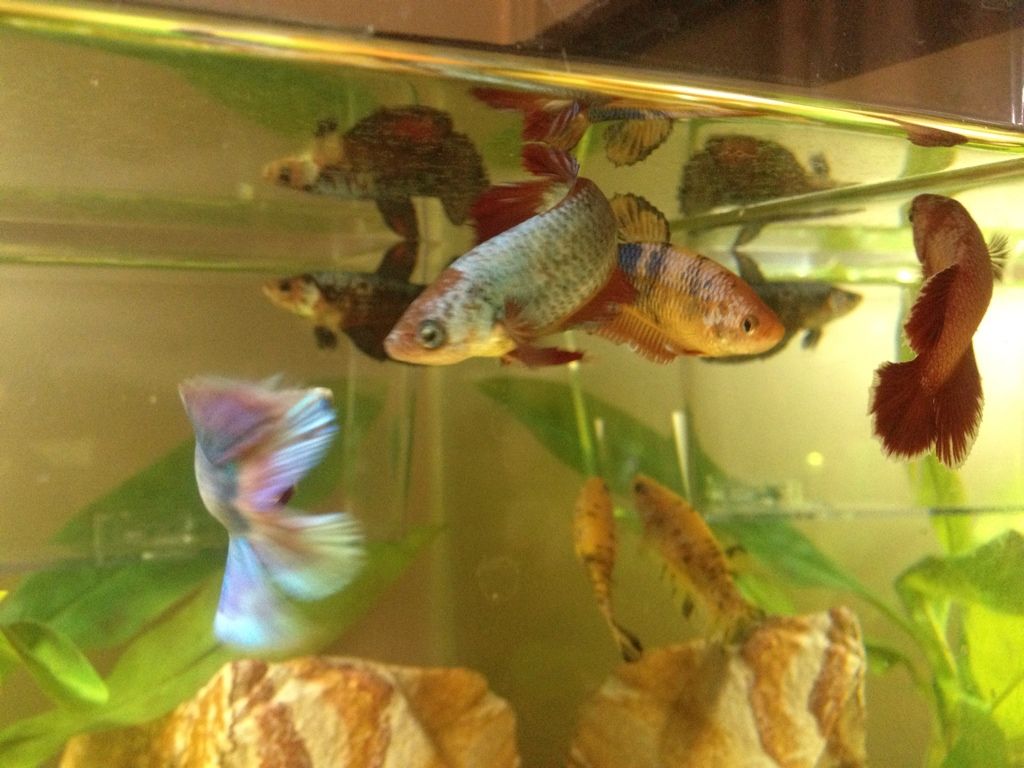 Fish 1 is in the middle.
---
Last edited by percyfyshshelley; 05-05-2013 at

09:06 PM

.
I am new to sororities and have only had one set up for the last few weeks...but I had something similiar to this with two of my girls. 24 hours in a floating cup and they've been fine together ever since. (And the really bad one actually *BIT ME* when I went to scoop her into the cup, she was quite the little tyrant, lol!) I can't quite tell who's the most dominant between the two (actually three now, one of them has grown up quite a bit and has decided that she's tough... ;) but they get along fine and will even eat together now. :)
---