Yeah, in addition to the cooler water, hill stream loaches (possibly dependent on the species, as there are many) are a challenge to keep. I know a few people who keep them and they have a specially designed tank for them, with a MASSIVE linear turnover rate, simulating the swift currents in which they live.
I kept a betta in a 30 hex, along with black neons, orange flame tetras, neons, GBRs, kuhli loaches and a BN pleco. The 30 hex really wasn't a good tank for the loaches.
Sent from
Petguide.com App
---
125 - BGK, chanchito cichlid, pictus cats, silver dollars, palmas bichir

125 - cichlids (severums, bolivian rams, chocolate), rainbows ( turquoise, red), loaches (angelicus, zebra, kuhli and horseface), plecos (BN, RL and clown), denison barbs, tiretrack eel, pearl gouramis, betta
90 - Congo tetras, african knife, upside down cats, spotted ctenopoma, kribensis, delhezzi bichir
2.5 - betta

I had decided against the hillstream shortly after I posted this because I would rather have a group of otos because they are so adorable and interesting. I figure Female bettas will be less likely to fight with the gouramis and if not I've got a 10 gallon the females can go into.
I've kept platys with gouramis before and the only problem I ever had was giving the babies away fast enough. I have no issue with the tank being survival of the fittest when it comes to platy fry lol
I had a very placid male betta in with daisy's rice fish, microdevario kubotai, pseudomugil tenellus, mellis and gertrudae, MacCulloch's rainbowfish, fundulopanchax gardneri, celestial pearl danios, one kuhli loach (my brother 'donated' it to me) and several clown killifish.
The male left everyone alone except around dinner time, when he would chase everyone off and try and eat their food. He did try to eat my clown killifish when I first put them in, but then realised they were actually fish and left them alone after that.
He did have a slightly nipped tail, but since he seemed to enjoy having 25 gallons to swim around in I didn't mind.
It's only that I introduced fish without quarantine, infected everyone with ich and then sold the whole set-up to someone (she knew the fish had ich) so I didn't have to be bothered with treatment that I don't have it now.
---
New community
---
Hey everyone, this is my first post.

I recently started experimenting with a Betta community tank. Its 10g and has 3 albino Cory Cats, 1 platy, and my lovely male Betta Domino.

Any advice would be appreciated in a private message :D

Cheers to many more years with happy Betta Communities!
Uh, I don't even keep hillstream loaches and even I know that fast-moving water is almost a requirement for these guys.
Quote:
Restricted to shallow, fast-flowing, highly-oxygenated headwaters and tributaries characterised by stretches of riffles and runs broken up by pools or cascades in some cases.

Substrates are normally composed of bedrock, sand and gravel with jumbles of boulders, and while riparian vegetation is often well-developed aquatic plants are typically absent.

The most favourable habitats contain clear, oxygen-saturated water which, allied with the sun, facilitates the development of a rich biofilm carpeting submerged surfaces.
SeriouslyFish.com which I feel is one of the best resources related to fish says the above.
Also, I would think that their body shape is like it is because they have adapted to live in these fast flowing waters.
Quote:
Most importantly the water must be clean and well-oxygenated so we suggest the use of an over-sized filter as a minimum requirement. Turnover should ideally be in excess of 15-20 times per hour so additional powerheads, airstones, etc., should be employed as necessary.
Many fish can adapt to conditions outside of their desired environment. As you would know with bettas, there is a huge difference between surviving and thriving. I'm sure if you put your loach into a species specific tank you would notice the difference.
Also, just because someone is posting on a forum doesn't mean that they don't know what they are talking about. I don't have any qualifications but I'm sure I know more about wild bettas than 90% of this forum.
---
ok hee is elvis in his community tank with 2 sarpae tetras 2 ottos and some ghost shrimp here is a vid link vids are so much more fun and shows how a fish behaves....
https://www.youtube.com/watch?v=YR7DMjdiPtE
....now to derail the criticism comments yes tetra can be nippy yes tetras are brightly colored, yes elvis chases them around, yes from time to time they sneak up on him and nip him, but he could easily catch these fish and do serious damage to them, but he doesnt he just chases them around briefly and he has never tried to bite them in the 1000's of times I've seen him chase them, they have lived together for 6 months now and yep still alive, the ottos and the shrimp he does not even seem to see.......
My worry (although yes, serpaes are notoriously nippy, so it's good you haven't had that problem) would be stressed tetras from having too small a school. Ditto otos. Again, the line between surviving and thriving. :)

Lovely aquascaping, though.
---
Life.
Both my bettas turned out to be great community fish. My VT's first tankmates in his 10 were my otos. He blew his fins chasing them around, and their presence didn't help his tailbiting any. But then I added my corys- they were like a magic charm on my VT. They totally chilled him out. He no longer gets stressed by the otos, he stopped biting his tail. Sometimes I see him chasing the corys around briefly, but he doesn't put much effort into it- he seems to be playing instead of actually trying to catch them. He likes to sleep with them when they're grouped together, and I often catch him hanging out right next to one.
My HM is a big puppy dog. He so wants to play with the loaches in his tank. At night, when loachy madness breaks out, D'Artagnan will try to swim with them, mimicking their circles and back and forth swimming. The kuhlis totally ignore him, even crash into him. The hovering zebras run away from him. D'Artagnan stops swimming when this happens, like
hey wait guys...where are you going? I want to play, too...


The only problem I have is when I feed the tanks frozen food. Both my bettas end up with mysteriously huge stomachs- gluttons. I try to hide the food for everybody else, but I'm going to have to break down and start putting the boys in breeder boxes when it's frozen food time.
Sorry for the poor image quality. My camera stinks at night, and this is when loachy madness occurs. Kuhlis are in the top left corner, hovering zebras on the right, betta top right.
---
"People have forgotten this truth," the fox said. "But you mustn't forget it. You become responsible forever for what you've tamed."
-Antoine de Saint-Exupery


Member
Join Date: Apr 2013
Location: California
Posts: 375
This is my community 10-gallon. 6 Harlequin Rasboras, 1 nerite snail, 3 ramshorns, and of course Milo the betta. Everyone gets along great! Milo is very docile and doesn't seem to mind having 6 roommates.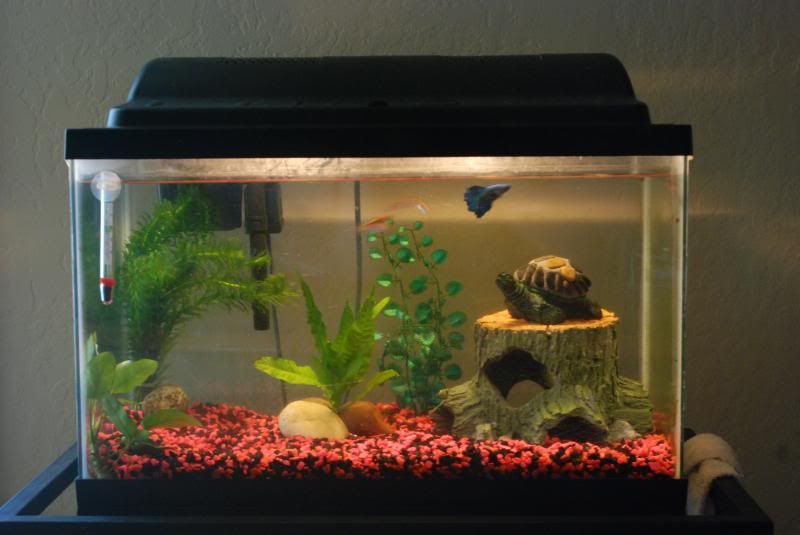 Oh - and can someone tell me, what is the plant in the back left corner called? I forget. It's nearly doubled in size! My snails love to hang around in it.
---
5.5 - Xerxes. Divided 20L - Henrietta & many snails.

Swimming in the warm waters of betta heaven: Milo, Dragon, Jasper, Shiloh.

Both tanks are lovely and look like great places for Bettas to play. I love threads like this where we can see what others have done with their aquariums. Thanks to ashleigheperry for starting it.

Graceful: The plant in the back is, I believe, anachris.
---
Last edited by RussellTheShihTzu; 06-01-2013 at

03:37 AM

.