This is sorority tank 1 33g community my oldest and most established tank. 13 HM, 3 CT, 1 VT betta. 7 Panda corys (I just love these guys), 6 Danios, 20 assassin snails. Plants are Java moss, Christmas moss, java fern. hornwart, moneywart, giant duckweed and duckweed.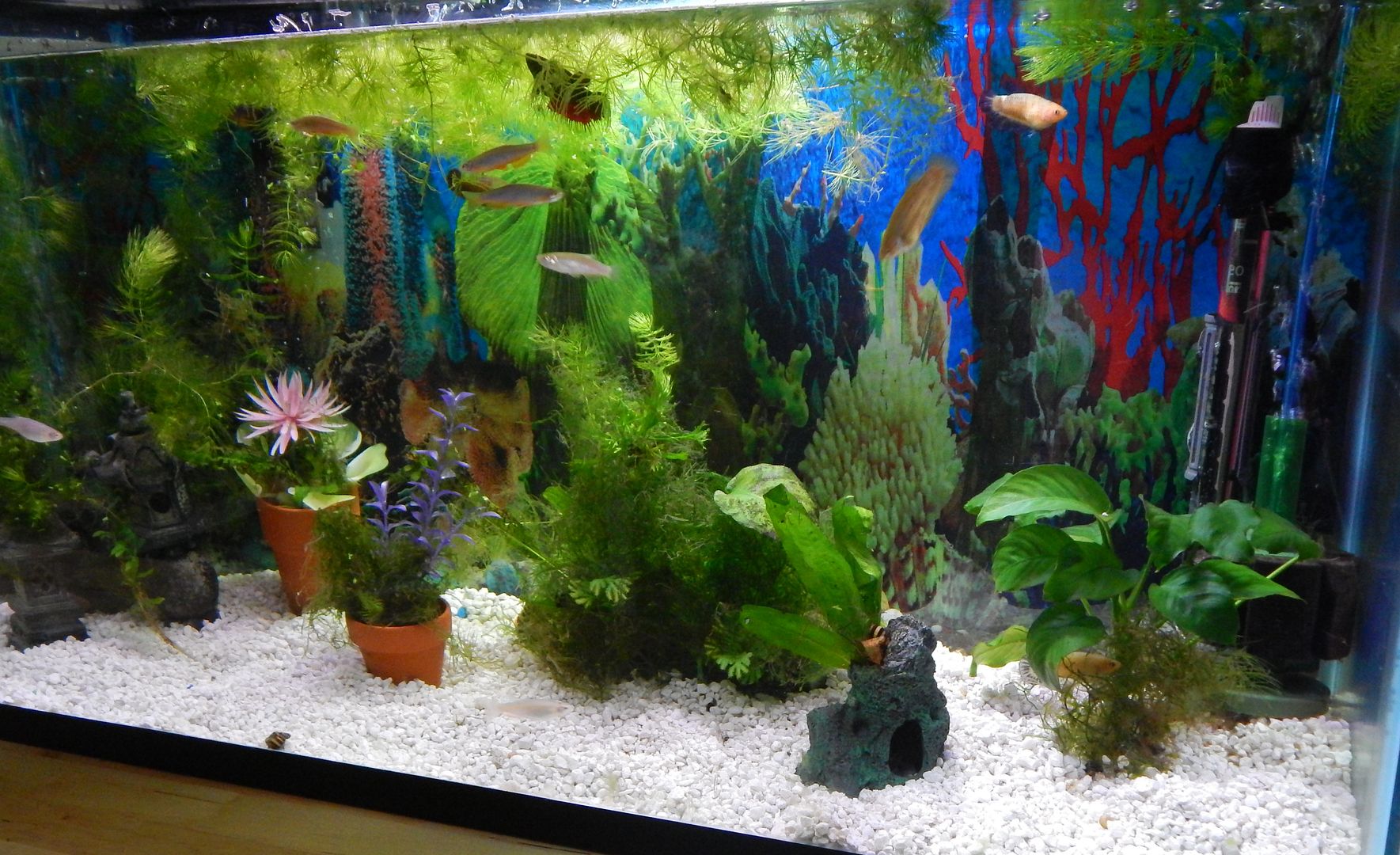 My tank and how it's changed since I started decorating it.
Logisticsguy, I love your setup, minus the danios for me, they were a pain in the rump for us. They would fight and pick at each other all the time, and when they'd try getting away from each other, they'd crash into the other fish and stress them out! So they had to go.

Peachii, you also have a very beautiful setup going on, I love the strip of blue sand against the white, it pops!

I have my sorority in with guppies, and too many varieties of bottom feeder, because my fiance is impulsive. >_> Luckily, when we move, I have 2 more decently sized tanks to spread everyone out into.

I'm planning on the 55 being a sorority (for either wild splendens or "rescued" girls) with some glass cats, and kuhlis to simulate an asian biotope. I have an old thread on here somewhere with all of the information I managed to dig up.

might post pics later.
Following!!! I just got a 40 gallon and am wanting to get ideas for fish and decorating.
This is just a friendly reminder to stay on topic as close as possible. If you feel you can not do this please do not comment. Follow the rules and This is a Family Friendly Forum, if you do not understand the rules feel free to pm one of moderators and also the Admin. Thanks !


Let me just add the if you do break the rules pm`s will be sent and infractions could be given out.
---
Remember the Light at the end of the tunnel may be You.
---
Last edited by Destinystar; 06-01-2013 at

12:54 PM

.
Wow logisticsguy I love your tank that is beautiful !

peachii very nice decorating, I so want that castle decoration, love it !

I am planning on doing a blue color summer theme on Peresus`s home soon. He has a 5 gallon but I am thinking he really would enjoy a bigger tank like a 10 gallon plus I could really decorate it more and also put in some more live plants. He loves to swim though things so I always keep that in mind when I decorate.
---
Remember the Light at the end of the tunnel may be You.
Perseusmom, what about doing craft mesh hammocks like the one Syriiven posted recently? It'd look a little less like a sore thumb that just mesh! Lol
Does Perseus living with pond snails count as a community tank
They are his only neighbors and sometimes he is rude to them like knocking them off his plants. I was thinking maybe of getting a bigger type snail but I suppose that might not be a good idea since he might attack it or something and I would worry to much for the safety of the snail.
Hey great idea Skye I might have to give that a try, thanks for the idea. Since I am planning on doing a blue theme do they make the craft mesh in different colors ?
---
Remember the Light at the end of the tunnel may be You.
---
Last edited by Destinystar; 06-01-2013 at

01:56 PM

.
nerites are pretty tricky to get at, from my experience
I have a male betta with 3 Pygmy Cories. They are all fine together.
---
Flame - Red and Blue Veiltail Male
Oswald - Blue Halfmoon Male