I agree with the others, put more plants in!! Really plant heavily so that your fish will have a LOT breaking their line of sight and preventing some of the chases that are inevitable. If it helps you, this is my ten gallon sorority. It's a freaking forest in there hahaha. The girls LOVE it.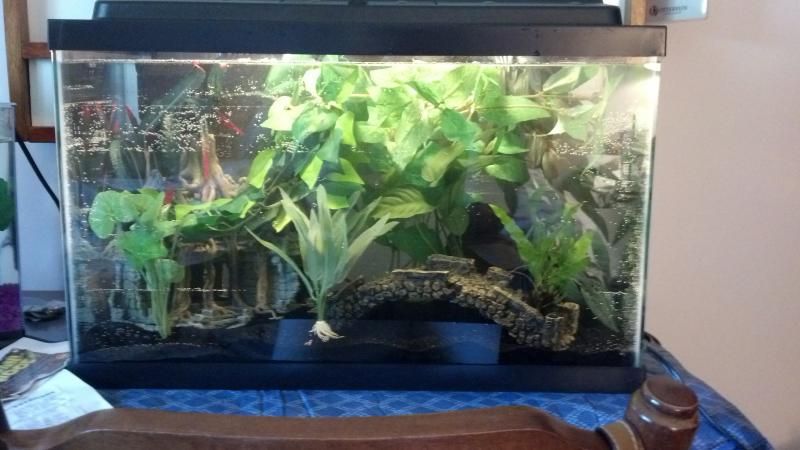 I'm a brown thumb, so I only have some java fern and an anubias. Other than that, everything is silk. My fish don't care, as long as they can hide in it... it's fine by them.
As for dominance and such, I have read in various places that red fish tend to be more dominant, and that crowntails can be very dominant as well. You really won't be able to tell until you get your girls in there, though... they'll work it out by themselves. The fish I thought was going to be on the bottom of the totem pole is the alpha of my tank and she keeps all the others in line despite being the smallest. We'll see if my crowntail dethrones her when she's released in a couple days, though.
---
Back after a hiatus.
Pongo - HMPK Koi Male
Onyx - DSH Cat
Wow that tank looks great! :D
I believe I would like just real plants, but camboda. Do you float it, or plant it?
It's a stem plant so it can be planted or float
---
10 gallon planted
- HMDT male betta, 4 peppered corys, assassin snails, Amano shrimp
10 gallon divided bare bottom
- HMPK male, 2 VT males
29 gallon sorority planted [journal]
- 6 females, 4 bronze corys, trumpet & nerite snails, 3 Amano shrimp
Okay thank you (:

I know I can't set up my sorority yet, but yesterday I went to petsmart and fell in love with a female blue betta... I'm going back today to get her :P