Thinking of a sorority?
---
I have a ten gallon tank, and I think it looks empty with just one fish in the tank. I'm not interested in creating dividers to house more male bettas in the tank. I have a side 2 gallon tank that my male can be moved to, so I can start a sorority.

The tank is planted, but will need a couple of more plants to fill out the area (which I'm getting next week).

How do I go about having a sorority, and what is everything I need?

How many female bettas can I house in the ten gallon?
(I have red ramshorn snails, and 2 cory cats in the tank, but I'm willing to make more water changes if needed :) Right now I'm making a 25% water change twice weekly, and one 50% water change weekly.)

I do have separate cups if needed for hospital tanks. I also have IAL.
For a ten gallon tank, I think the optimal amount of females is 6-8. I have read that it always best to have more than four, and to always have an even number of females. However, you already have other critters in the tank, so you may want to go with 6.

Make sure you have enough places for them to hide. If you post a photo of your tank, more people can probably come forward with advice on how to better improve the plant set up.
---
Males: Cobalt, Storm, Cloud, ????
Sounds like you have everything you need . . . lots of plants & some caves for hiding in. Most advise on 5 females for a 10g. If you have the right amount of filtration & your tank is fully cycled you only need to do one weekly 50% +\- water change. I keep a 5g tank for a hospital tank. I suggest checking an LFS for the females rather than Petsmart or Petco. My LFS has some beautiful females & they're kept in tanks rather than cups so my last two batches came from them. QTing them is advised since you have other fish in the tank but that's really up to you. I don't do what a lot of people advise as far as removing the existing females & re-arranging the tank, I typically QT them for a while then add them. The last 5 I didn't QT because I needed my QT tank for 3 bloated females I already had. I've just been keeping a close eye on everyone for any signs of illness or problems. Hope this helps at least a little.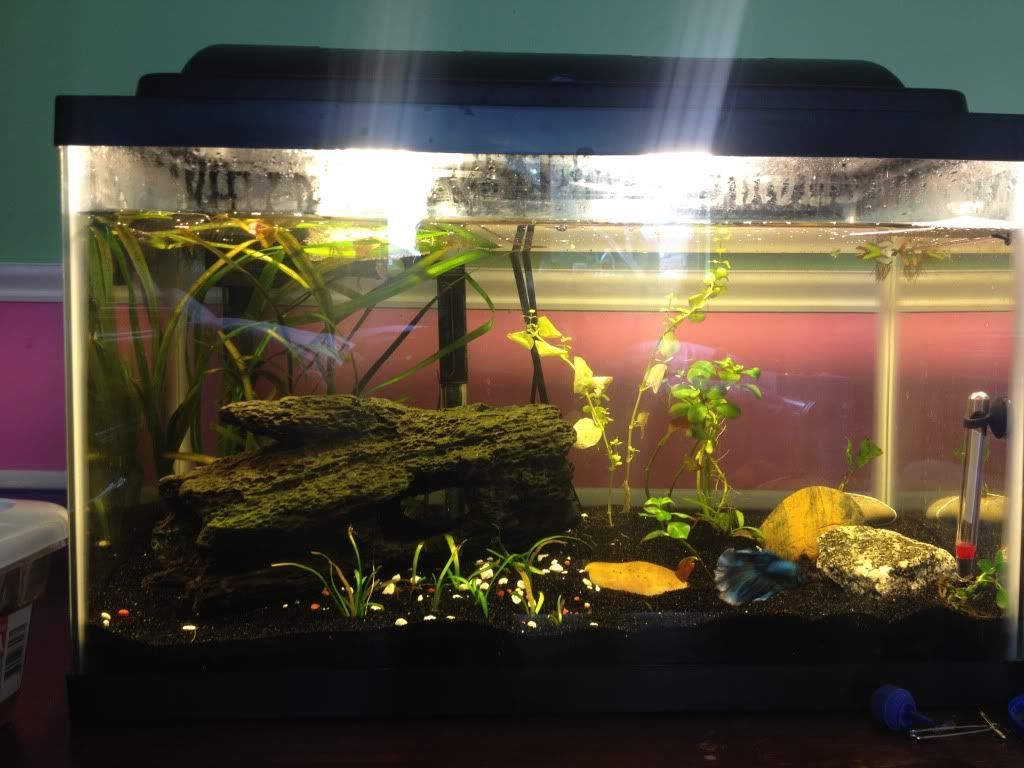 This is my tank setup. I also have duckweed at the top, but you can't really see it because it's a very little amount. (Started with 4 duckweed and in just a week I now have 15!!!)
I can get the pots too, and maybe order more plants online. But I was thinking of getting a large anubia from petco.
I don't have any lfs around me that carry bettas, so ill be buying them from
Petsmart and petco.
More plants!!! Get tons more plants if you're planning on turning this into a sorority. There WILL be chasing and nipping and such as your girls establish dominance, so you'll need a lot of things that break the line of sight and prevent any real damage from being done.

Sororities are a blast, I also have a ten gallon with six females currently. I have another two in quarantine, though I am still deciding whether they will go in, or if they will stay in their own tanks permanently. I think you'll enjoy having the girls, though... they're so much fun to watch!

I agree, get the girls from a LFS if you can. I actually got five of my females from the same tank at my LFS so it was helpful in that I got to put them in sooner (because they had already been living together so I didn't really need to quarantine... they were the first fish in the tank) and they had already been living together so they didn't spazz quite as much. Get a better variety of color than I did hahaha. I have almost all red fish in my tank! Just added little Hime for a splash of blue~

PM lilnaugrim if you want advice on sororities. She's the one I run to every time I have a question and she's super helpful!
---
Back after a hiatus.
Pongo - HMPK Koi Male
Onyx - DSH Cat
+1 about lilnaugrim. And a variety of color! I took care to find different colors of females for mine and we are set to be done with QT an releasing in 1 more week! :D Also, plants, plants, plants.... And if you can't find all real ones at first or you don't want to care for them then you can go with silk plants too~
---
~Rainbow Sorority Ladies 10g~, Mystique~ CT, Alexa~ CT, Lulah~ VT,Icelia~ CT, Goldeen~ CT, young unamed female.
Tangi~ GIANT VT on her own because of SBD 2.5g
My little man ~Mayim~ 5g
~I loved you Rainbow, you were the best~
~R.I.P. 5/12/2012~
I agree with above. Plant that sucker heavy! The more plants, the better. Stay away from real mossy types as, they bring in algae. My sorority is called the jungle and I have 7 in a 30 G. I can't even see the aquarium because I have so many plants.
---
Kelly Berrigan, OP, KS
All things bright and beautiful, All creatures great and small,All things wise and wonderful:The Lord God made them all!
Well I'm sure the plants will fill out too. I can't create the sorority until August 8, because I'm going out of town on the 30th.

When I come back, I will definitely invest in some more plants (: And get some young females of different colors for the tank.

I read online to put the least aggressive ones in the tank first before releasing the others. How will I know which ones are the least aggressive when I just got them?
The reason I say heavily planted is that, females also will be dominant and claim territory. They can beat up on another female or two. Heavily planted makes sure there is plenty of hiding spaces and territories. Just from my experience with 6 sorority tanks..the more plants, the better. No injuries :)
---
Kelly Berrigan, OP, KS
All things bright and beautiful, All creatures great and small,All things wise and wonderful:The Lord God made them all!