20 gallon betta - cory community - pushing it
---
Some of you may have figured out I been messing in Female betta communities again,
But trying it a tad different this time,

I started off with adding way to much Java moss and water sprite, I just crammed it full,

added about 12 cories,
Then dropped in two lots of Betta females 15 and 11 thats 26 in all
then added one docile red male, ( I believe he's getting a tad old) anyways,

I sat back and watched,
A few tried to fight but quickly got entangled in the java moss and turned from wanting to fight into trying to get untangled.

wasn't long and seemed every one loss any interest in fighting,
I been slowly removing the excess java moss and water sprite.

So far the community is doing great with not any signs of fighting......

Seems to be going much smoother this time then the last times I tried communities with Betta's

I know I'm pushing the amount in the tank, But I really wanted to see just how far I could push this and how good it is suppose to work....

Tank size 20 gallon
Total fish
12 cories
26 female betta's
1 male Betta
Been about a week so far with this tank,
and so far its been very extremely peaceful, I really am surprised with the results...


I have been trying to find (second hand) a wall unit that holds multiple fish tanks,
think it will be easier then having them scattered all over the place.
kinda like the pet stores have, takes up a whole wall. So far I ain't been having to much luck with finding one tho.
---
Always in NEED & looking for more Tanks!
[/COLOR][/COLOR]
---
Last edited by Chicklet; 04-11-2009 at

12:33 PM

.
Oh, this sounds really interesting. Do you have some pictures to show what you mean of just how 'crammed' it is with the java moss and water sprite? I'm not quite sure how much it really is and would like to see how that is going. Actually I'd love to see any pictures of this you have, I'm still trying to gather all the info about female sororities I can.
I don't have water sprite or java mass in any of the local pet stores I've spotted so far, so I wonder if I'd be able to attempt such a thing myself.
How are the cory cats doing in all of this? Did the bettas try to go after them more than the other bettas, or have they been left alone? Do any of them get tangled in the plants?

A couple months back I saw one of those standing wall units that they have at Wal-mart's up for sale on Aquabid, those things come with like thirty tanks, the sink and pump system. Don't know if it still up or not though. I know a lot of people ultimately end up having to build their own when it comes to building those larger wall units and multi-tank stands.
The cories seem to love the extra company in the tank, There all over the place,
As of yet I ain't seen nobody give a cory a second look,

They did get entangles a fair amount at first. But they have learned how to maneuver thru it, plus I have been weening it down a little every day,
I get up mornings and see a lot of betta's resting in the java moss, My male Betta likes to jump on top of a bunch of water sprite thats floating on top and rest there, It's so cute.

My cories are usually scattered thru out the moss resting on and off all day,,, They really seem to enjoy the moss and water sprite...
The cories are constantly searching nibbling on the moss, they must like the taste or something..

I'll see about getting some pics together here in a bit,
But everytime I take a pic it comes out so dark, think it's the java moss causeing it to do that,,
Still gotta figure out how to get the settings just right for pictures..


Kinda been figuring I might have to build my own unit, Might be interesting
---
Always in NEED & looking for more Tanks!
[/COLOR][/COLOR]
thats alot of fish! 26 betta's! whooooo...
heresn mine.he's a male..he likes company with his 2 cory friends.
---
○○○○○○○○
╔╦╦╦═╦══╦═╦╦╗
║║║║═╠╗╔╣═╣╔╝
║║║║║║║║║═╣║─
╚══╩╩╝╚╝╚═╩╝─

╔═╦═╦╦╦══╦╦╗
║═╣═║╔╩╗╔╣╩║
║═╣║║║─║║║║║
╚═╩╩╩╝─╚╝╚╩╝

╔═╦╦╦╗
║═║║╔╝
║║║║║─
╚╩╩╩╝─
○○○○○○○○
he's flaring to his reflection! roar!
---
○○○○○○○○
╔╦╦╦═╦══╦═╦╦╗
║║║║═╠╗╔╣═╣╔╝
║║║║║║║║║═╣║─
╚══╩╩╝╚╝╚═╩╝─

╔═╦═╦╦╦══╦╦╗
║═╣═║╔╩╗╔╣╩║
║═╣║║║─║║║║║
╚═╩╩╩╝─╚╝╚╩╝

╔═╦╦╦╗
║═║║╔╝
║║║║║─
╚╩╩╩╝─
○○○○○○○○
when he flares..his gills and beasutiful tail pop out and his forehead-ish color turns white to grayish black...its because when they flare alot of skin gets stretched...when they're done flaring theyre skin gets back to normal.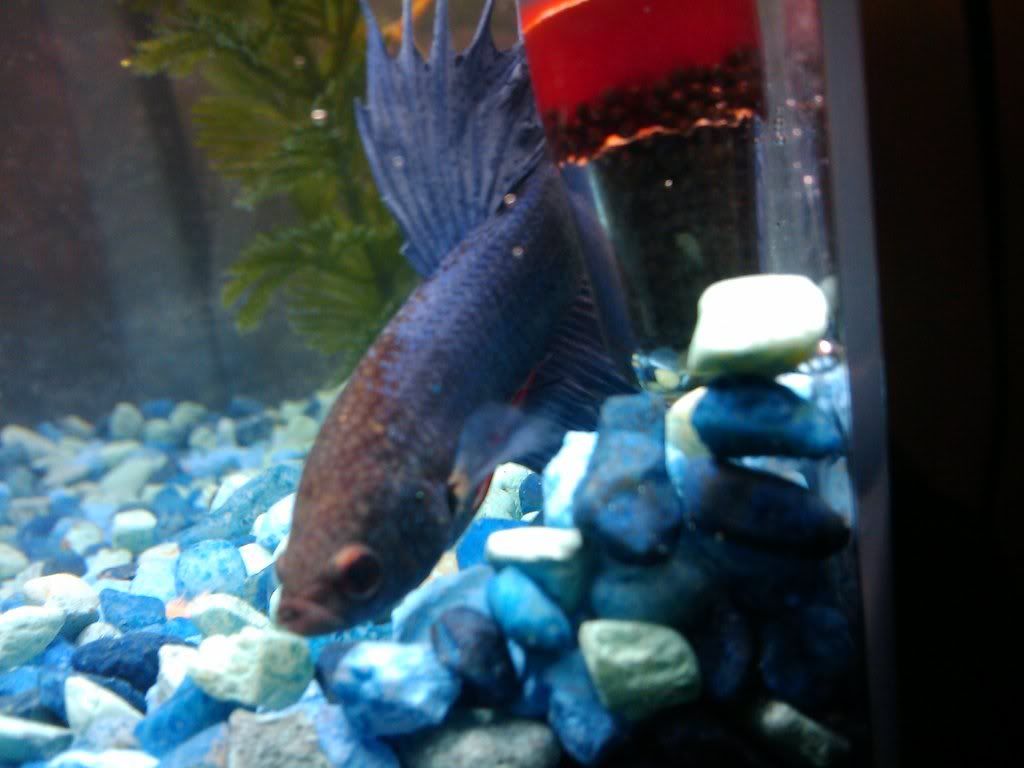 ---
○○○○○○○○
╔╦╦╦═╦══╦═╦╦╗
║║║║═╠╗╔╣═╣╔╝
║║║║║║║║║═╣║─
╚══╩╩╝╚╝╚═╩╝─

╔═╦═╦╦╦══╦╦╗
║═╣═║╔╩╗╔╣╩║
║═╣║║║─║║║║║
╚═╩╩╩╝─╚╝╚╩╝

╔═╦╦╦╗
║═║║╔╝
║║║║║─
╚╩╩╩╝─
○○○○○○○○
I have removed alot of the Java since I first started this tank..
It was so full to the point you couldn't see any decorations..
Heres a pic today
today.jpg
---
Always in NEED & looking for more Tanks!
[/COLOR][/COLOR]
Banned
Join Date: Jul 2008
Location: Central Texas
Posts: 27,607
Wow! What a tank! Looks good and I'm glad to hear everyone is doing well. :)
So theres 39 fish in there, do you have to change the water like every 5 minutes.
Quote:
So theres 39 fish in there, do you have to change the water like every 5 minutes.
No, Been watching it closely for any signs of trouble and testing daily,
But everything's normal so far,
Has two filters running on it plus several bio slabs buried in the gravel...
I have givin a 25% water change twice in the past week, figured instead of once, with so many twice was definitely needed, May do more If I find it needs it,,, will see how it goes
---
Always in NEED & looking for more Tanks!
[/COLOR][/COLOR]
Similar Threads
Thread
Thread Starter
Forum
Replies
Last Post
10 gallon community...?

xRacheLx

Betta Fish Compatibility

13

07-18-2009

06:24 PM