New Member
Join Date: Sep 2009
Location: New Jersey
Posts: 18
African Dwarf Frog?
---
So I was at the mall today and saw these guys at Brookestone
http://www.brookstone.com/gifts-by-price-under-50_Frog-O-Sphere-frogs.html?bkiid=subCategoryLandingPage_Gifts_Pric e_50_and_Under|C4CategoryProdList1FDT|8335617
and thought they were kind of cute and didn't know if one or a few would make friends with Blueberry? I found them on Petco's website too (it's closest to me)
http://www.petco.com/product/101059/...warf-Frog.aspx
Right now Blueberry is in a 10 gallon tank by himself, it has a filter and heater and is consistently around 82 degrees. There's water conditioner and aquarium salt in the tank now because Blueberry's fins were getting really ratty looking for a bit and I was trying to help heal it. It has a lid too that is always on except when I'm cleaning the tank, but I'm not sure if the space around the heater is too big or if it's too deep and wouldn't be good for a frog(s). And if they are okay for betta's and my tank how many should I get?
Here's a picture of my tank and my lid to show the heater space: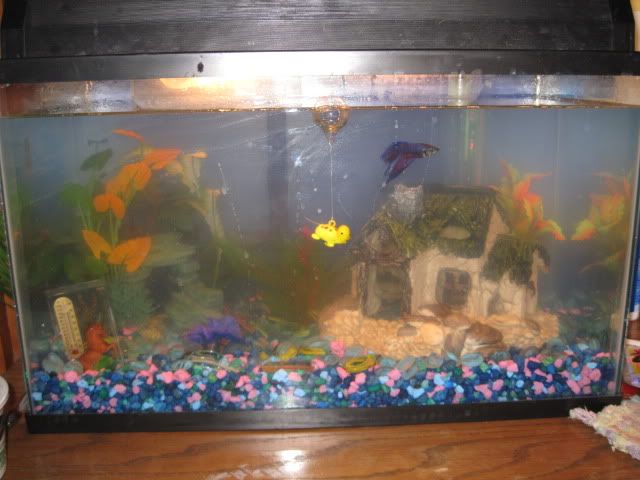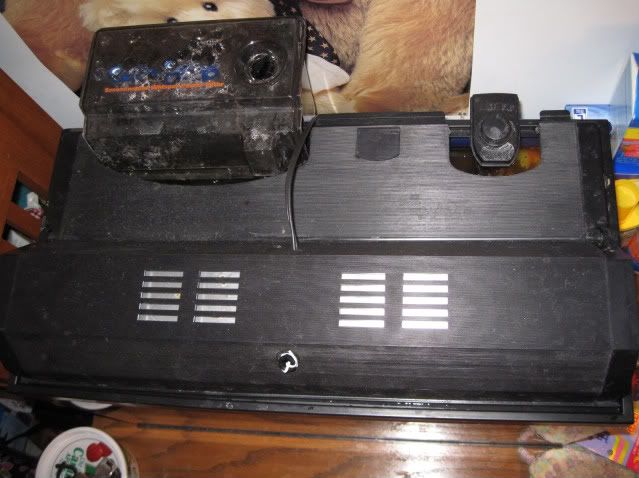 ---
-Liz
Banned
Join Date: Jul 2008
Location: Central Texas
Posts: 27,607
I think it really depends on the betta's personality whether or not he'll tolerate frogs or any other tankmates.
New Member
Join Date: Sep 2009
Location: New Jersey
Posts: 18
So should I just leave him alone in his tank or try a few frogs for friends?
---
-Liz
Banned
Join Date: Jul 2008
Location: Central Texas
Posts: 27,607
You can try the frogs and if you have any problems you can remove the frogs.
I know very basic info about frogs...

It goes one frog per 1.5 gallons...give or take.
They need a good secure hood, because they will jump out of whatever holes possible.

I'm not sure about the temp, though...may be a little too hot. And I'm not sure if salt will affect them either.
New Member
Join Date: Oct 2009
Location: N. Kentucky; college in Ohio
Posts: 18
If you have frogs, I would go light on the salt (if you use any at all); they are much more sensitive to salinity than bettas are. The frogs generally will not cause problems for the betta, but the betta may torment the frogs. For the most part, my betta and dwarf frog get along; though my betta can be a bit of a bully, the frog usually ignores him or flees (she has several hiding places; sometimes even I can't find her!). The only other thing I can think of is feeding. If I don't feed my frog carefully, the betta will eat all of her food; he is a better scavenger (dwarf frogs have very poor sight, and sometimes I think mine is a little slower than most). I personally hold food in a pair of tweezers and offer it to her (still looking for a better method); some have recommended using turkey basters or eye droppers to feed dwarf frogs.
Banned
Join Date: Jul 2008
Location: Central Texas
Posts: 27,607
My betta did fine with an adf, but my frog died after many months from not getting enough food. They are difficult to feed.
---
Fishy-Blue/Red VT boy (RIP)
Berry-Purple VT girl (RIP)
Pepper-Red VT boy (RIP)
Starburst-Blue/White Butterfly VT boy(RIP)
Niko-Steel Blue VT boy(RIP)
Jewel-Orange Cellophane HM boy (RIP)
Lavian-Purple/Blue DT boy (RIP)

No-Name :P-Red/White/Blue VT boy (RIP)

Noel-Green/Red/Clear CT boy (RIP)

Uno-Red CT boy (RIP)

Banned
Join Date: Jul 2008
Location: Central Texas
Posts: 27,607
I have read that it is helpful to use a turkey baster and put the food directly in front of the frog so he can get it. They rely on their sense of smell because their vision is poor. It will also help if the betta is removed while feeding the frog.
or you could try shrimp
---
31 Betta Males
12 CrownTail
7 HalfMoon
5 DeltaTail
4 DoubleTail
3 Veil Tail
44 Betta Females
Round, Crown, Spade
65 gallon
55 gallon
35 gallon
2 - 20 gallon
4 - 10 gallon
16 - 1.5-2 gallon
MTS has struck, resistance is futile
Similar Threads
Thread
Thread Starter
Forum
Replies
Last Post
African Dwarf Frog?

New2Betas

Betta Fish Compatibility

6

11-28-2009

08:42 PM

African dwarf frog?

Ariel

Betta Fish Compatibility

23

05-29-2008

10:06 PM