I was given 3 platys & 3 swordtails...Need to move 2 to a 10G w/ Ren...
---
Help!
I was given 3 platys and 3 swordtails (I can sex these & it's 1 male/2 females).
How do I sex the platys
?
I had an empty 8G & seeded it w/ established media + 2 amazon swords + CaribSea brand
plant grow gravel.
I can tell the 8 is too small for all of them...I'd like to move 2 into Ren's (male)
cycled 10G.

Should it be 2 platys or 2 swordtails?
Ren has lived with other fish before (danios) in a 16G & did great with them.
He's a good candidate...If for some reason he goes pyscho, I can try them in Danny Boy's 10,
and if THAT fails, well, I'll have the hex 14 repaired soon.
Should I do every other day 50% water changes on the 8G until it cycles?
Thank you for your help!
---
YaY for the Adoption Option
I've found 5 loving homes for 5 of my finned fellas, thanks
to this forum!
To sex platies you will have to look at their anal fins: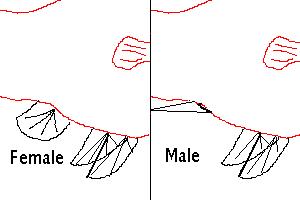 I would move the platies in. I hear swordtails are more aggressive. especially males.
Not sure about your cycling question but I think it sounds about right.
If you decide to move only two, go with 1 male guppy and 1 male platy. Putting 2 livebearers of different genders in the same tank would be resigning the female to constant harrassment by the male... though 1 male and 2 females would be good.
---
Update
---
Thank you Alex and JK for your advice.

My parents said they observed the swordtail chasing the 3 platys (which are all male).

The 2 female swordtails have been cowering in the corners of the tank, breathing but not swimming...are they pregnant? sick? scared? :(

I have not observed any harrassment of them by the males, but I know it will happen eventually & will move the 3 male platys tomorrow to a 5G temp tank.

I don't want to put them in w/ Ren right away since they might still show pet store born
illness, is a 2 week quarantine Ok?
---
YaY for the Adoption Option
I've found 5 loving homes for 5 of my finned fellas, thanks
to this forum!
You shouldnt add a male and a female livebearer in with a Betta what so ever. Livebearers breed and breed fast! So if you are going to add any Livebearer with a Betta make sure they are all of the same sex.. And you should probably quarantine them for atleast a few days maybe a week..2 weeks is a bit much.. If they are sick..they will show it but if they are swimming, hint harrasing eachother, than the are most likely fine.