female bettas
---
I currently have a 45 gal. tank thats occupied with some mollies and a few other fish..but thinking long term after soem die not that im gonna kill them but just for future refrense i want to get a set up with 4 to 6 female bettas id im looking for tankmates with colorful or cool looking fish..something a little more atractive than red fined tetras and rosey reds.I hear honey gouramis are peaceful if limited to one or less males..would a pair of them be acpetable with female bettas..and what are some other good tankmates..something with color would be nice thanks in advance
I do not recommend keeping females together. it is stressful and often doesn't work out.
---
I only have 1 betta left, but he's a cool blue marble!
皆さん、こんにちは!私は一匹のベタを飼っています。
Gourmai and betta come from the same family so take the same sort of territories so its best not to mix them. You can easily get a nice sorority in there, but before choosing your girls make sure you watch them in the shop for ages to see their behaviour, if they are bossy or chasing the others then I'd pass on those. I spend at least 30 mins watching them in the shop.

As for tank mates I don't know, my girls are ok amongst them selves but took a big disliking to baby apple snails, however they are fine with my larger nerite snail.
Quote:
I do not recommend keeping females together. it is stressful and often doesn't work out.
I know I had one of my baby girls with one of the bigger girl tanks they ate her
I know now to keep the babies with the babies and the big with the big.
Here's the poor girl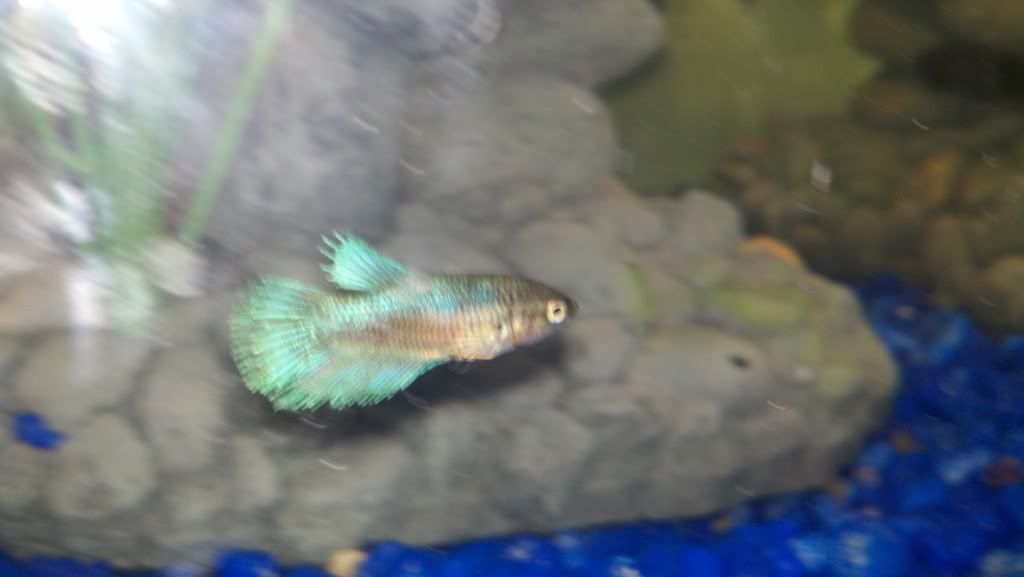 ---
Last edited by Ethan; 02-03-2011 at

10:00 AM

.
If possible, it is best to get all sisters of about the same age that haver never lived alone for a more peaceful sorority tank. I have kept shortfinned mollies in a sorority tank without any problems, but they prefer a bit of salt in their water. Platies would probably be ok, too. Stay away from any fish with long fins in a sorority tank because bettas are notorious for fin nipping.
ok at the petsmart i go to they keep all there females in the same tank..would this be a good indication that theyd all get along if i got them all at once..and i know alot of people have had negative comments about petsmart but the only fish ive ever had die from there were a crab clibimg out of his cage and driying up and a loach climbing into the filter and getting destroyed the one near my house seems to be pretty good with keeping healthy fish..thanks for all the answers
I think if they are kept in the same tank at the store, that they'll do fine in your tank together. Make sure you get them all at once so they don't come from different batches.
---
Sequin (m), Shortcake (f), Westley (m), and Sir Righty of Walton (m).
In a 45 females will have plenty of elbow room to co-exist. Just give them enough deco and plants as they seem to love those.

I have 5 in a decent planted (more plants to come) 14 gallon with 3 platys, few feeder guppy and ghost shrimp. They all getting along great.