Chewie and 3 Snails
---
I've got a couple questions about Chewie my CT... I am, on Friday, going to put him in the 5g tank with my husbands 3 Apple Snails. I don't really have many conserns about it because Chewie used to live with like a billion guppies and a crayfish so with his experiance with tank mates we thought he would be the perfect candidate.
So here are my Questions:

Should I provide a lot of Plants for chewie to hid in? (Silk)
If Chewie becomes aggresive should I take him out right away or give him time to adapt?

Here is a picture of the Tank right now:


---
My Betta's: Fluff - Giaus - Penny - Gwen - Leia


I would say get him some plants, I bet he'll appreciate it and it'll be a nice addition to the tank. Plastic can work too, you just have to be careful. I can't imagine he would pick on the snails though, and I would give him time to adjust, he may just be curious at first and the snails will close up if he gets nippy so I doubt he'll do serious damage.
---
__Tanks__
1.5 gal
Prince (HM betta)
10 gal
Cetus (CT betta)
4 guppies
1 Oto
Thanks. My husband was just a little worried that Chewie would be the chewer this time and attack his snails. Right now chewie is in a salt water treatment for slight fin rot but he will be out on friday. Can't wait to put him in here! I think he will love it.
---
My Betta's: Fluff - Giaus - Penny - Gwen - Leia


It should be fine. I think he'll leave them alone.
---
Sequin (m), Shortcake (f), Westley (m), and Sir Righty of Walton (m).
I hope so :D
---
My Betta's: Fluff - Giaus - Penny - Gwen - Leia


Aww, cute snails!
I like the skull decoration. :D
I think adding plants would be great, the snails like to hide in the day when there is light too, at least some do.
---
"Life is an adventure full of beautiful things, and a treasure worth more than gold."
I added a plant I had laying around in there till I can get some Friday. Chewie is adjusting VERY Nicely!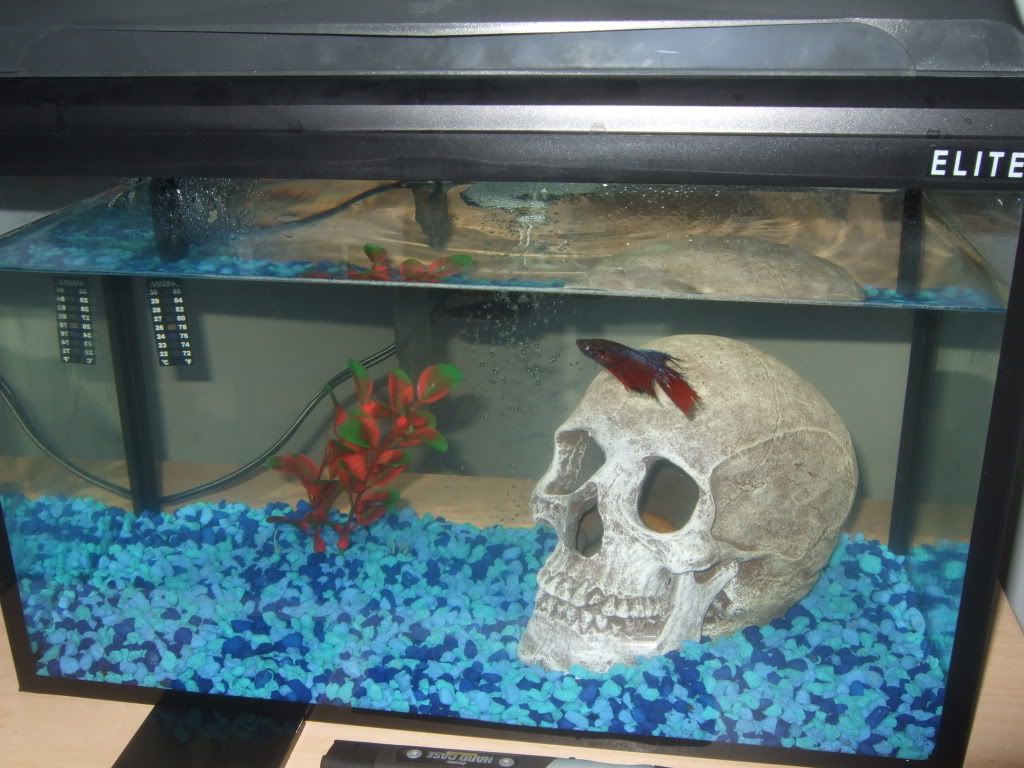 ---
My Betta's: Fluff - Giaus - Penny - Gwen - Leia


Glad he's doing well!

I find that snails are very good at protecting themselves. My one betta will go after it once in a while and it just closes up until he's gone. I used to have a betta that actually slept on it! Snails are probably the best tank mate. Unless your betta is super aggressive, I don't think there will be a problem.
---
Tanks
- 55 gal(in progress)-Common pleco, Angels, lemon and rummynose tetra, blue rams; 29 gal planted- rasboras, corys, otos, clown plec, shrimp; 10 gal- juvenile goldfish; 6 gal planted- betta
Other Pets
-Maggie(Tricolor Paint Mare), Lily(Sun Conure), Zoe and Melina(Budgies), Leonardo- Bearded Dragon, Pilot and Phoenix(Golden Retrievers), Beckham(german shepard/akita), Myrtle and Richard(hermit crabs)
A Better Betta Fish Care Video!
http://www.youtube.com/user/SmokeNLark?feature=mhum
-laughs- i thought the thread was titlted : Chewie ate three snails
lol love the name
---
Female Bettas:Gaia,Bubbles,Tabitha, Rani, Kelsey, 4 unnamed Male Bettas:Oscar, Spyro, Cookie Monster, Kermit The Frog, Grover II, Alvin, Archillies, Moostash
Snails: Yoshi,Peach,Lugi,Mario
Others:Quismodo, Esmerelda, Lavern, Banch(<Guppies) 2 unnamed bristle noses, 2 unnamed reticulate "yoyo" loaches
Furbabies: Kobi & Beau
M F S ˙ʇƨσן ǝƨσɥʇ σʇ ǝɔɐǝԀ ʋƖ ʇƨǝᴚ
"Can never have too many fish"

Thanks :) He seems to be doing GREAT in there... He was a little stressed at first but he is adjusting nicely.
---
My Betta's: Fluff - Giaus - Penny - Gwen - Leia