Member
Join Date: Nov 2010
Posts: 3,651
Neon Tetra resuce :c
---
This is so totally tl;dr XD <3 Sorry!
Okay. So the other day while shopping in my local walmart for algae wafers in the fish section, I noticed there were no bettas. Last time Id gone, they were all in such awful shape (most were dead and with the worst fin rot Id ever seen..), so I said something to a well to do but naive employee, who promised he'd speak to his manager.
Well, he did. And sure enough, the dead ones were removed and the manager allowed another enthusist from the area to take the remaining few home for free. Yay! That made me so happy.
But... :(....
There apparently was a "huge problem" in their tanks, and their fish "needed to go", said the manager (he's a nice guy). They had VERY few left, and I inquired why, fearing disease. Apparenly and thankfully that wasnt the case,instead many small fish had been placed with larger ones and many were eaten or killed by being bullied or hurt by the overly powerful filter, especially the precious little neon tetras.
There were only two ones left in their tank.
I was all sad an whatnot, and told the kid I hope things work out.
...He told me they're getting rid of all the small fish in the store for the next day, and that "he doesnt know what would happen to them".. I knew he meant they'd either be neglected or flushed. I almost died.
He offered to give the two little tetras to me for free, because he'd rather them be cared for then dead. I took them and brought them home.
Now, I know- I was advised not to get any fish for my tank, but I couldnt leave them there
I figured maybe another friend would take them or something, because I wasnt sure how Alle would react.
Turns out, he doesnt care at all about them <3
When I got home, I realized I actually have three under 1" little(males?).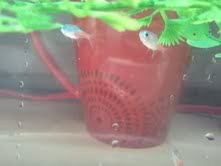 Two of them <3
They're doing very well. They've brightened up like mad, eat happily and have made a mini schoal (I know I need 5+, but, well...Cant. :c) They have tons of hiding places if they need them, I bought micro mini terracotta pots (3) for them as well as heavy foliage and a dark, marble bottom. The current doesnt bother them at all.
I put many fake floating plants at the top (real ones soon to come!) so they can nom easier. Alle really doesnt try to nom their food and is fed before hand.
Blueberry and Kiwi before they shoaled with Kumquat <3
Kumquat follows Alle around like crazy, and Alle doesnt care at all unless he gets by Alle's bubble stone, and only then will he chase them away slowly. He's too slow to get them :p
Playing together by the bubbler, they really like it there :D <3
Anyway, even though my tank isnt quite large enough (12x12x11, 11 is the water level measure) for all of them, I want to take the best care of them possible.
Any pointers on tending to them? Ive got the tank at 77-79', the filter is baffeled and on, theres a bubbler, hiding spots galore, noms twice a day as much as theyll nom in a minute or two, and diligent water changes and testing. My ammonia doesnt go over .5, and rarely goes past .25. The water fits what Ive been able to research that they like as far as hardness and alkalinity and pH, too.
I love these little things, and I want them to live a good life :c! Please, any info is greatly appreciated.
Alsoalso..
Sorry this was so ungodly long! x_xU
I figured I may as well explain the circumstances in which they came to me to eliminate at least a few people telling me how horrible I am for stocking my tank like this willingly :/
I know the load is high, I know. Im vigilant with what I do to care for the tank. Im not asking for critisism, Im asking for answers and help <333
Member
Join Date: Nov 2010
Posts: 3,651
And more pics, becuase theyre adorable.
Kumquat :B Hes the one who likes to chill with Alle best. What a derp.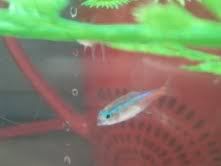 Blueberry! :D Everyones fav. He's the bluest one. I love his smile :B
Blueberry and Kiwi. Kiwi is the greenest and will always be, no matter what, with Blueberry :D He(?) likes to hide in the terracottas.
And all three <3 They seem to be fairing well <3
I'm glad you rescued them! Beware, I had 6 with my male betta, and they all eventually died, I think they were just too sensitive. Remember to keep the water quality good for then :D
---
1 Male ~ 5 Females
3 Bronze Cories
1 Hamster
Soon, 1 cornsnake!

I dont think 3 neon tetras are going to affect your bio-load much as they are so small. I guess you'll have to wait and see how things turn out. Dont know too much about them...
Member
Join Date: Nov 2010
Posts: 3,651
Yeah, Im hoping they fare well. Better than being left in a cup to die or flushed I guess :c
So far theyre happy and Alle enjoys them. I really do, too, especially since theyve gotten him to stop glass surfing! :D
I dont think they will too badly, either, Alex :c But everyone so far has warned they will Dx
Member
Join Date: Mar 2010
Location: USA
Posts: 10,951
By my calculation that is a 6.8gal tank...correct..... not to be critical and not telling you anything you don't already know.....you are pushing the bioload to meet all the fish needs.....good that you got at least 3 of the little guys-so I wouldn't add anymore...... and yes, they are pretty awesome little fish that will soon be about 1in TL....I enjoy my Neon tetras and spawn them yearly....the water prams that you keep the Betta will be fine for them-these guys are generally pretty tough and only need softer water and lower pH if you plan to spawn them...same for the water temp.

I would increase the water changes to keep the ammonia 0.25ppm and lower...ideally 0ppm...so you may need some water only changes between the regular water changes and good that you are planning on adding live plants soon...this will help in more than one way....water quality being the number one reason and two.....Neon really like the plants and hiding places they provide

I have never had any issues with my Betta hunting and/or killing my Neons and this is usually not an issue in tanks large enough for them to get away from the Betta...smaller tanks sometimes Bettas can corner them and kill them...sometimes they will eat them but generally the Neon is too big especially since Bettas like to swallow their food whole.....but lots of plants will help this...good that you added all the fake plants until you get the live one.....

Another concern-is disease, personally I would have QT's them for at least 3 weeks before I add then to the tank with the Betta....but positive thoughts......even when they come from good condition and look healthy...the stress can bring on issues....

Good luck....get you a 10gal, black sand and plant it heavy-add 3 more Neons and the Betta...wow...what an awesome sight.....
---
Last edited by Oldfishlady; 02-10-2011 at

05:03 PM

.
Member
Join Date: Nov 2010
Posts: 3,651
Haha, ohhh, what I wouldnt give for that tank, OFL!

And yes, the bioload is being pushed, especially with three and not the two like I thought Id gotten! (I didnt even see him in the bag!)
I would have QT'd them, but sadly my only other heater decided to truly just ffpt- up and a die a bit ago, and my room cannot keep them warm and I cant fit a QT tank to bob :c They were allowed to acclimate for a day and relax in the dark, at least, though. Im keeping an eye on them for Neon Tetra disease and other diseases, and Im remaining hopeful! <3
I typically do a gravel vaccuming and syphon for the water changes every other day or every two days as Ive been trying to cycle (when it was just the betta), but now Im going to do it more frequently and a bit more, so that it will remain .25 and under :)
With the java fern and anarchis (Spelling is awful,sorry! lol) coming in addition to my annubias, I think everyone in Casa Allejandro with be happy :D
Here's hoping things go well :DDDD!