I use the term butt for a lack of using another term :P
---
"You are forever responsible for what you have tamed."
Betta love: it's an international thing.
Azure, Sterling, you will be with me forever. Peaches, my crazy girl, I'll miss you the most.
Fishies

The Boys: Tranny, Inky "Yume" Zuko, Mao, Onishiki, Chopin, Maelstrom, Kabuki
The Girls: Kamikaze, Beeuty Qveen, Beefcake!, Chunkers, Awesome Sauce
_____
Meeces: Koko, Bijli, Baadal, Barkha
Turtle: Hi Handsome (female -__-)

lol that makes sense...OP!!! where are you?!
---
-Neil
The little snail is so tiny I'm afraid of injuring it trying to mess with its shell. I did pinch the plastic bag while it was in it to tear off whatever that furry black stuff is.

I've looked up a few types of snails online and I havent found what kind it is yet. It seems happy, and seems to be growing.

I havent gotten the chance to take a good picture of it yet.

I appreciate ALL the advice. Even the not so good stuff (that way I know what not to do)
I would have prolly made some grave mistakes had you not brought the salt thing up.

I've began feeding IT lettuce and broccoli.

I'm still pretty clueless though.
...oh yeah, and its still in a QT bowl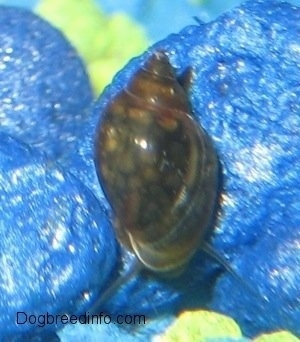 It kinda looks like this
If it is a pond snail, i would not put it in your tank! Unless of course you want a snail infestation. lol
---
-Neil
I was going to say, it laid eggs...
Are they fertile?
Likely, they are asexual. O.O your gonna have baby snails soon!
---
-Neil
Banned
Join Date: Apr 2011
Location: Southeast La
Posts: 827
LIke others have said, no salt, they won't eat fish poop and you don't need the flakes to spoil ... if they fall the snail will find them. Egg shells in the filter will also add calcium to the water.