Day 3
---
Day 3


With the two orange girls still in their cups, I decided to feed them all at the same time and see if it incited any riots...I gave the girls in cups 3 pellets each.
Strangely, when I opened the tank they all swam up to check me out and ignored one another. First I dropped a few pellets right next to each girls mouth to make sure they all got some food. Next, I started dropping pellets equidistant to the mouths of two girls to see how they would decide to divide it up. I expected the naturally more docile of girls to just let the alphas have it, but that was not the case. Whoever was fastest, got the pellet. The Purple Marble girl is from a different breeder than the rest, and is having the most trouble understanding what the pellets are for. She ate one only and then went back down to her little pot.
I released the two Orange girls into the tank at the same time so as to prevent the Orange Copper from picking on everyone.
The Orange Dragon has established her territory as alpha... and it's a very fitting spot. Right around the top and inside the lip of the crown on the decoration of Shiva. She mostly stays there now and calms down the copper or chases other girls away from her roost.

I decided to leave the girls all out in the tank again today, since yesterday had gone so well. I would be home more to watch them today, and when I was gone my boyfriend was home to check on them every once in awhile for me.
Nothing too exciting to report on that front. The Marble Girl has what are definitely a few little nips in her anal fin, and other than that everyone looked the same. I haven't seen anyone locking jaws, or anyone picking on anyone else relentlessly. There seems to be a bit more chasing today, but with very few aggressive acts going with it. I've decided to leave them ALL in the tank overnight tonight. I'm sure I'll wake up at 3 am in a cold sweat to check on them, but I've got to let them completely settle sometime...
Tomorrow, I leave to go home (to Seattle) for the weekend. I feel comfortable leaving them alone, but not leaving them alone without food or supervision for two days, so unfortunately I will have to cup and float them. I am hoping that because they will still see one another, they won't have to reestablish everything next Monday. We'll see...I will be asking my neighbor to feed them for me so they can keep getting their strength up after shipping.
Here are photos from today. And a video if I can link it properly! The video is from right around feeding time, so you can see them together and how they act with one another.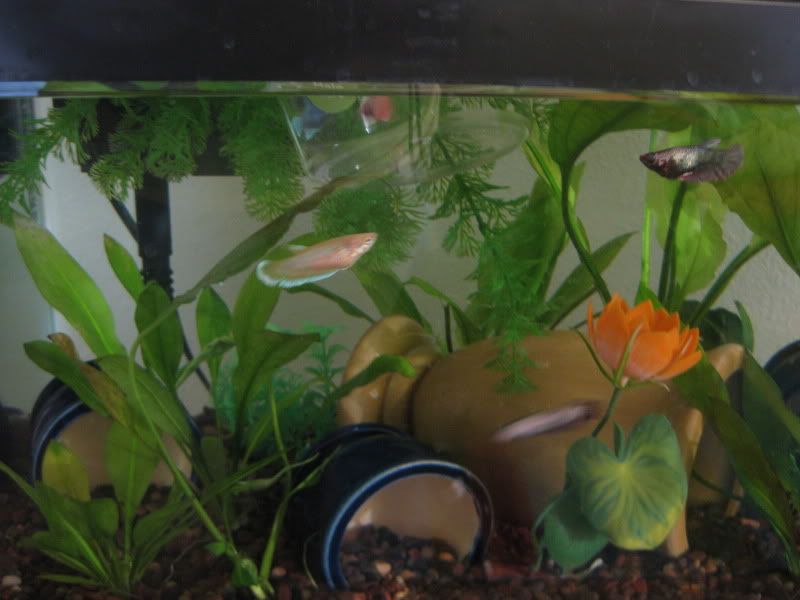 Here is a link to the video:
http://s7.photobucket.com/albums/y28...t=MVI_3039.mp4
I hope you guys are able to learn from this log and are enjoying my photos and updates! As mentioned I will be gone this weekend but back
next week.
FYI - Korwhord has emailed me back and agreed to replace all 3 DOA's as well as the white marble girl who passed. Jennifer has also agreed to waive shipping fees on those 4 for me. This is great because 1) It's fair, and 2) I now have the option of getting up to 2 more girls, or just getting 1 and 3 boys for breeding. Woohoo!
Glad to hear it(I love that black and red one).

if it where me i'd be sure to get a male or two in case i decided to breed(probably one dragon and one not-dragon). >_<
---
My wishlist:
-duckweed- -black and white marble, anything but VT-
-javamoss- -koi marble, anything but VT)
-hatchable brine shrimp eggs-
-indian almond leaves-
-Melano Halfmoon male-
-steel blue or royal blue CT or HM female-
I would see her new stock and how you like it but you should probably get at least two males for breeding. I would be very very intrested in the purple marble or the blue dragon fry myself.
---
Bettas:
Females: Morgana (CT), Gwendolyn (CT), Amethyst (CT), Hebe (CT), Iris (HMPK), Amphitrite (HMPK), Artemis (HMPK) Dottie (?), Lulubell (CT), Mirabell (CT) & Jubilee (HMPK)
Males: Cronus (CT), Tian (OHM) & Anubis (OHM)

Dogs:
Zeeva (Siberian Husky)
Binky (Samoyed)
Tracking post =3
---
Occupied Tanks;
1 ten gallon tank
1 five gallon tank
empty;
a few jars
Yay for happy healthy girls! I love the tank setup, how it's mostly natural but with a few fanciful touches of color.
---
Kalinsky ~ Pei Ling ~ Dixon ~ Mitch ~ Natsume
~THE COMMUNITY TANK~
peppered corys ~ neon tetras ~ otocinlus
~MAMMALS~
Rocko ~ beagle/foxhound mix
Edwin ~ black DSH
am sorry she was so pretty, but everything happens for a reason you know, i know how you feel...

alsa love that snake >w<
---
[CENTER] Cherry Pop, Gus Gus, Gaia
I am sorry to hear about the ones you lost
Its great news though that he is going to replace them and your shipping from that transhipper is going to be waived as well.
I really like your tank setup very neat. I also like your selection of females and the colors your chose, very fabulous.
---
Drakon, Lucky,Cupcake , Flare, Flirt
What a wonderful thread!
You gave me some great ideas for my possible future sorority. :)
---
Bettas - Giovanni (HM), Burly (HMPK Giant).

all i can say it is hard to care for sororities (to me though) but it is VERY rewarding ;D
---
[CENTER] Cherry Pop, Gus Gus, Gaia
Day 4...5..6???
---
Hey all sorry for the lack of update! I have been crazy busy. Here's an update on my sorority!
Turns out, I didn't cup them when I drove up to Seattle. I fed them a lot and decided to leave them alone and hope for the best.. When I got home at 1 am Monday morning, they were all fine. Hungry! But fine.
Today, the sorority seems to be at a sort of stand still, a few girls have their own territories, and there is still some chasing and a bit of nipping. The nipping doesn't seem to tear fins though. There were some torn fins around day 2 or 3 when I posted that there were, and since then they have been healing with no new rips. Because there is still a bit of nipping I think I will add a few more plants.
A few of them are still having a bit of trouble eating pellets, but they're all trying to. I've named them, I'll post names with their photos!
NEW GIRL UPDATE - I HAVE PURCHASED A GIANT FEMALE FOR BREEDING AND A NEW GIRL FROM KORWHORD. I would have been able to add a few more girls but with the giant I am just going to leave it at 8 females. Has anyone kept a sorority with 1 giant and other females of regular size? Of course, photos below..
.
Sorority photos -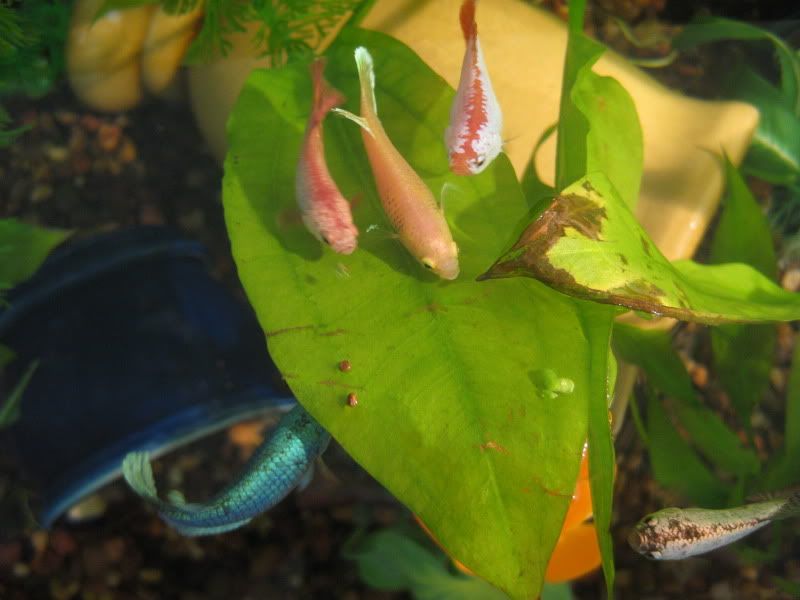 Names from left to right: Belle, Penny, Clementine, Suma, and Lexie
Lexie under Belle
Beautiful blue Belle, and CowCow in bottom left.
The queen of the roost, Suma.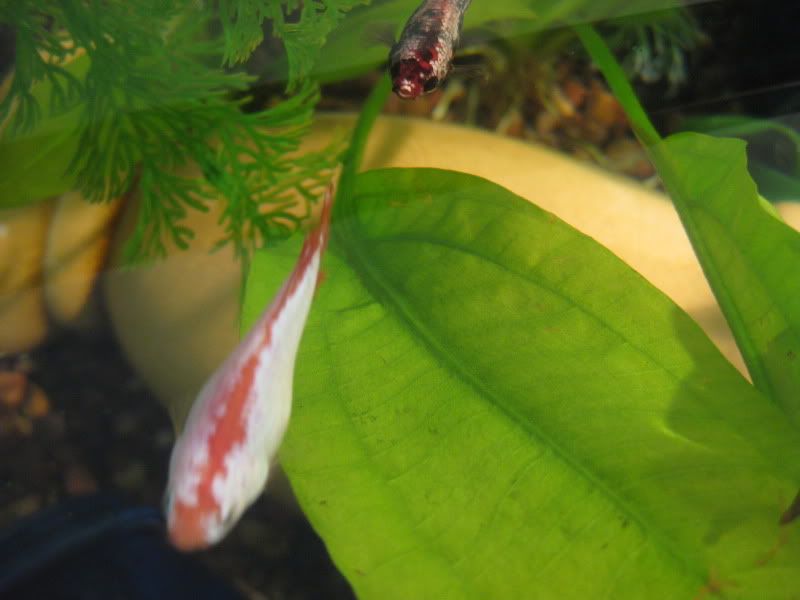 CowCow following Suma to food.
My docile females looking like Yin and Yang. Clementine and Belle.
CowCow and Lexie being cute.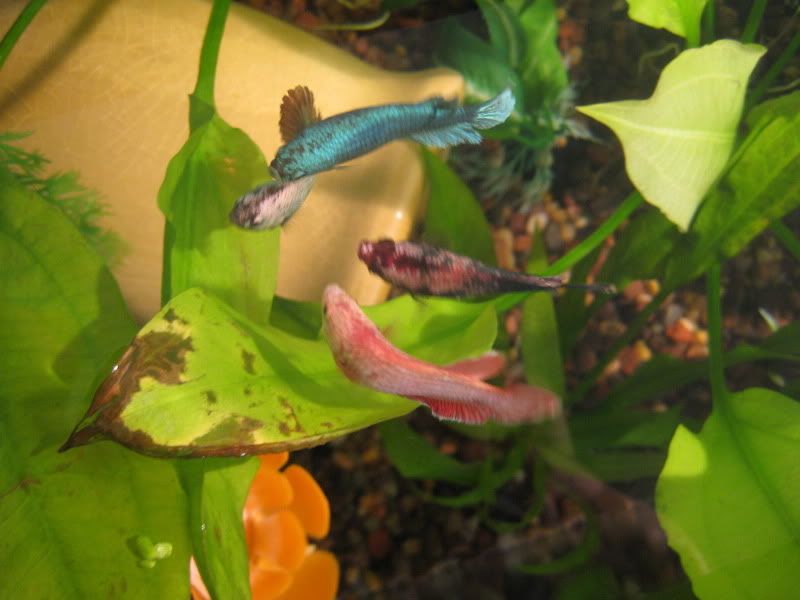 Lexie, Belle, CowCow and Penny.
HERE IS THE GIANT AND THE NEW REGULAR SIZED GIRL!
:D
Giant -
Salamander female -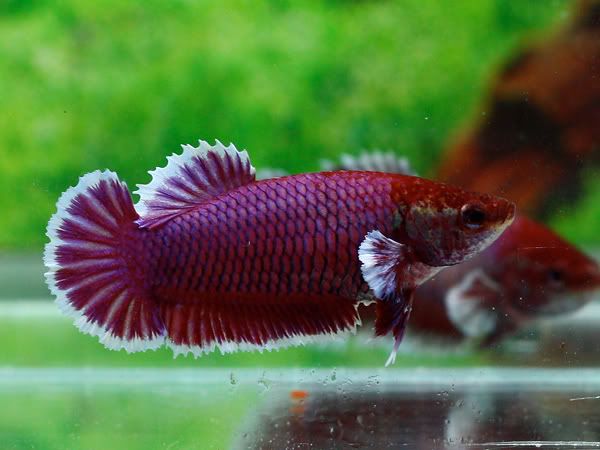 ***I think from now on I will only be updating with changes and when the new girls are added. I'd love to open up the thread and answer any questions anyone might have - about sororities, about me, about buying from aquabid, anything you can think of.***
And thanks for all the compliments! I hope I am able to help other forum members.