He won't eat the medicated food that came in today, but he's eating his normal food, so I'm not worried. The medicated stuff is flakes, and he's never eaten flakes before, so I think that's part of it. Plus, I think he doesn't like the flavor XD One kind that I got for him that is supposed to boost his immune system, and help medications work, he tried to eat but spit it out. Tried it a couple times, but spit it out each time. I fed him one pellet of his normal food to make sure he was eating, and he took it easily so I'm not worried. Things are looking good!
That's great news! I wish you the best of luck!
On a side note:
Pepper got to me. I now officially want more frogs.
My dad gave me a ten gallon which has been cycling for about a week and a half. When it is finished I want to turn it into a frog tank... so... how many could I comfortably fit in there? I was thinking of putting Pepper in there and getting two more.
Three, maybe four frogs total? Definitely keep whatever new frogs you get separate from Pepper. If any of them have Chytrid, you don't want Pepper to get it! Or if Pepper has it, you don't want him to give it to the other three. It'll have to be a three month quarantine, but once you get past that, you should be home free ;)

Another update on Tintri: I no longer see worms hanging out of him! Going to clean the tank tomorrow, give him another small dose of levamisole, then clean it again in 3 days. Then he's on a 3 week off-period before I dose the tank again.
Yaaaay! I might get two more, and put them in the 10, then add Pepper three months later. (If all is well.) Sound like a good plan?

What happened to I will only ever love betta fish? lol That has expanded to shrimp, my nerite snail, and now ADFs.
Hooray for Tintri! *dances* Wonderful, wonderful news!

Twiss, I agree with Watty. I have a 10g, an though I know I *could* stock more than that, I feel that 3 frogs is the maximum/ideal for that tank size! I'll be QT my two new arrivals in the Kindy tank - starting after Winter break. Should be fun :)
Sounds like a good plan to me, Twiss ;) I might get two more frogs and put them in my empty 6.6 gallon, so soon enough all three of us might have new frogs!
Yay for new frogs!
Here's an update on Pepper I thought I'd share.
Notice the ghost shrimp almost the size of Pepper on top of the red silk plant in the second picture?
Wow... I haven't been here In a while... I'm so sorry all. I've been dealing with a bad back, and focusing on raising lotl babies.
I have gotten another little frog though!! His name is Tiny Tim in honor of the holidays. X3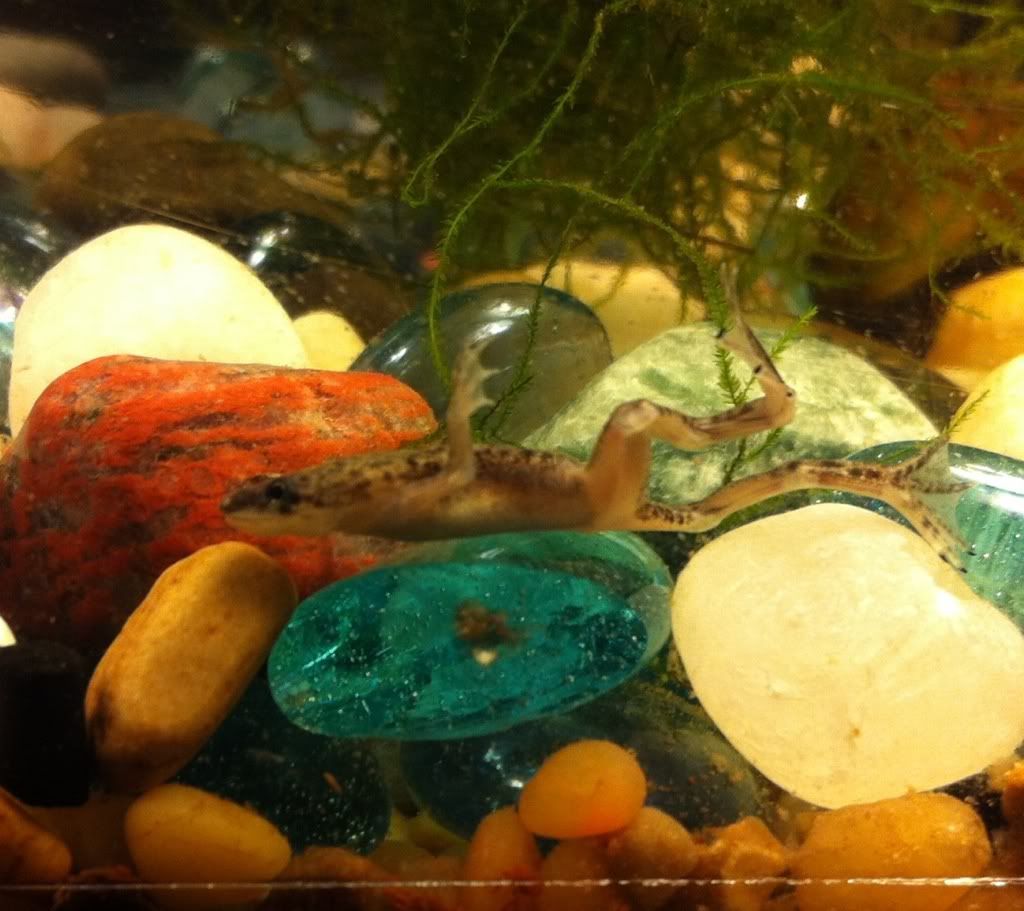 Awwww! Congrats on the new frog, Gizzy! Tiny Tim is adorable :) So is Pepper - and his ghosty friend :)
Gah, they're so cute! It makes me want to get more! XD