Oh wow Chesh!! That is an amazing picture!!

I finally have my computer back, so i am busy catching up on my not so mobile friendly tasks... Forgot t post the threat last night, but i am uploading to photobucket right now, and i will return with a link as soon as i am through. :)


Oh!! EDIT: I went to visit the froglets today... They are now miniature frogs, no more tails!! She managed to get 11 babies to this size, and she will be transitioning them to live blackworms and f/t bloodworms over the next couple days, which means they will be coming home to me by monday!! And i can get loads of pictures. Ill take a couple of shots to compare to my adults too, just so you can see the size difference... They are like the size of my thumb nail, but fully formed and freaking adorable!!!

Im so excited!
---
Last edited by Gizmothefreaky; 02-13-2014 at

11:43 PM

.
Hello Willow! Welcome to the wonderful world of ADFs! lol

My thread is pretty much anything goes honestly, while the pain focus is ADF we obviously talk about anything and everything here.



I have sad news everyone... I got a new filter for my 30 gallon, and the pull was too strong, i forgot to put a sponge on the filter intake, and lost a frog last night... :( It is fixed now, but im still pretty sad. I also have to figure out a way to baffle the outflow on the filter, its coming out like a darn waterfall... and the plastic bottle method isnt working.... hmmm.
hey
thanks for the welcome.
that's so sad about the frog..poor thing and poor you.
i stepped on a froglett,it had escaped,got all fluffy and i thought it was
a spider and where it frightened me i stamped on it
picked it up in tissue and saw it was a hello fire belly toadie
i was so sad for days…i felt sooooo bad.
oh no! poor thing... You cant be blamed though, you had no way of knowing...
should have put my glasses on first,and not like me to tred on a spider,i usually put them outside
Got a couple cool shots, they aren't pretty because they are phone shots into the back of the tank, but they are pretty neat comparisons.
Male vs female: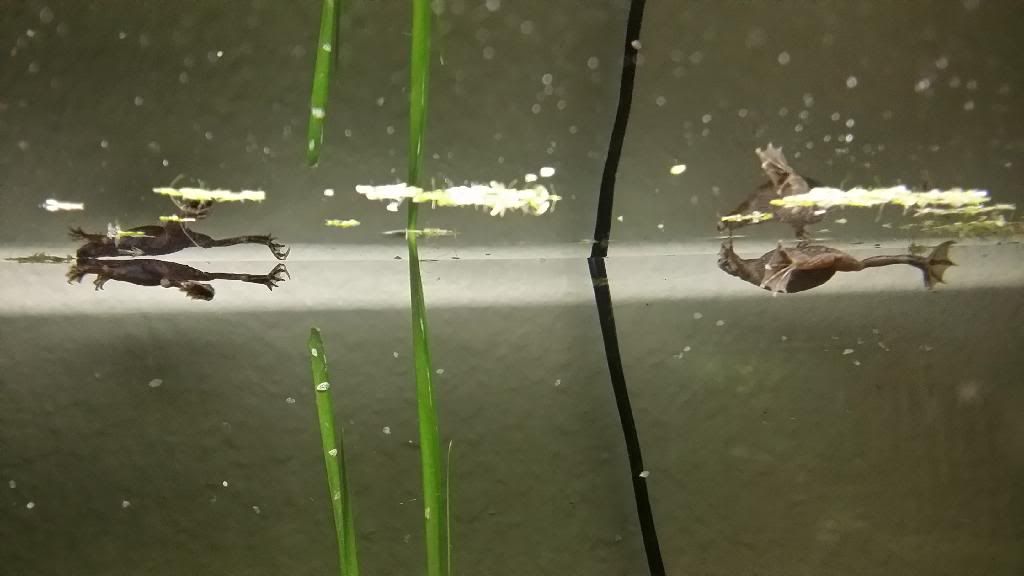 And baby vs male vs female:
thought you guys would like these. I need to do a deep clean on the tank soon, and rearrange, so I'll catch everyone out and get a group shot of all 16 frogs. :)
Gizmo! Good timing,

I plan on getting a new tank tomorrow (if the weather holds up) and it will be walstad method for substrate (soil capped with gravel). Can I get my froggies tomorrow too? My sister was there today and said there are some ADF left, I want to buy 4 before they're gone.

If the soil doesn't settle right away I can put the 4 frogs in q-tanks or pack them all into my 5 gallon for a night. What do you think? Can they handle a new tank?
---
"Education is the most powerful weapon which you can use to change the world." -N. Mandela
To my journal!
http://www.tropicalfishkeeping.com/j...ourami-592858/