I have no idea
he didnt look sick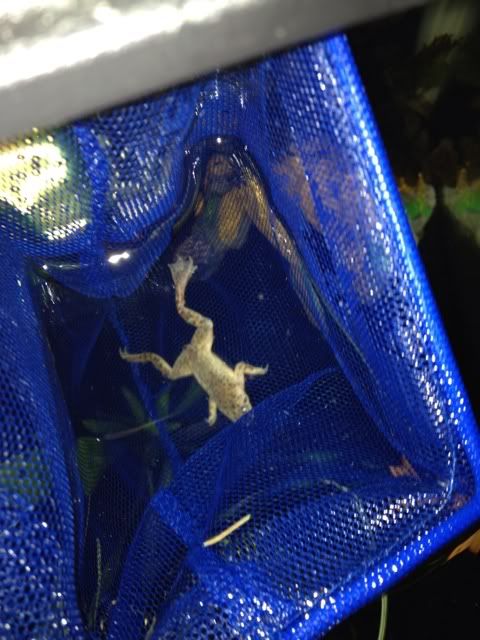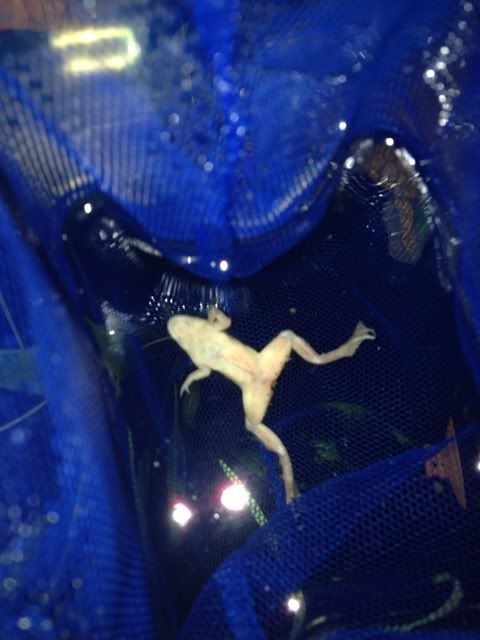 ---
My boy(s) <3:
Jaws: my blue half moon male
Pearl: my white veil tail male

My Girl(s): <3:
Emmie: My green crown tail female


R.I.P
Twirp: my oto.
Frogger: My African dwarf frog

Jenny! *hugs* I'm so sorry. . . Frogger. . . *cries*
I know how much you loved him, hon - I'm really, really sad for you. Sometimes it's harder when they don't even seem sick, because then we never even got a chance to try to help. :(
It looks kind of like, and this could just be the flash, but it looks like his toes and middle were a bit fuzzy? It could have been a fungus. Unfortunately, as it is with most frogs, they don't show sickness most of the time until it is way too late.
I am so sorry for your loss Jenny, I know how that feels, this is the same thing that happened with my Clyde.
Aww Jenny I'm so sorry :( You did a great job taking care of him while he was here, I guess nature just had other plans.
---
"There will come a time when three words uttered with charity and meekness shall receive a far more blessed reward than three thousand volumes written with disdainful sharpness of wit."
And you know, he DID have a rough start. . . the damage that is done in the beginning when we don't know any better (toxin flux in a newly-cycling tank, etc) does have a permanent, often unseen, effect on our animals (I started off on the wrong foot, too - I think most of us learned the hard way about cycling and such). We also don't know where they came from before they got into our care, and what conditions (good OR bad) they had to deal with as taddies. Even aside from that, just like people, some creatures are born with problems that can't necessarily be seen with the eye. . . I know that from the moment you brought Frogger home to live with you, that you did everything in your power to keep him happy and healthy, and I'm sure that he enjoyed living in your care. *hugs*
I feel really bad about it though >.<
I miss him. I'm just glad I got video of his singing.
I'm scared for my fish now
Posted via Mobile Device
Awwww, sweetie! I know EXACTLY how you feel. I recently lost the first fish I bought... when I got her I didn't know a thing about the nitrogen cycle, and she had to deal with all of that. I don't know why she died, or even how old she was - but I do feel responsible just because I know I unknowingly brought her home to cycling tank, and suspect that her lifespan was shortened because of that. But she made it through (with as much help as I was able to provide), and was a VERY happy and healthy girl up until the day she passed. I don't know how old she was, or how much harm my accidental fish-in cycle caused her, but I can take some comfort in knowing that I did my best, and the lives of EVERY fish to come after her are going to be in much better hands for what she taught me.

I don't think that most frog illnesses can get passed to the fish, though I could be wrong about this. The ones I've actually looked into have been fairly amphibian-specific, or caused by bad water conditions. It's so hard when the death in one of your tanks has you seeing everything as an illness. Keep a close eye out, keep the water clean, and I'm sure everything will be okay. . . I'm sorry. . . again. :(
Yea, if he did have a frog disease, there's none that I know of that fish could get.
Chesh, my female frog is horrible! She learned to eat pellets and now she's outcompeting my cories for food!
On the bright side I think she realized that shrimp aren't food for her.
Posted via Mobile Device
hahaha! You and your monster frog :) I love her. . . but if she keeps THIS up she will end up all alone in a species-only tank - at least for a diet!
True love?
---
GUESS WHAT!!!? GUESS WHAT!!!? GUESS WHAT I GOT TO SEE TODAY!!!!???
MY FROGS - MATING!!!
. . .
I kind of felt bad watching them, but they didn't seem to mind one bit!
I am SO excited to have witnessed this. . . I just think these little frogs are so
NEAT
to have around. I was hoping they'd pair up eventually, and have been listening for him to start calling to her. I never did, but I know what I saw and I saw. . .um. . . STUFF!
I was a little bit worried about Specks, cuz' she's been getting a bit chubby. Being female and older, she's already bigger than Freckles is, so I was nervous about feeding HER too much while HE wasn't getting enough. Guess she was just full of roe! Very, very cool stuff. . .
I'm not going to do anything to try to save the eggs, right now I have my hands too full of fish-related nonsense to really get into this with them. However, if they continue to pair up in the future, I'll do some investigation into setting up a tank with the specific idea of rearing taddies to frogs from eggs in mind. I've read that it can be very tricky, but I'd love to try growing a frog from scratch in my house, lol!
Anyway... just HAD to let you guys know! Love is in the air over here in the five gallon, and I am SO excited!!!