IT WORKED! YAY!!! Bonnie is so CUTE!!! I just think these little things are hilarious when they eat. Ready, aim, wait. . . FIRE! *BOP* Drat! Missed. . . begin again. *giggle*

Those angels are really pretty- does one have an orange face? I've never seen that before, maybe I was seeing things. . .

Do you think, in your experience, that the female ADF are more aggressive in general than the males? MINE is, Olympia's is. . . just curious, since you're the one who's had the most, and longest, out of all of us!
I know!! I just love watching them eat. XD
Thanks!! Yes! That angel does have an orange face, it is what is called a koi angel, let me get pictures of the three angels in still... These were all taken the day I got the particular fish. :)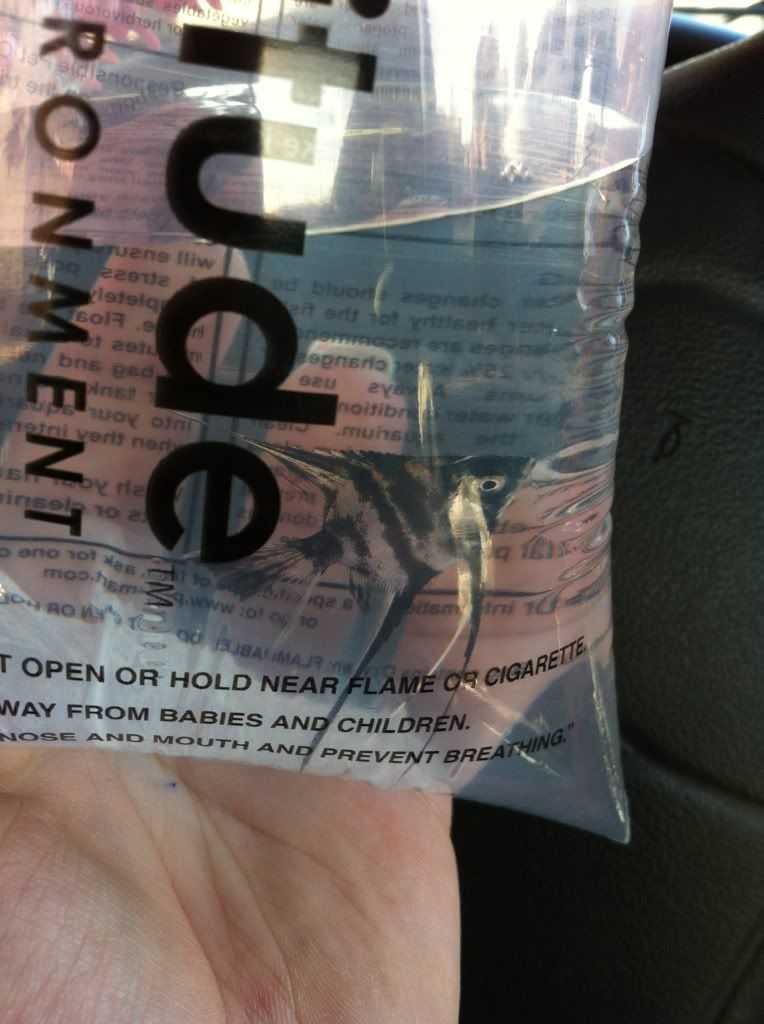 And lastly, yes, I have noticed the females do tend to be more aggressive, especially when it comes to food. Lol the little fatties love their food, that's for sure.
Oh she's such a tubster! What an awesome video XD For such tubby looking things they can move! Your angels are also gorgeous, I've always liked angelfish but never really enough to consider researching a set up for them.
---
"There will come a time when three words uttered with charity and meekness shall receive a far more blessed reward than three thousand volumes written with disdainful sharpness of wit."
Lol I know! Omg, she is fast...

And thanks! They are all about the size of fifty cent pieces, and I need one more, but I am super picky about how they look. LOL
Wow... Koi, huh? Gorgeous! I really love angels, too. It's hard to limit yourself to just a few types of fish! Since I have my rams, I'm planning to NOT keep any other cichlids, so that I can become more familliar with other species. MY eventual plan is for Gourami. . .

Isn't it funny how everything you read always says how difficult it is to tell male from female? But. . . provided you've SEEN both - it's really VERY obvious!
Mine are still too little to sex... Lol I just want four on the off chance I manage to get two of each. Lol

I have a guarami as well, and he/she is really fun to watch. XD
awee i love your angels!!! What size tank do you keep them in? I really want to upgrade my 29 to at least a 40 breeder but i have space limitations u.u

also your frog is just darling


ALSO your hair is super cute. i wish i could pull off something like that xD
---
Last edited by djembekah; 09-20-2012 at

12:46 PM

.
Hey! Some of you might remember when I posted about a lady on an ADF board who was raising taddies? She posted up a new picture of one of them at 8 weeks old. Thought I'd share it with you guys. Not the greatest picture, but you get the idea - and it's so AMAZING! I REALLY hope I get the chance to do this someday!
AAAAAWWWWWWWWWW!!!