I use a dish in my tank too--little dudes have figured out where the food is and they actually show up pretty quickly once I start doling it out. However, it does leave the food open to things like, oh, my boy Milton grabbing a piece of Beefheart that's too large for his face and swimming around with it in his mouth like a trophy. :-p
---
Eliot Ness, DeT, & Little Girl, VT.
J Edgar Hoover, Pleco; The Cavalry, Tetras;
John, Rodney, Carson, and Ronin the Cory Cats;
Snap, Crackle, Pop the Black Kuhli Loaches.
Sammie Rae & Ianto, DSHs
Quote:
Originally Posted by
katydidmischief
View Post
I use a dish in my tank too--little dudes have figured out where the food is and they actually show up pretty quickly once I start doling it out. However, it does leave the food open to things like, oh, my boy Milton grabbing a piece of Beefheart that's too large for his face and swimming around with it in his mouth like a trophy. :-p
That's absolutely adorable! It's amazing, to me, how many brine shrimp a frog can eat compared to a betta!
Random picture time! Because I feel like it.... XD
All three of my angels:
Bonnie: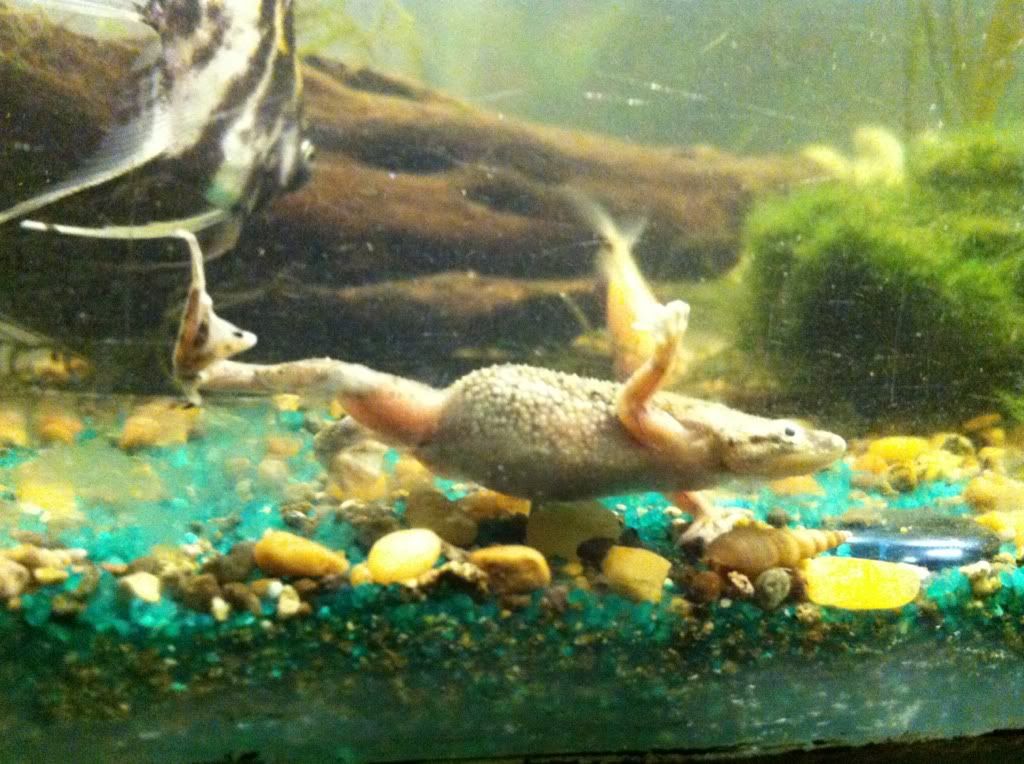 And their tank... Backed by my seven betta tanks. X3:
Just because... I dunno. >_> I'm not hyper, nope!
Love your tanks, Gizmo! The big one looks amazing!
---
Eliot Ness, DeT, & Little Girl, VT.
J Edgar Hoover, Pleco; The Cavalry, Tetras;
John, Rodney, Carson, and Ronin the Cory Cats;
Snap, Crackle, Pop the Black Kuhli Loaches.
Sammie Rae & Ianto, DSHs
Those angels are gorgeous. . . and of course I'm a huge Bonnie fan, lol. SEVEN betta tanks!? *giggle* Love it!
I need to really get cracking on making the 55 a npt... I just need to buy plants, dirt and silica sand... Lmao!!

The angels are getting really big! I need to get a fourth before too long, or whatever I get will be picked on. Looking for a solid white, or one with very little black on it.
Here's two pics of my little baby being awfully grumpy this morning :)
Sorry if this question has been asked but...

In a 3.5 gallon tank, could I keep a betta, an ADF and some cherry shrimp? Or would this be too much?
I wouldn't keep them in that small a container together. It's over stocked for one, and two you would never be able to provide hiding places for the shrimp, they would be eaten in hours. Five gallons is as small as I would go for that combo.
Ah, I wondered about the shrimp being eaten... OK, thanks! Upgrading is not possible because of space constraints, so I really need to choose between an ADF and shrimp, right?