Angel fish.
---
Do you guys think angels will make a good friend for a betta?
Just wondering.
No. They are very different fish and require very different living conditions. You want at least 10 gallons (20 or more is better) per fish, because they grow so big, and the tank needs to be tall, 2.5 to 3 feet tall, as Angels take up a lot of vertical space. They do not turn as easily as Betta, so planting would be different, not as dense, and they leave a very heavy bio-load. Added to the physical differences, Angels are territorial and will fight with other fish for control of a space. They actively patrol and guard their area, so the betta is always at risk of being attacked. Put simply... they won't be friends. They'll nip each other's fins and the angel will probably win, they have fairly strong bites and heavier bodies.
---
Last edited by MollyJean; 04-18-2012 at

03:34 AM

. Reason: spelling
If you value your betta, I wouldn't do it. ;) though things like tetra are kept with angels, it's quite common for one to go missing every now and then.
---
taking a break from fish-keeping.
3 lovely male betta still keep me company.

Member
Join Date: Mar 2010
Location: USA
Posts: 10,951
I haven't been keeping Angelfish for long-just got my half dozen young Angelfish a couple of months ago to try and get a breeding pair and I am keeping them in a 55gal soil based heavy planted NPT with 10 young Bettas, breeding pair of longfin pleco and their fry, about 50 or so RSC.
Right now I am not having any issues with any of the stock-but both the Angelfish and Bettas are young and the Bettas are much faster than the Angelfish right now, however, Angelfish are a Cichlid and once they are adults especially a breeding pair-I wouldn't dare keep young or adult long fin male Betta with them for fear of the Angelfish tearing them apart.....they are Cichlids after all....
Then for the proper tank to keep Angelfish being at the very least 20gal tall or larger tank with filtration/water movement-that alone could be stressful on the Betta-especially a long heavy fin male-the female Bettas might work provided that it wasn't a breeding pair of Angelfish-but personally...I wouldn't risk it.....
Here is a pic of my Angelfish and tank I keep them in...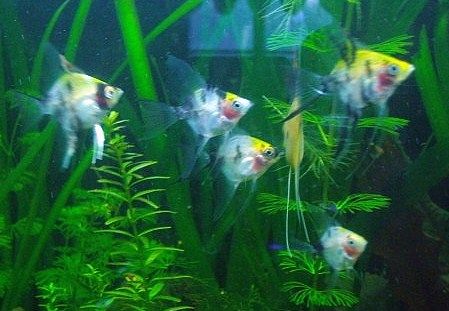 New Member
Join Date: Apr 2012
Posts: 12
My friend has a nice 45 gallon with Angels and one male betta living peacefully. The Angels ignore the Betta and vice versa. I believe as long as you have enough room. Even at feeding time they both seem to not care about eachother. Maybe its a fish by fish basis.
Thanks,i thought of this idea because iv'e never kept them and i wanted to try those.
My friend had an angel and a betta in the same tank (about 23 gal), but that was one super docile boy (the other tankmates were lots of male fancy guppies). I wouldn't try it when there are other, safer options.
---
Life.