oh man, Maestro has me blubbering ;_;


The only betta boy I can say I've rescued was a veil-tail that is the most neurotic fish I've known, while at the same time, has the greatest will to live! I only wish I'm a picture taker :/
His story's a long'un, but I'm happy to say he's definitely on the mend, and happier than I've ever seen him. I salute you Osriel, aka, "Ozzy".
And good luck to all of the contestants!
---
I'm a Betta Girl
I was in Walmart grocery shopping with my boyfriend and felt a strong urge to go look at the betta fish. So I went to look and the first thing I saw was this poor little betta fish that someone had just brought back and left him in a peanut butter jar. He looked so unhappy and poor and I knew I had to take him home with me and help him. We got him a 5 gallon tank and a heater and took him home and set it up. He didn't know what to do with so much water at first and didn't have much strength to swim. We baffled the filter to make it easier for him to swim and within a week he was swimming around his tank happily. He has brought me so much happiness and I love him dearly. It wasn't long before he was blowing big bubblenests and his fins got so big and beautiful and remind me of sails on a ship! It has been about a year since he was rescued. I have since moved him into a 10 gallon but right now he is in his hospital tank for bloating/intestinal parasites. I am so worried about him. He seems to be doing a bit better now but is still bloated and is on api general cure. I love my Alpha fishy. <3 Here is a video of Alpha. :)
http://www.youtube.com/watch?v=UE7RtelTmmo
---
Last edited by kyasarin5; 08-16-2012 at

04:59 AM

.
Here is another video of Alpha in his 5 gal hospital tank. He still looks happy even though he is in the hospital. He is such a sweet boy! :)
http://www.youtube.com/watch?v=9oXtC6IOsC0
I don't want to win the prize. I just wanted to share his story. :)
Member
Join Date: Aug 2012
Location: South Carolina
Posts: 68
this is our boy blue we rescued from walmart
---
We found blue in the cup at walmart 5 months ago he looked so sad poor guy not enough water so we bought him and bought him home well he really started to show how beautiful he was would puff out for us meet us at the top for his pelets and seemed to be fine.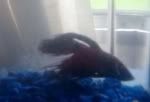 this is him a week after we rescued him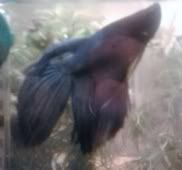 and this was the last picture we have of him right after we took this picture we found him in his tank dead...we will always love this guy our 1st rescue1
@ bettaluvinmom64, I am sorry for your loss. But to have time with a caring owner beats dying alone in a cup. You did a great thing for him.
---
Just because I'm in a cup, does not mean to pass me up, all day long I sit and stare wishing you would take me there. To your home to set me free, in a tank would mean worlds to me. I'll be your friend and loving pet, buying me wont bring regret. I'm just a Betta can't you see, all I ask is you could too love me - CandiceMM
A cold cup was not my destiny-Heart Breaker
Not sure if Pewe qualifies for this since he is still a recent rescue, but my family wanted me to post his story so here it goes. :)
Last Friday my mother and I was going to Walmart to cheer me up after getting the news that we were going to have to put my 14 year old dog down Saturday.. Since we needed cat food anyway I decided to stop and see their bettas. I knew they would be in bad shape but I never expected to see this. I found pewe shoved to the very back with the most nastiest water.. you couldn't even see him unless he was against the cup.
So I took him, showed my mother and told her I couldn't leave him like this. She said he would be dead by the time we got him home, but I didn't care. She was going based off the fact that she couldn't even see him so she assumed the worst. But I had to hope for the best.. We brought him home and had to keep him in a small heated bowl because he had trouble swimming since his fins were clamped so badly.
The next day he was swimming enough to be moved into his forever home and he has won everyone's heart. He kept me busy so I wouldn't cry that Saturday after we took my dog to the vet. Now he is a completely different fish.
This is a chat I made from how I first got pewe and his progress.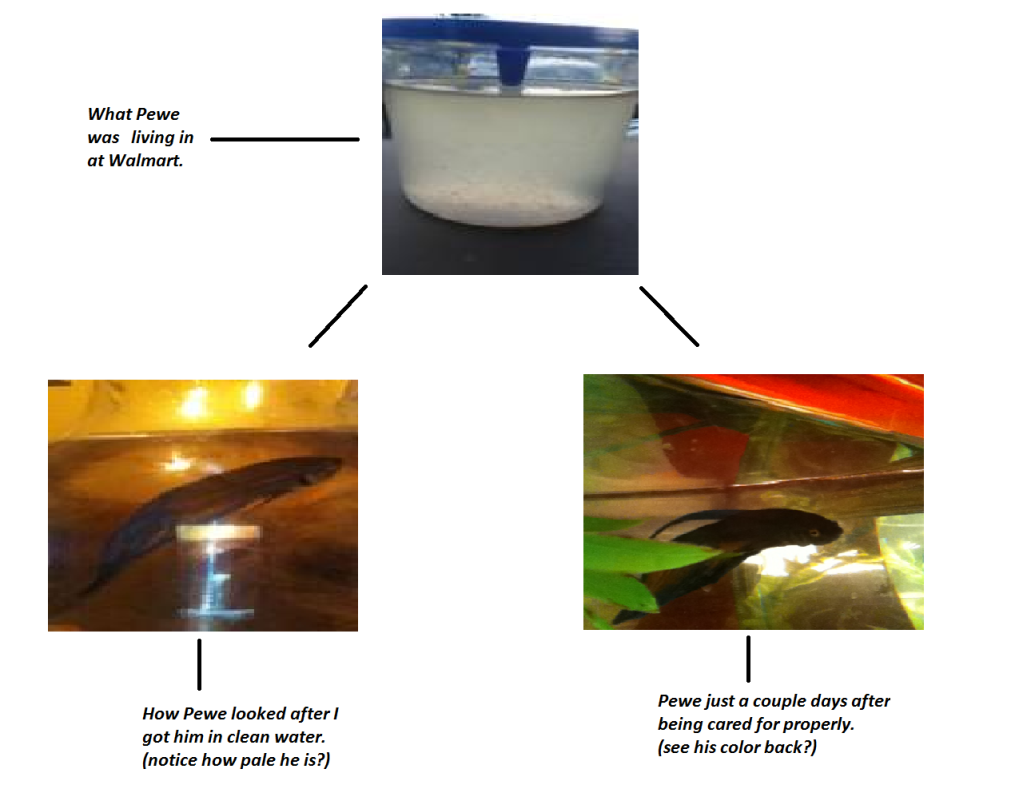 This was him a couple days ago.. Fins still slightly clamped.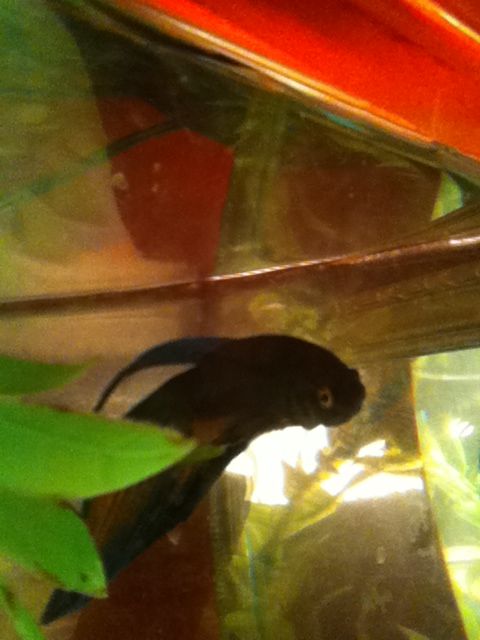 Now today.. while taking pictures I got him to flare for the first time! And his fins are no longer clamped and his ventral fins has regrown some (the white tips)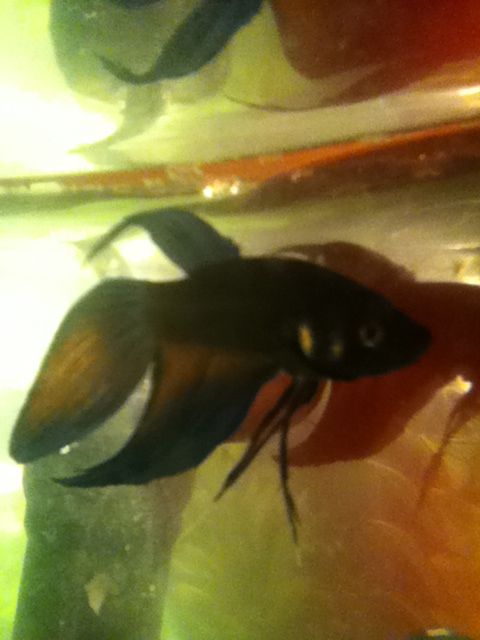 I was actually saving this tank for a female but I can buy more tanks.. I cant buy back a bettas life. So I know it was worth it. Now my boyfriend jokes about how our house is going to be filled with hundreds of bettas because I CANT say no. :)
---
Love Always Last In The Heart Somehow :)
Wow these fish are incredible! No, you guys are for saving them and giving them a second chance!! There are some fish here that I would never have guessed would pull through, mostly Tiki's Sluggles. Wow.
And Candice's bi-color halfmoon. All these fish are true stories and prime examples of the world we made for ourselves. The life of rescuing is one that might never end for all fish, but for those few who are it means the world.
I congratulate the winner in advance and wish you all the best of luck!
---
"Education is the most powerful weapon which you can use to change the world." -N. Mandela
To my journal!
http://www.tropicalfishkeeping.com/j...ourami-592858/
Nothing really special about my Epizon but here it goes.

About a month ago I went to Petsmart to buy some betta food and water conditioner. I saw the saddest looking DT who had ammonia burns on his tail and he bit it a lot. Well I saw how pathetic he looked and I knew I had to rescue him. He has grown into a beautiful purple/pink betta but his tail is still growing in.

Before and after pics
---
Open your eyes
Now is the time
To rise up
With darkness we'll still shine

---
Quote:
Nice stories. Mine will never win. :(
That's the thing, you, me, everyone who has loved a rescue has already won something amazing, our beautiful and healthy finned babies.
Even if you lose your rescue, and yes it is heartbreaking, you gave them a few moments of their life of happiness and love in a home, instead of passing in a lonely cold cup alone.
I am so inspired, Smog looked show quality compared to these sweethearts when I declared him mine. Now I know exactly what to do with Hotirubi's tank when I move her to her new one, I am rescuing another. And another, and another. The husband will understand.
---