My VT betta Lucifer the second
---
Open your eyes
Now is the time
To rise up
With darkness we'll still shine

My pics were accidentally deleted, so here they are again.
Simba
Seeley
---
Flake protecting his house;
---
FLAKE | OLLIE | RICHARD | LESTAT | PENNY GARCIA | ROSE

Last one for me, I promise! Well, I might come home tomorrow with a rescue, so...
Anywho, here's my spectral girl, Solstice, the cellophane HM.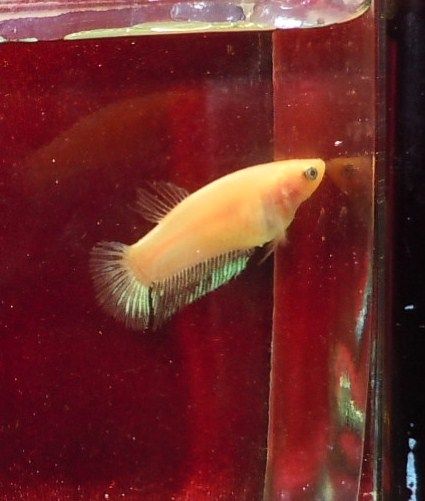 I actually saw a black and orange male O_O black body with black lace lining his dark orange veiltail fins <3

ANYWAYS why not enter one of mine? :p

Ares, the dragonscale HM
---
Breed for the breed, not for the money; the words any REAL breeder would understand.

You must know nothing in order to know all, for all is nothing and nothing is for all.
Here is one with my 3 Bettas in the Pumpkin Patch...Looking for the Great Pumpkin LOL
---
Fish are God's RAINBOWS underwater
Dreamer,Whisper,Sunshine,Lilly,Ester
REMINDER FOR ALL!

The last day to enter your betta will be October 29th. Any entries that are entered later will not be counted. October 30th the judges will pick the three winners and on October 31st the winners will be announced! Good luck to everyone who has entered and I hope all of you have a fun halloween!! :)

*please message me if you have any questions*
---
*Pebbles,Landin,Jack,Firework*
Rest in Peace: <3
Comet
Pedro
Milo
Bentley

Cory Catfish:
Mack <3 (peppered)
Cheese (albino)
How about a Halloween snail...lol To cute I had to post, forget the Great Pumpkin Linus its the Great Halloween Snail...only he doesnt bring trick or treats he just sucks your eyeball out...lol
---
Remember the Light at the end of the tunnel may be You.
Similar Threads
Thread
Thread Starter
Forum
Replies
Last Post
Tank Theme Contest! Halloween

a123andpoof

Betta Fish Contests

191

11-09-2012

07:50 PM