Female Red Cambodian Crowntail, Noname, Owned by aemaki09

Reminds me of Santa Clause! although shes a female
---
10 HM, 3 HMPK, 5 HMPK fry
8 German Blue Ram, 5 Green Dragon BNP, 4 Albino BNP, 4 Calico BNP, 6 Red BNP, 5 Kuhli Loaches, 2 ADF, 7 Peppered Cories, & 6 Tiger Endlers + Fry
12 full time tanks, 4 NPT, 6 QT/Breeders
Member IBC
Peaches.
---
Boys: Rosewell and Ren

Girls: Juno, Circe, Iris, Rhea, Calypso
Quote:
Yes they are! I wish he hadnt tore them up! Hes either become a tail biter or has finrot or has shredded them some how. Check out my thread in diseases to see a pic. My poor boy. His fins wwere so pretty! His fins are bit of a deeper red now and not so bright because i changed the lighting in his tank.
I'm sorry to hear that. I hope that whatever it is, whether it's fin rot or merely tail biting, that he gets better soon. Both are equally horrible in my opinion.
Also, everyone's bettas are beautiful!
---
| Tribble the Pomeranian | Oxley the Rabbit |
| Viola Chubbs |
My Journal
Miyagi having a stare down with his thermomiter =P , hes pretty sure it will eventually fight him for territory. He is a Male Double Tail Plakat Betta...I actually posted on this site trying to solve the color dilema, had many thoughts shared with me, but im not sure what he "actually" is so I will call him a Red Platinum or Cambodian Butterfly; Owned by FriendlyFishies.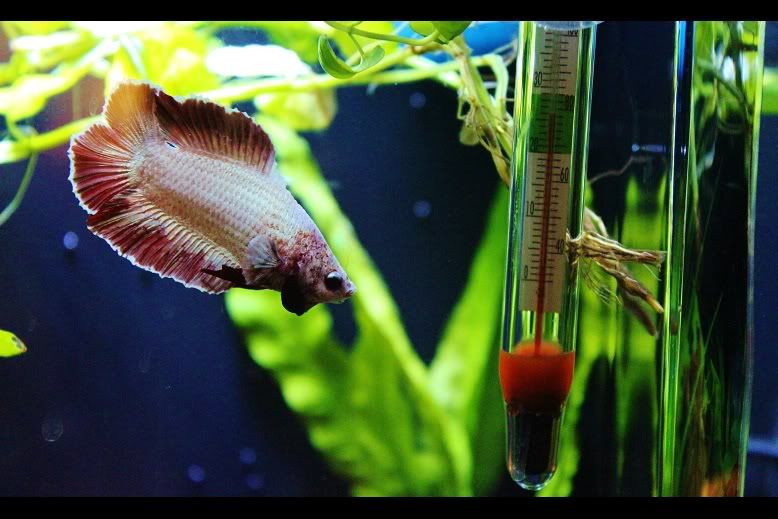 ---
Moonie - Miyagi
~ It's a betta life ~
Quote:
Mrs. clause!!! lol XD
I might have to change her name! It slipped my mind that there was a mrs. Clause!
---
10 HM, 3 HMPK, 5 HMPK fry
8 German Blue Ram, 5 Green Dragon BNP, 4 Albino BNP, 4 Calico BNP, 6 Red BNP, 5 Kuhli Loaches, 2 ADF, 7 Peppered Cories, & 6 Tiger Endlers + Fry
12 full time tanks, 4 NPT, 6 QT/Breeders
Member IBC
Friendly fishies that Is an amazing picture
---
Boys: Rosewell and Ren

Girls: Juno, Circe, Iris, Rhea, Calypso
Male, blue/green and red, Delta, Envy and horsyqueen
GENDER,COLOR,TAILTYPE,BETTAS NAME AND YOUR USERNAME
Thank you! Please tell friends!
---
Boys: Rosewell and Ren

Girls: Juno, Circe, Iris, Rhea, Calypso
Alcemistnv:
This my my Christmas betta, his name is Jingles. He's a fancy halfmoon :)
His tank is currently decorated with Christmas Hershey Kisses (on the outside of course!)
---
Baby Buddha(M VT) ~ Oddball (M-DeTxHM)~ Little Chai ~ Lucky(F oto)
I seem to have a problem with collecting things with scales and fins. Oops
Similar Threads
Thread
Thread Starter
Forum
Replies
Last Post
Thanksgiving contest

bryzy

Betta Fish Contests

21

11-28-2012

04:49 PM

Happy Thanksgiving

tpocicat

Betta Chat

3

11-24-2011

05:40 PM