Username: Elsewhere
Betta: Atlas (I don't have a good one of Pigg :( )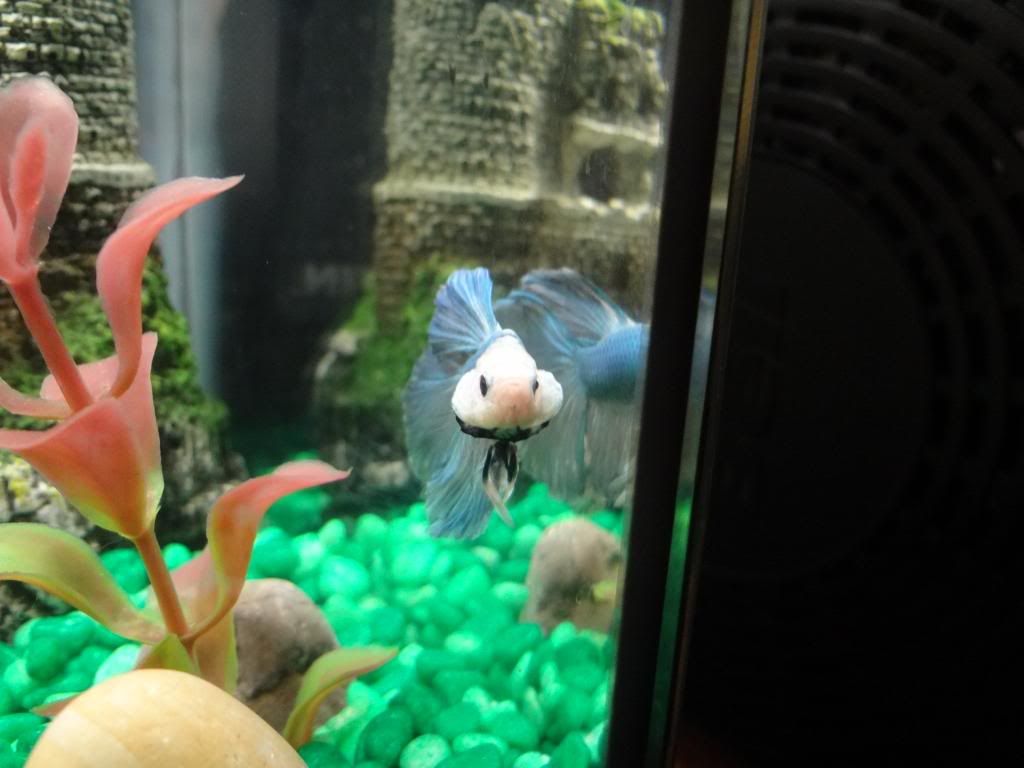 ---
55 Gallon: Crowley: Melanoid Axolotl; Mischa: Melanoid Axolotl; Achlys: Albino Axolotl; Eddard Stark: Leucistic Axolotl
Furry Friends: Daisy and Holly: Dogs; Norman and August: Cats; Gilbert and Mordecai: Guinea Pigs
Quote:
Thanks! Those two are total buds now! Algernon was sleeping next to Squidward the other day. Super cute!
My bettas ignore their nerites for the most part, but my older CT gets in a bad mood and will flare and stalk his sometimes >.<
---
Want Custom Betta Art Prints? -->
http://syrazel.deviantart.com/
Member
Join Date: Nov 2012
Location: Illinois.
Posts: 1,556
Thanks for all the pics!
---
Boys: Rosewell and Ren

Girls: Juno, Circe, Iris, Rhea, Calypso
Username:: aemaki09
Bettas name:: nameless
---
10 HM, 3 HMPK, 5 HMPK fry
8 German Blue Ram, 5 Green Dragon BNP, 4 Albino BNP, 4 Calico BNP, 6 Red BNP, 5 Kuhli Loaches, 2 ADF, 7 Peppered Cories, & 6 Tiger Endlers + Fry
12 full time tanks, 4 NPT, 6 QT/Breeders
Member IBC
Member
Join Date: Dec 2012
Location: Yakima,Washington
Posts: 590
gonna get a pic of betta flaring.
---
You're never to young to be to knowledgeable.
username: LadyVictorian
betta name: Copernicus and Hollow
Cappy also known as Copernicus. You also have Hollow H Well on the other side. xD
---
IBC Member since 2013
Quote:
Originally Posted by
ilovebettafishandsuzys
View Post
hi i had just a few questions before entering my betta in the contest

1: will you rate every body, the top 5, or just the first place winner
2: can i put more then 1 pic
3: and how do i get my betta to flare

thank you for your time and if every thing is good i will enter ronto sparky
First, off, We will rate the top 4. first place, second, third, and fourth. the first place winner will get either a drawing of one of their Bettas by Bryanacute, or a pixel of their Betta by me. (their choice.) all of the others just get the glory of saying they won 2nd, 3rd, or 4th place.
Second, one entry per user, meaning one picture per user.
Getting your Betta to flare can be tough or easy, depending on the fish's personality. Try putting a mirror in front of him, or put another Betta on the other side of a clear divider. Also, you can place two Bettas in containers side-by side. Some Bettas flare easily, and some don't. I had Merlin for two months before he decided to flare, whereas Peach flared the second day.
Good luck, ~Saphira
Thanks you for your entries Tappy4me and Lady Victorian!