Very gorgeous, alwaysBettaLover!
---
Charlie ( male RT) Olaf (male HMEA) Ghost (male, DTHM ) Cupid (male, DT) Fizzle (HM)

Quote:
love the vibrant red.
thank you :)
Member
Join Date: Mar 2013
Location: Florida
Posts: 695
Dominic
---
Not much of a recovery yet but here is this little sweethearts story:
We saw Dom over a month ago. He was on his side with no water to sit up straight but we didn't have the room, time, or money so we added in water from another tank. Friday I went to get a betta that I had won I just had to pick him out. This litlle guy was at the front but in less then 2 inches of water, again. The water was very clouded and it was hard to see the fish. He was terrified all day and the net but has learned to say hi. He gets scared easily and will zip around the tank really fast. He is a nice blue with potential butterfly (we have to wait for his tail to grow back fully, I think he was a fin biter) and has slight tiger stripes on his body and wild spots on his tail.
Before in his cup
After in his 1 gal with a hammock and custom rock formation with caves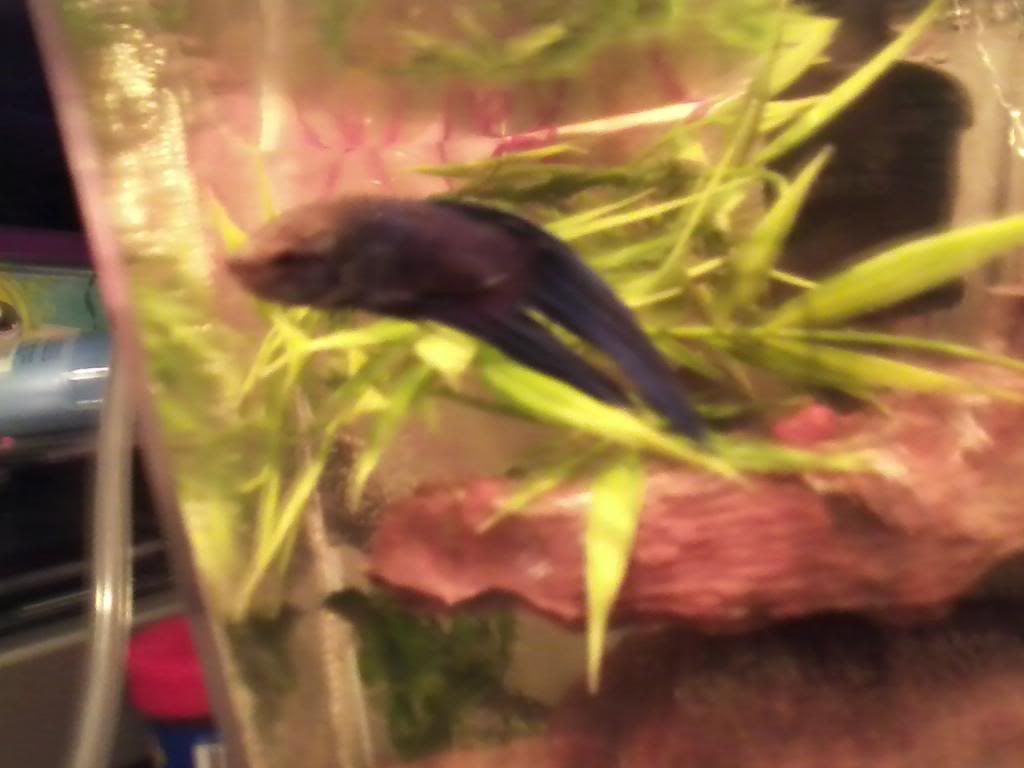 I won't be able to enter on time. :( I really, really wanted to enter. :(
Quote:
okay. 8V i gots a great rescue. i adopted them, but it was my friend that physically rescued them. they were in a half gallon tank with stinky, gross, super dirty water, and it was either she saved them, or they got flushed. it was decided from the start that i'd take them in, but she held onto them while they healed up. i'm only entering Coop, since he's the one that went through the biggest change.
before:
and, the most recent photo i have of him after coming into my care:
very nice job =D
---
Thanks
The first month of Dresden's life was not a happy one. She was owned by my brother, who's young and pretty dumb. I don't live at home, so I was aware that he had a fish, but that was it. When I came over to visit, I decided to peek at his fish and was horrified at what I had found... he was keeping her with a male in a small, dirty bowl, and she was pretty beaten up. The male would hardly let her eat; she would drift to the top for a breath, get attacked and just float listlessly back down.
Dres2.jpg
Dres6.png
Dres5.png
I was pretty angry. I told my brother I was taking her home, cleaned the bowl for him so the male had better conditions, and said that if he couldn't get it together, I'd be taking the male, too.
That was March 22nd. Not yet two weeks later, with the help of stress coat, warm, clean water and healthy brine shrimp, she's already doing much better. She's much feistier than when I had first taken her home, often zooming happily around her tank or snatching food off the surface like a little shark. She has a warm, clean, safe environment all to herself, and her fins are growing back, her stress stripes faded and her color returned. She even looks bigger!
Contest1.png
Contest4.png
Contest3.jpg
And this is only the beginning of her transformation! ;]
---
"I am a being of transcendence. I have traveled across the universe, flying with the birds, swimming with the fish & dreaming with the dreamers. Once you realize this is just one plane, you'll be more than ready to discover the others."

"It's funny how I have one cat and get called 'crazy', but can have multiple fish without anyone saying a word."
*Floyd, Marley, Jagger, Dresden & Elvis.*

This my boy, Pigg, the first day I got him last June: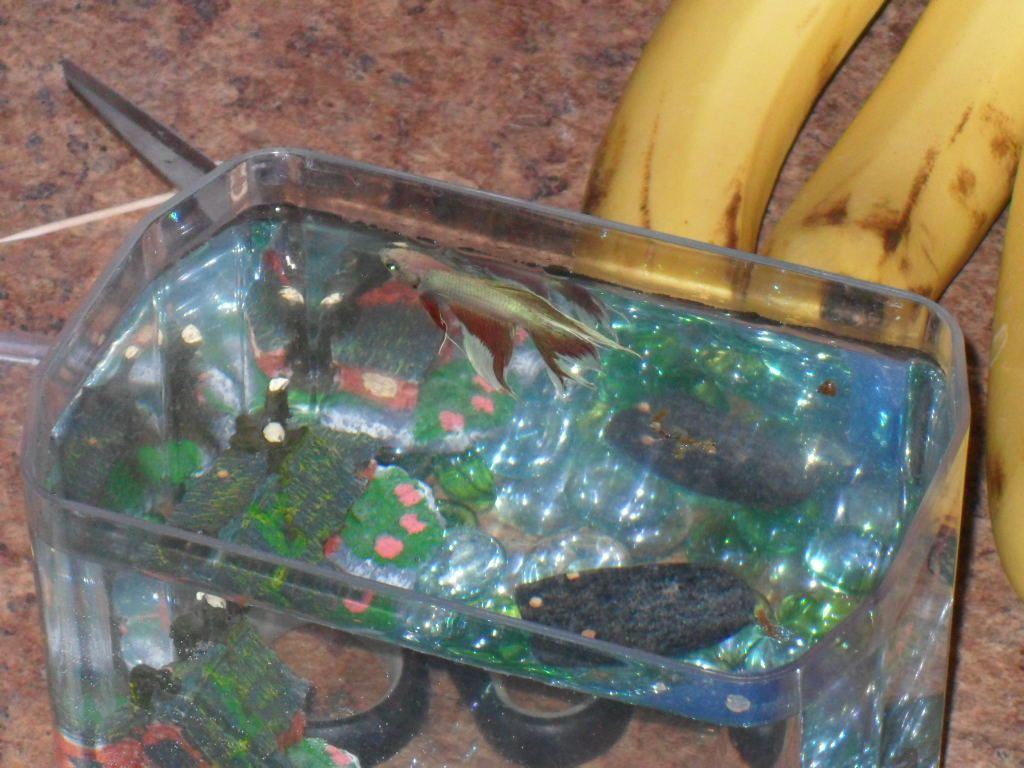 This is him now, with some fin damage, but so much healthier: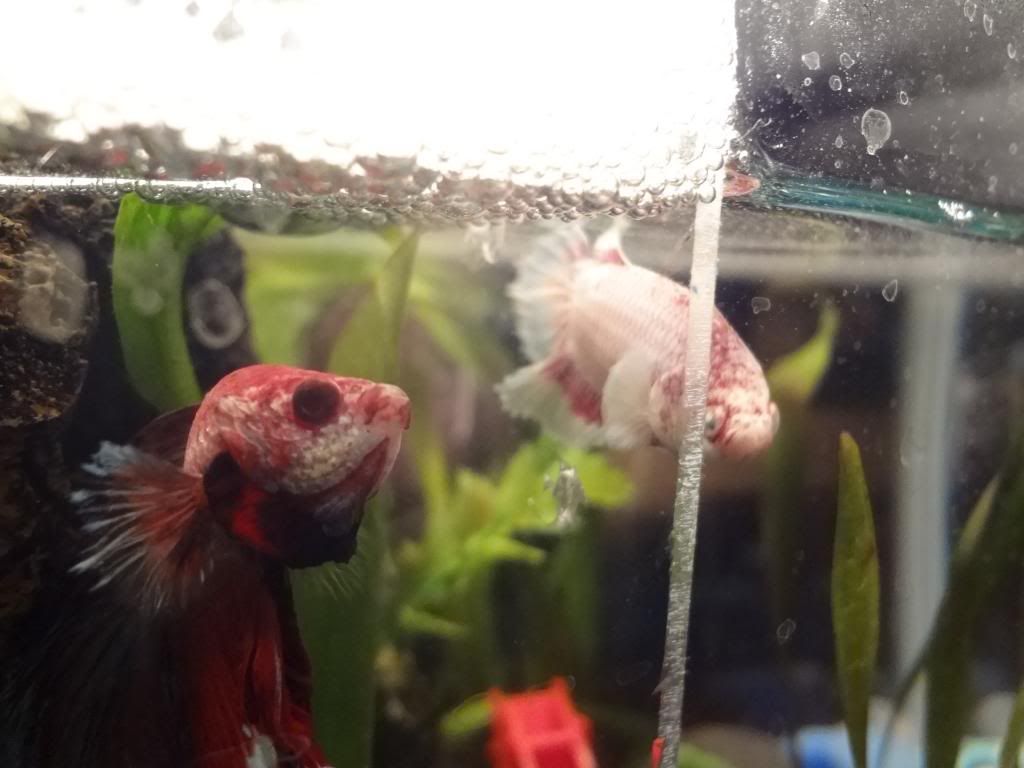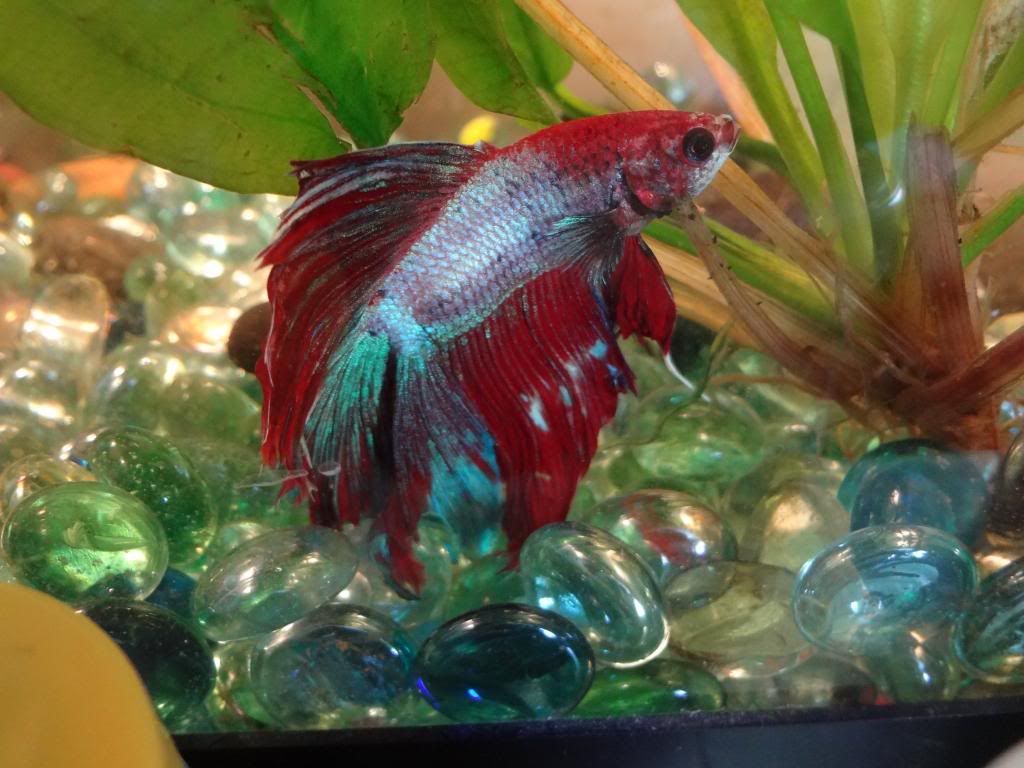 I got Pigg last June, originally named Silver Streaked Violet, as the girl who worked there said he was a girl -_- I mean come on! But anyways, I would go in that store after school almost every day and look at him. I finally convinced my mother that he needed to come home with me, and within a week he had his own heated, filtered 10g instead of the .5g I had at first been keeping him in. He turned from a gross whitish pink and a dark reddish purple tail into my gorgeous pink boy with a brilliant burgundy tail, now with teal in it for some reason... Still working out the kinks ;) He is absolutely my favourite fish and I love him to bits. If I hadn't gotten him that day, he would surely be dead like the fish in the cups next to him that day I got him.
---
55 Gallon: Crowley: Melanoid Axolotl; Mischa: Melanoid Axolotl; Achlys: Albino Axolotl; Eddard Stark: Leucistic Axolotl
Furry Friends: Daisy and Holly: Dogs; Norman and August: Cats; Gilbert and Mordecai: Guinea Pigs
Thank you for all of the entries!! The contest will end as of midnight tonight! So if you have anymore entries get them in today!! I will announce the winner on Wednesday or Thursday!
---
One hand reaches out and pulls a lost soul from harm. While a thousand more go unspoken for, they say what good have you done? By saving just this one... It's like whispering a prayer in the fury of a storm. And I hear them saying... You'll never change things...
MoonShadow Betta Fish Rescue
Saving the world one innocent life at a time

Yay! :D
---
Over hundreds of bettas die in their small, dirty cups each day. Only you can help them live. Research and then save them, today!

Unfortunately my iPod only lets me post one picture at a time so this will take two posts.
Big Red was rescued from Wally World, he had been in the same cup a another betta and he was sitting on the bottom of the cup while the other guy had perfect fins and was healthy and building a bubble-nest. I separated them and left. But I couldn't get the poor boy out of my head. I knew no one would buy him because of his ripped up fins. I knew he would just sit there until he got bad fin-rot and died. So the next day I went back to get him, his fins started growing back great! My friend came over one day and she loved him. After a little training from me, and after she bought most of her supplies, she got to take him home with her. :) he has grown his fins back but started biting his tail a bit. I let my friend have some food that I have. I gave it to her in a little tube, which will not last much longer and it's not one of the highest quality food, so if I win I will be giving her the food. :) (but I never win contests
lol)
image.jpg