Syriiven and I decided that we should share some stories about the fish who've inspired this contest!
NOT A CONTEST ENTRY!
Here's one of mine, This is the story of the "Betta from La Mancha"
My other half and I were cruising through Walmart with my son when we decided to go take a look at the bettas. Most of ours have come from that store since I got into bettas a long time ago. While we paced the aisle and looked into the tiny cups, I found a poor little white fella, his color was dull, his fins were clamped, and he had poo rocks on the bottom of his filthy cup. I ended up fighting with my fiance in the walmart betta aisle for TWO HOURS to bring him, Diablo (also in bad shape) Dory, Dulcinea, and Lillith home.
February 5th, 2013
This is Don Quixote now! (5/5/13)
NOT A CONTEST ENTRY!
---
IBC Member
Squee~ he's changed sooo much! I need to do him an art some time, off the grid xD
now that his fins are all filled in and floofy? I've never seen so much on a CT!
---
IBC Member
** Not An Entry **
This is the story of Demi.
I adopted this little female betta from my friend who didn't know what she was doing. I had a few boys already, but when I asked her about her fish she said that it was lazy, was always on the gravel, didn't do much. I immediately grew concerned, and told her to show me a picture. This is what she showed me: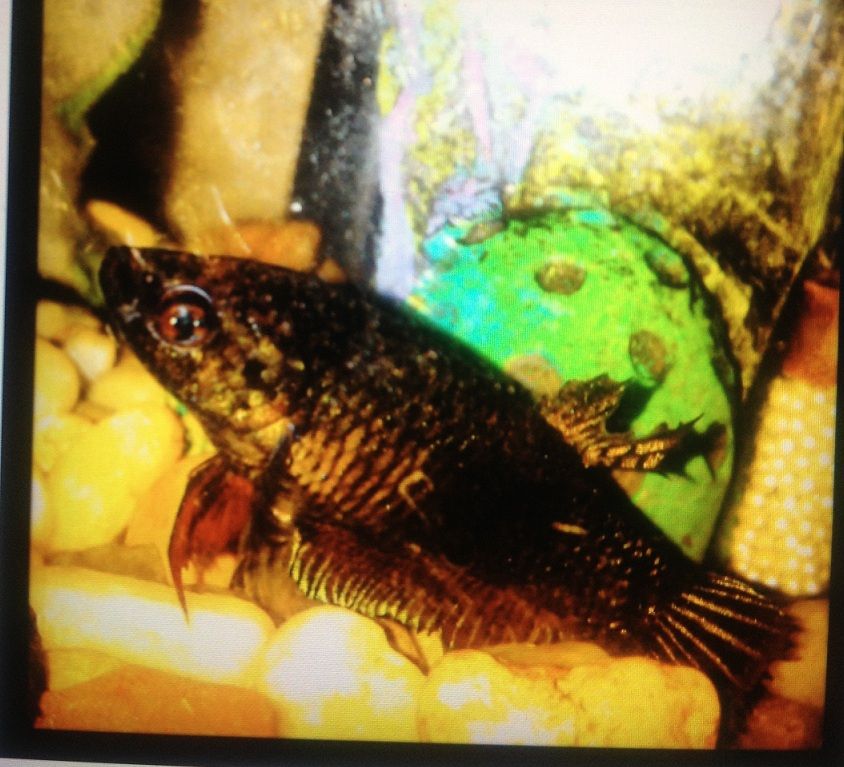 I ended up convincing my friend to let me babysit her fish and bring it back to health if I could. My friend agreed, and thus began my kidnapping of this poor fish, my first female betta.
Now, I'll fully admit that I was one of those people that passed up females. They all looked the same, and rather bland. And I'm definitely attracted to color, so males won out every time I went to the lfs.
Demi changed all that.
When I first saw her in person, I could immediately tell her spine was bent from SBD, as she also couldn't reach the surface. She'd get all energized and kick off from the bottom of her bowl and try to reach it, but just a short distance from breaking the water line she'd end up rolling and floating back to the bottom. I was extremely distressed over this, and so made her a special qt tank with a heater. Just a plain tupperware bin only a few inches high and filled with 2 gallons of water. Since she rested on the bottom so much, I put smooth glass stones in the corners so she could rest on them and be near the surface. I also gave her my boyfrien'ds Marvel coffee cup to hide in.
I was worried sick about her, but she seemed very lively and willing to live. So I started epsom salt treatment after checking on the sight here, and did my best to let her relax and get better in time. As I watched her for the first time, I realised that from being on the gravel all the time, she'd gimped her anal fin and one of her ventrals was shorter than the other. Her crooked spine had forced so much more weight on that one side her ventral never grew even again. Then there was the huge chunk out of ehr dorsal, and I could only assume that was from another fish. I had no idea what the store had done, and my friend said she'd always been this way. That seriously made me both sad and mad. This poor girl had been beaten up and had been having these problems for more than half a year!
I couldnt sleep well that night and early the next morning I went to check on her. She was perfectly fine, had made it through the night and was even glad to see me. Wiggled on over and perched on the bottom, staring up at me. I ended up falling asleep on the floor beside her qt tank, and when I woke up she was simply sitting there, watching me. In that moment, we bonded like I havent with any other fish. She saw me, and I saw her. And we both knew she was going to be okay.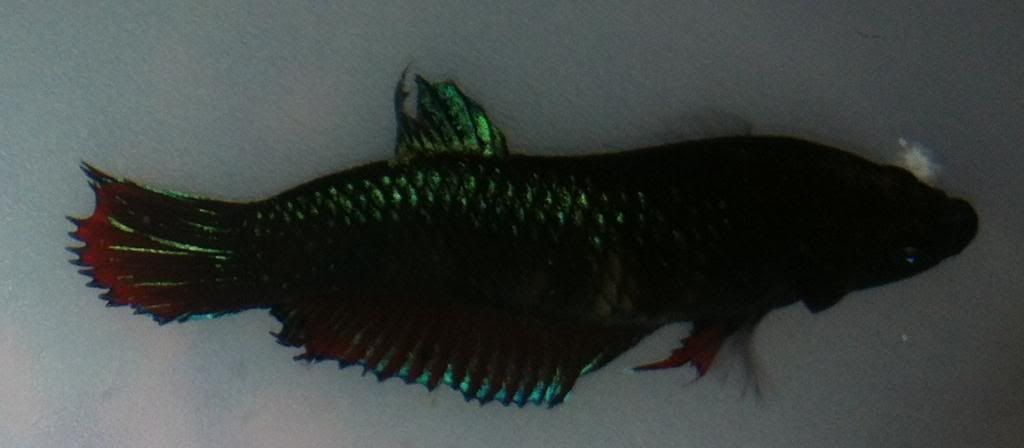 After two days of epsom salts, her spine actually started straightening out. I couldn't believe it, and she could easily swim to the surface and had far more control over her swimming. She still preferred resting on the bottom, but she seemed more comfortable now. So I got her 3g halfmoon tank ready. I built the bottom the same as I did her qt, with smooth glass stones int eh corner where she could rest without scraping herself. I started to work her up to swimming higher for air, by adding another inch tot he water every hour. Soon the tank was full and she was making it up and down and with so much more room (her previous tank was less than a gallon) she suddenly became so excited! She'd wiggle and wave and though she certainly still didn't have the best swimming, she was active and could reach the surface no problem!
I immediately went about making life as comfortable as possible for her. Broad leafed silk plants, a hammock, and constant attention as she was on my desk. Any time I came home she'd be the most excited fish I'd ever seen. Pictures were few and in between because she couldn't keep herself afloat (permanent damage to her swim bladder, so she couldn't hover like bettas normally do. She would simply let herself fall to the bottom or onto a leaf, but she got very precise with where she wanted to go) and she was just too riled.
There were times she'd simply get as close to me as her tank would allow, and she'd watch me, or she'd turn so she could see my computer screen. She'd watch videos with me, watch me do my art, she was truly a companion to me, and one I dearly wish I could cuddle.
Over the months I had her, she only got better. She grew, her coloring darkened but her irid changed from green to blue! her red got crisper and she was such a little gem! She developed a habit of jumping at my fingers for food, and was not shy with the pellets. I suspected some giant gene in her due to the fact she was bigger than my full-grown boys, and had quite the appetite.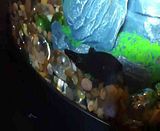 I'm sorry for how long this post is, and for all the pictures and videos. At the beginning of the year, sadly, and I knew it was coming, she developed dropsy. One organ, her swim bladder was gone, and I knew she'd lived a very stressed life. So I knew she wouldn't be the longest lived, but while she was in my care she was the happiest, the most energized, the one I had the closest relationship with. Watching her pine cone over night was horrible, and though I tried to treat it, she developed columnaris later that week. my poor, sweet, joyful girl was slowly passing in a terribly agonizing way...so after the week, I ...mercifully let her go on her way.
I miss her, dearly. My first rescue, my first ugly, my first female, and my closest fishie friend. I love you, Demi. May you forever swim in peace.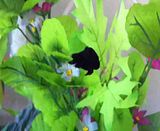 ** Not An Entry **
-big hugs- That's a beautiful story, Syriiven! And I'm glad that you shared it with the rest of us. <3
---
IBC Member
Yours too <3 I'm so glad you still have your boy!

It's the hardest when you save them but still have to say goodbye.
Oh that was a terrific story Syriiven. Im so glad Demi got to spend quality time with you. It is amazing what some good care can do for these fish. I too thought females were more bland. As time goes on Ive developed a special place for the girls in my heart. My sorority tanks are my favorite, the character and personality of the girls makes them so much fun. Demi was a sweet fish!
I have been stalking this contest since page one and I must say this is probably one of my favourite threads on here. It is so wonderful to know that there are so many genuinely goodhearted people out there. <3
Quote:
Yours too <3 I'm so glad you still have your boy!

It's the hardest when you save them but still have to say goodbye.
I'm happy while he's here, but eventually, we all have to say goodbye. We've lost a few of our rescues, and it never gets easier.
---
IBC Member
Thanks guys!

@ SkyeWillow - No it rlly doesnt. But atleast we've given them the best before the end.
Similar Threads
Thread
Thread Starter
Forum
Replies
Last Post
AB beauty!

xswornxoffxjello

Betta Chat

5

02-21-2011

12:49 PM

Look at this beauty!

beat2020

Betta Chat

5

06-16-2010

06:12 AM