He's beautiful! I wish a long and happy life to you and Nubbs! :D
Nine days left, Ladies and Gents!
---
IBC Member
I think each and every betta and their owner in this contest is beautiful.
---
Quote:
I think each and every betta and their owner in this contest is beautiful.
everybody is beautiful in their own unique way. That's exactly what this contest is about! <3
---
IBC Member
Quote:
I think each and every betta and their owner in this contest is beautiful.
I totally agree!!!!
It's been almost a week since Bahari went to the rainbow bridge <3 I'm praying that he's happy up there! I can imagine he's flaring to his hearts content and is able to see all the pretty girls now <3 <3 he is such a stud. I bet Demi and him would get along great, too... I mean, if they were able to think like us humans.
His burial was postponed due to school but now he will be buried next to Okami. I have made his coffin. He'll have a brick grave marker next to Okami's as well.
I do feel blessed to have had the opportunity to care for him. I just don't know how likely it will be for me to ever have a blind fish again.. I guess it was fate for him to have ended up with me.
---
Veyron Sprite Ayala
S.I.P. Okami, Bahari, Lotus, Mercy, Daihatsu, Ascari, Kuraokami, DaBaDee, Zenvo, & Stella <3

I have an entry for both male and female. :) My male entry actually is not that bad at least not as far as asthetically. I was at my local Petco and looking around at all the bettas when this boy caught my eye. He was the first king betta I had every seen at that point. I carried him around for a while as I went about my business. I looked at some plants and got an employee to get me some out of the tank. One of the other employees came over and we started talking about the bettas. I mentioned about the king bettas and her and the other girl went on about how much they loved the pattern and colors on them. All the other ones were "wild colored" the mix of blue and red that you normally see with wild betta splenden species. I had sat the boy from earlier down to look at the others and the second female employee mentioned how ugly he was. Said he looked like a finger. At that point, I knew I had to have him so I picked him up and proceeded to tell the girl that from his markings he was a marble and would change colors as he grew and that there was no telling how he would look later on. When I got him home, I took some pics of him that kinda let me have a preview of what he might look like down the road. The flash showed some color in his fins that were not visable to the naked eye. Eventually he did change color all the way to the amazing color he was till the day he passed(which has been a couple months now). I have yet to see another king betta even remotely close to his coloration.
My male entry: Zeus
How he looked with I got him: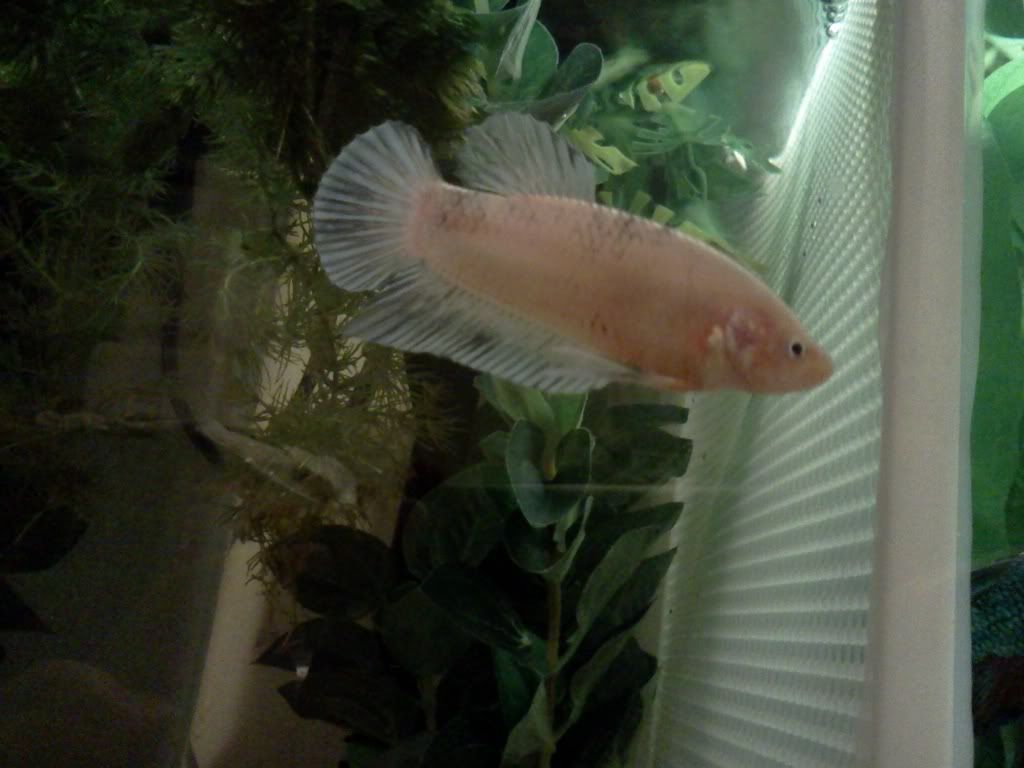 How he looked under flash(could not see any of the color with no flash)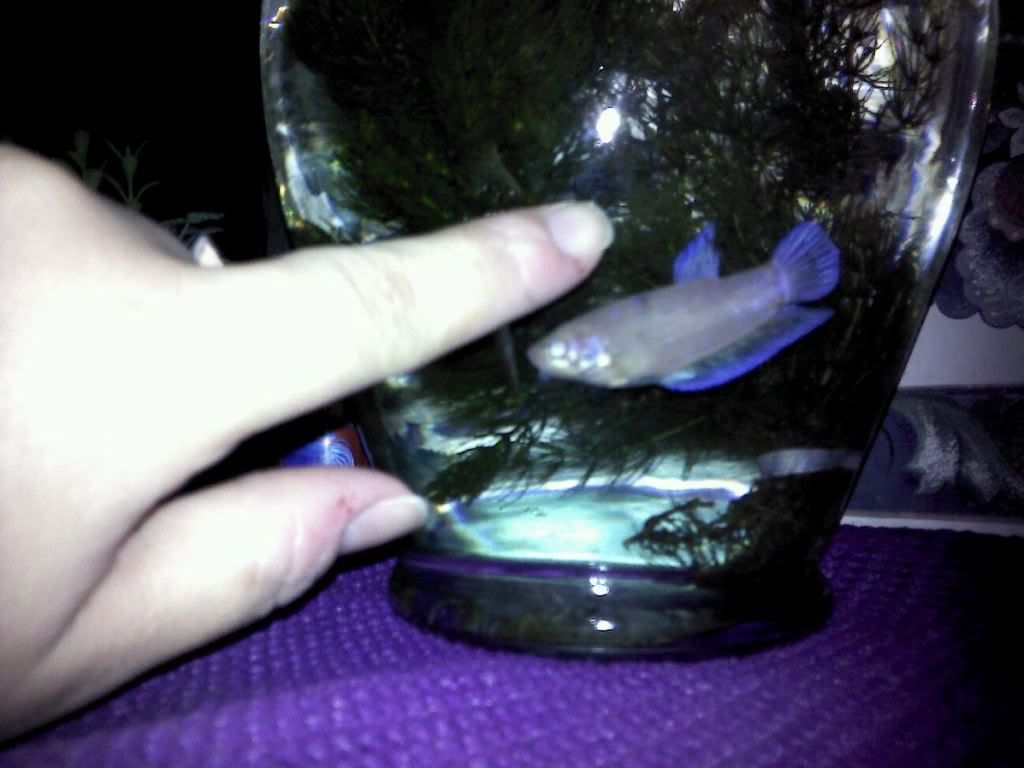 What he turned out to look like: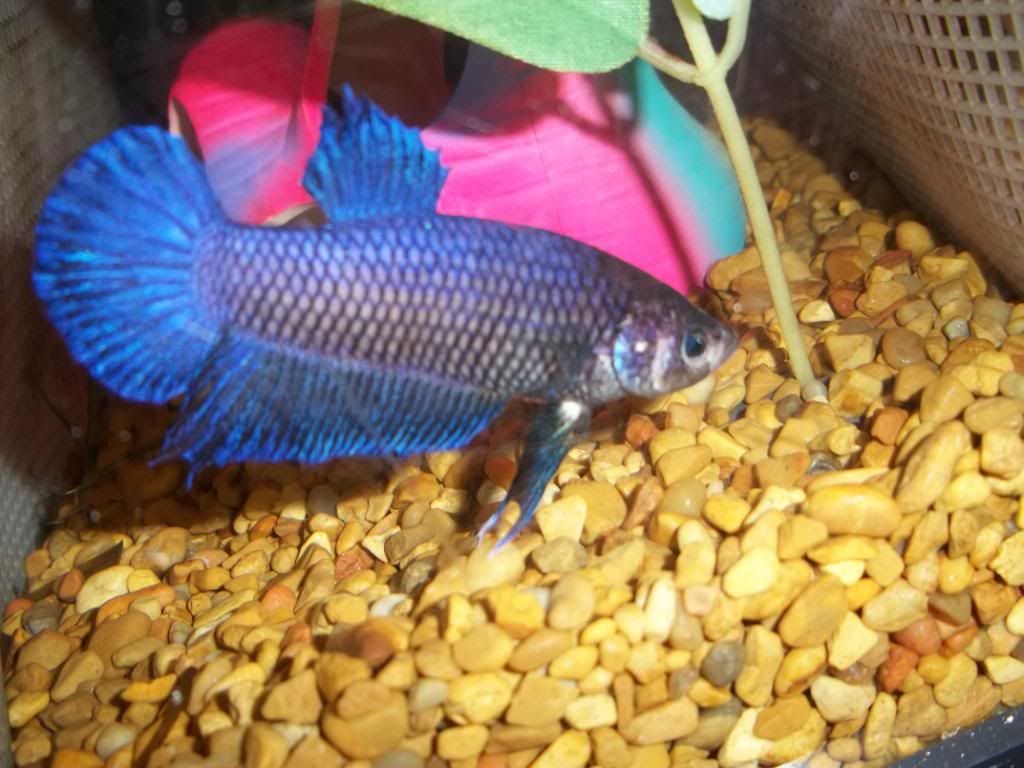 My girl was a female I purchased from a friend in Canada that had bred her bettas. The spawn was gorgeous and produced all the colors in the rainbow. I got 3 of her boys and 3 females from her. Both her female and her male had X factor and scale deformities which resulted in a heavy dose of rosetail in the spawn. Out of the 3 males I got from her, 2 were extreme rosetails with such heavy tails that it made them look humpbacked at times from holding up the finnage. Out of the 3 females, I got one that was an extreme rosetail. She was very short, chubby, had extremely short stubby ventral fins, and other deformities. This girl was so ugly that she was cute. I was so glad to have gotten her because she was so different from all the other females I had ever had. She did very well in my sorority until I rehomed all my girls to be able to keep wild bettas.
My female entry: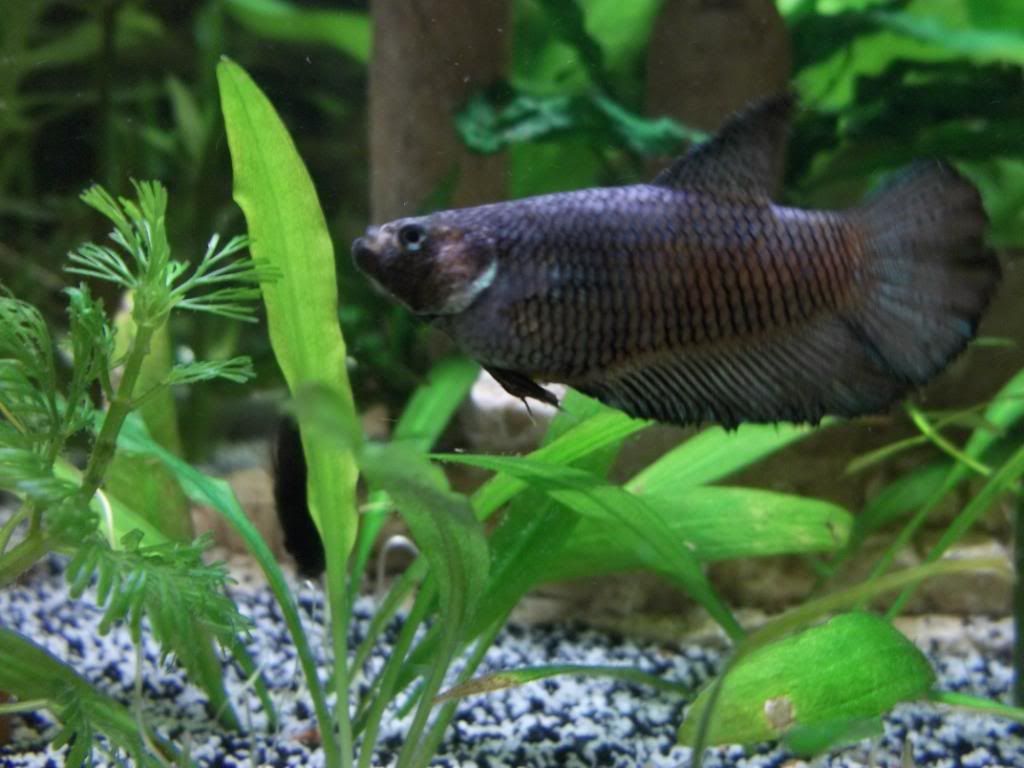 ---
Wild Betta Breeder
I just love all the beautiful fish and stories here
They're both beauties here, Wildbetta! I love the transformation of Zeus, WOW!!!

Welcome to the contest!

(8 days folks!)
---
IBC Member
Member
Join Date: May 2013
Location: You know, that is a very, very good question... and you know, I have an answer for you... somewhere.
Posts: 495
Hmm, I think I will do Picasso. So I had my eye on him for some time, and it seemed nobody would ever take him, so I went ahead and took him. When we got home I noticed he had fin rot issues and is getting lots better now! :) Also his dorsal fin is really odd... Its freakishly short but I don't think it has anything to do with his fin rot. Anyway, He's my little baby! :) I don't have an after pic so sorry about that.
Similar Threads
Thread
Thread Starter
Forum
Replies
Last Post
AB beauty!

xswornxoffxjello

Betta Chat

5

02-21-2011

12:49 PM

Look at this beauty!

beat2020

Betta Chat

5

06-16-2010

06:12 AM