These are so cute you guys!
Here is Big Red being photobombed. Don't worry he is not in the tank anymore I originally thought he was a female but thanks to some helpful members on here I found out he is a male spadetail.
---
S.I.P:MANGO & JADE
FEMALES:PARIS,SALLY,TULIP,SAMARA,MARIE,BABY,ASIA
MALES:WATERMELON,BIG RED,COCOA,PEBBLES
---
I was tryna get a picture of my pk looking like he's working on his nest and I almost had the perfect pic, when'd is girl swan into the picture.

I guess she though the nest was for her only to see and I couldn't.
While trying to take some photos of my new guppies, (which is already hard considering they never stay still!) Sherbert, decided he wanted to be in the picture, and wanted the attention. He has always been an attention hog.
image.jpg
I was trying to get a picture of my shrimp for identification purposes. Enter Cesar, giving me his first ever full blown flare! The focus of this photoshoot quickly turned to him after this. I was shocked, after mirrors..pen caps..then all of the sudden a real flare!
Darn I usually delete pictures with photobombers because they're usually out of focus and it looks bad. Guess I'll be takin a lot of pics tonight!
---
10 gallon planted
- HMDT male betta, 4 peppered corys, assassin snails, Amano shrimp
10 gallon divided bare bottom
- HMPK male, 2 VT males
29 gallon sorority planted [journal]
- 6 females, 4 bronze corys, trumpet & nerite snails, 3 Amano shrimp
This is my entry :) I was trying to get a picture of Lotus, my blue crowntail and there's Iris in the background looking right at me :)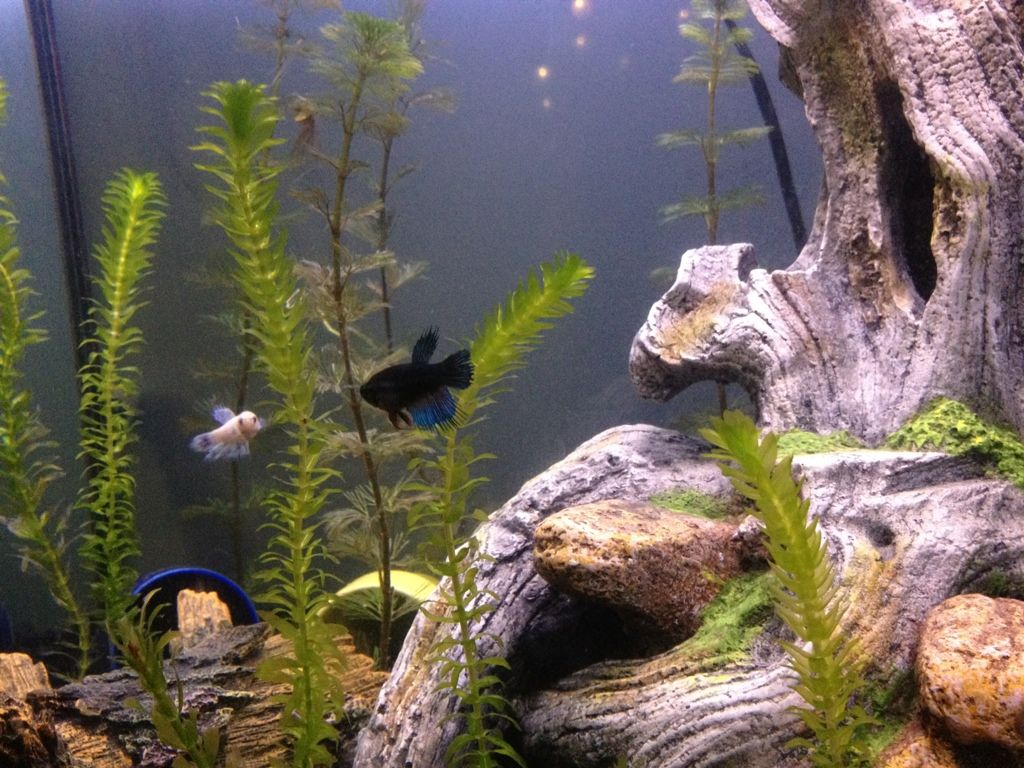 ---
Betta Boys- Bayard, Absolem, Kingsleigh, Nivens and Draco
Betta Girls- Petunia, Dahlia, Daisy, Lily, Lotus, Lavender, Honeysuckle, Orchid, Tulip, Peony, Bellflower, Poppy, Buttercup, Iris and Magnolia
Here my purplish girl photo bombing. It's funny because she is my feistiest girl too, lol.
Lol, you sure that isn't a male Fishy Mom?

What a cutie!