New Member
Join Date: Jun 2012
Location: Texas
Posts: 12
Samson trying to ninja a pile of bloodworms away from one of my sterbai cory cats.
"I swear mom, if you call me "Adorable" one more time I will bite you! Do you see this mustache? This mustache makes me MANLY AS HECK! MANLY I SAY!"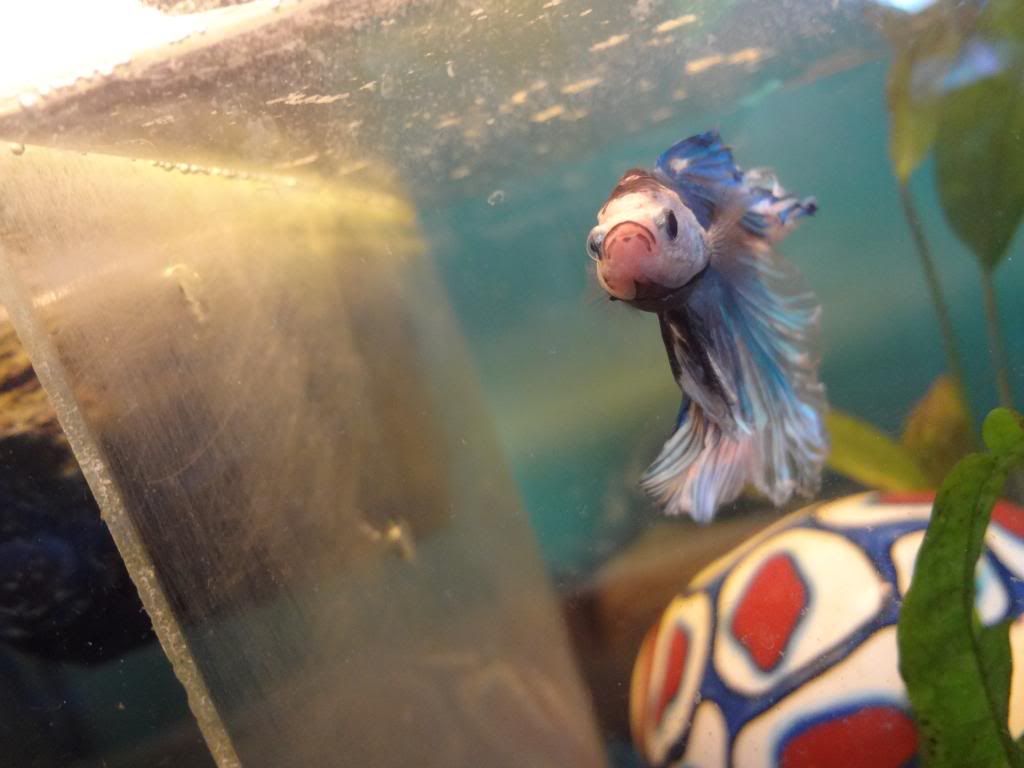 ---
55 Gallon: Crowley: Melanoid Axolotl; Mischa: Melanoid Axolotl; Achlys: Albino Axolotl; Eddard Stark: Leucistic Axolotl
Furry Friends: Daisy and Holly: Dogs; Norman and August: Cats; Gilbert and Mordecai: Guinea Pigs
omg I died of laughter at that one XD
---
Bettas-
Milo : Crowntail, SIP;-;, Vivian : Crowntail SIP, Kawaii SIP, Kano : HMPK, Igneel : Halfmoon, Atlas : Feathertail EE, SIP, Magnus : DTHM, Avian : HMPK, Juno SIP-Delta,
Alias-HMDT ,Blu-Delta, Tanso : Wild Smaragdina,Neslet-HMRT, and Hetalia.
Goldfish-
Calico-Shubunkin and Comet-Comet *DECEASED*
lets just say the hoop looks like a betta. Glory always flares at the hoop...
---
malibu:
Member
Join Date: Sep 2012
Location: Lincolnshire UK
Posts: 2,019
This Contest is now closed
Thanks for all your great entrys
the results will be in by the 5th of September.
---

If I have drawn a picture for you, full size versions are available on my DA page
http://candyfloss-unicorn.deviantart.com/gallery/48603004
---
Last edited by Indigo Betta; 08-30-2013 at

02:39 AM

.
Dang it!
---
5 gallon
One betta
10 gallon
Two bettas, divided
Three mystery snails
20 gallon
Seven female bettas
Four oto cats
Five juvenile female guppies
One goldfish (temporary)
29 gallon
One dwarf gourami
Six tiger barbs

27 fish....
Member
Join Date: Jun 2013
Location: The Lone Star State
Posts: 66
I hope you guys had fun entering! Everyone has some pretty awesome fish!
---
A man's got to do what a man's got to do.
A woman must do what he can't.
when will the winners be announced?
Quote:
when will the winners be announced?
I think she said tomorrow.
---
55 Gallon: Crowley: Melanoid Axolotl; Mischa: Melanoid Axolotl; Achlys: Albino Axolotl; Eddard Stark: Leucistic Axolotl
Furry Friends: Daisy and Holly: Dogs; Norman and August: Cats; Gilbert and Mordecai: Guinea Pigs
Similar Threads
Thread
Thread Starter
Forum
Replies
Last Post
Funny pics of funny things

BettaBreeder99

The Lounge

3

03-03-2013

08:41 PM