Veiltail Betta Fish Contest
---
Hi this is my first contest. This is not an official BettaFish.com contest and the forum staff are not involved in any way.
2) Do not solicit money, contact information, etc.eiltail Betta Fish Contest

I got permission from Romad
You can enter females and there will be a first place for them, while the males have a first, second, and third.
Sadly you won't get a prize because I can't draw.
The contest will end Saturday, 22 8:30
Why so early? Because I am usually outside
And uh... May the best fish win
If I forgot anything just let me know
---
All the goods things come to those who wait
Can you enter 1 female and 1 male, or just one fish overall?
1 female and 1 male. [I know this because she's my sister irl xD]
---
Bettas-
Milo : Crowntail, SIP;-;, Vivian : Crowntail SIP, Kawaii SIP, Kano : HMPK, Igneel : Halfmoon, Atlas : Feathertail EE, SIP, Magnus : DTHM, Avian : HMPK, Juno SIP-Delta,
Alias-HMDT ,Blu-Delta, Tanso : Wild Smaragdina,Neslet-HMRT, and Hetalia.
Goldfish-
Calico-Shubunkin and Comet-Comet *DECEASED*
Quote:
1 female and 1 male. [I know this because she's my sister irl xD]
Thanks!
Sebastian
---
Here is my handsome blue eyed veil tail Sebastian (don't mind the iphone reflection on his tail :P)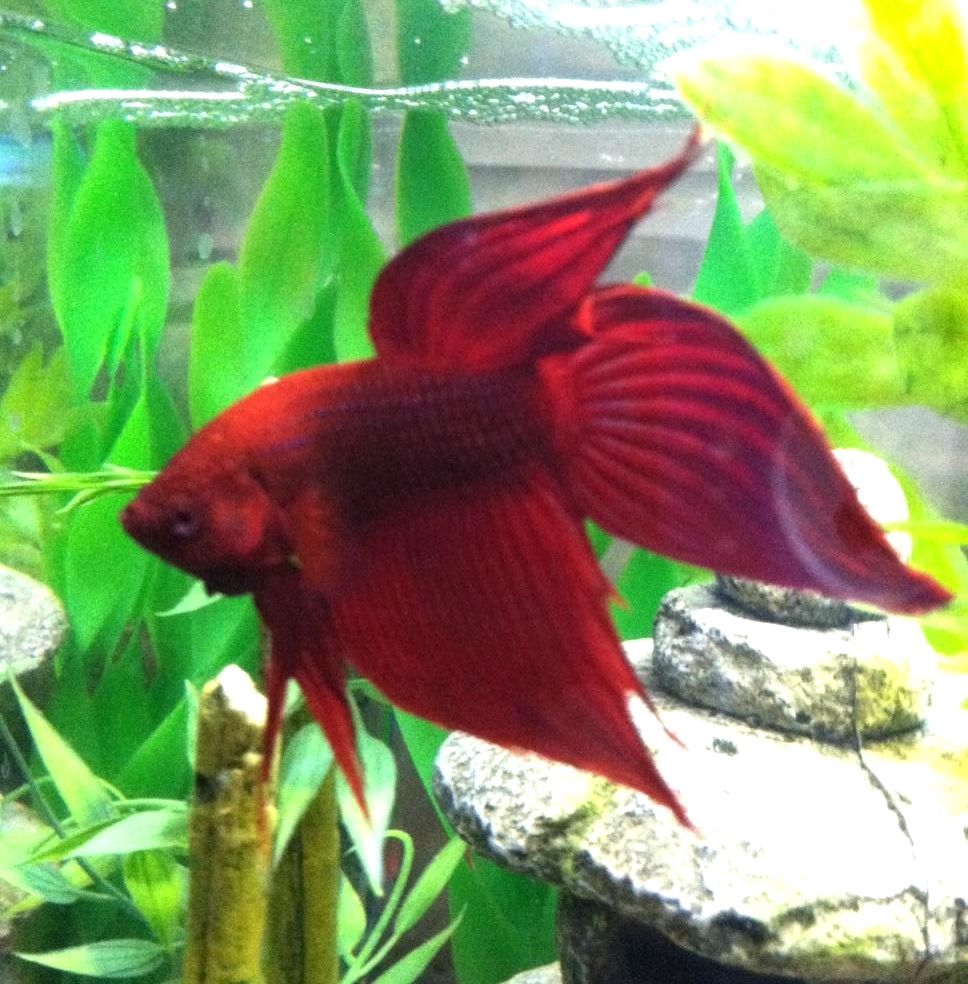 ---
~Denise ~
~ Elijah & Lennox & Picasso & DaVinci~
Ohhh this looks fun. I'll enter my two betas. I always have issues when trying to post pictures of my betas. So, pictures of my two bettas are under Lucky, and Tiffany. Lucky is my boy and Tiffany is my girl. Sorry. Tiffany is my sassy brat and Lucky is my mellow boy.
---
Depression is just like a broken bone, they both need medical attention and it's nothing to be ashamed of. Try to write at least ten healthy and positive things that are going on in your life. You will be amazed by how effective this is.
Member
Join Date: Feb 2014
Location: Alabama
Posts: 339
My Red VT Merlin:
---
"Animals are reliable, many full of love, true in their affections, predictable in their actions, grateful and loyal." ~Alfred A. Montapert
My Bettas:
Dude-Male Salamander HMPK & Molly-Female Marble HM
My Goldfish:
Rory
S.I.P. Beta-Blue & Black CT//Dragoon-Dark Copper DSPK//
Merlin-Red VT//Raku-Multi-Colored CT
My Journal
I will enter my boy cho. Here is one of him checking out the camera & one of him flaring at the poor nerite he ended up murdering...
Then I'll enter my girl Cherry. She's so cute in my opinion. :)
Member
Join Date: Dec 2013
Location: Colorado Rockies, the Land of Skiing, Festivals, and Incredibly Rich
Posts: 1,533
they are all so cute and beautiful. usually I don't like veintails as much because the ones around me are always washed out (just genetics here) but these are so vibrent