Leonidas
---
Blowin some bubbles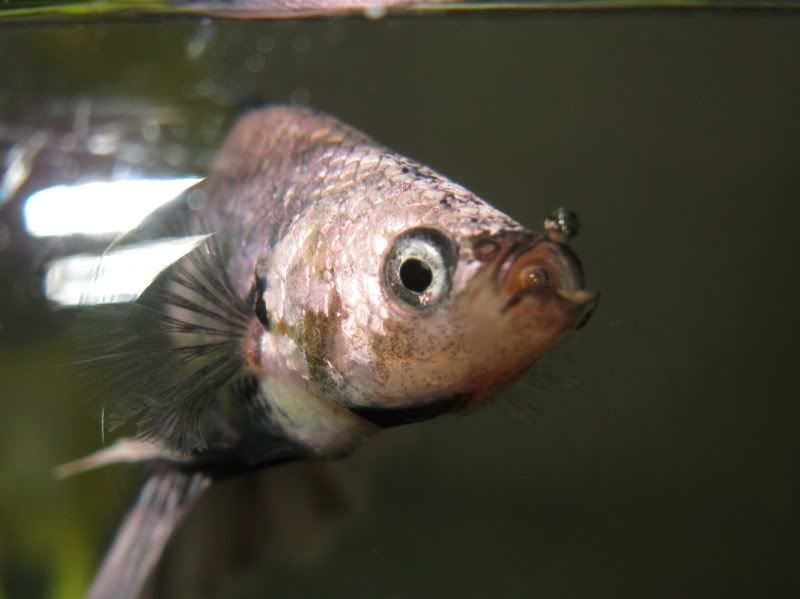 ---
*~* Sarah *~*
Nero, Buzz, August, Nimbus, & Percy

. .·´¯`·.. >><((((º>
¸.·´¯`·...¸(><((((º> . .·´¯`·.. >><((((º>
`·.¸¸.·´¯`·>><((((º> `·.¸¸.·´¯`·. (><((((º> ·´¯`·. (><((((º>
---
Last edited by mysquishy; 03-23-2010 at

03:00 PM

.
Member
Join Date: Oct 2009
Posts: 1,492
Member
Join Date: Sep 2009
Posts: 3,477
Wow, that picture is amazing! He is gorgeous. :)
---
Banned
Join Date: Jul 2008
Location: Central Texas
Posts: 27,607
Awww! Cute!
---
"Do your duty in all things. You cannot do more, you should never wish to do less."
~Robert E. Lee
hes awesome I luv my gossamer but ur pic is def a winner.
I love this photo. xD
---
BETTAS:
Robert Falcon Scott - Red salamander HM plakat
Passed on- Friedrich "Freedy"

OTHER CRITTERS:
Four African Dwarf Frogs - Dorkus, Sporkus, Baron(ess), and Bubbles!
Thanks everyone. This is one of my favorite pics.

I changed his name first it was LInk now it is Leonidas... when I tried to change the title of this post it wouldn't let me. :( Anyway his name is Leonidas now.
---
*~* Sarah *~*
Nero, Buzz, August, Nimbus, & Percy

. .·´¯`·.. >><((((º>
¸.·´¯`·...¸(><((((º> . .·´¯`·.. >><((((º>
`·.¸¸.·´¯`·>><((((º> `·.¸¸.·´¯`·. (><((((º> ·´¯`·. (><((((º>
I've always loved this picture :)
---
Fishy-Blue/Red VT boy (RIP)
Berry-Purple VT girl (RIP)
Pepper-Red VT boy (RIP)
Starburst-Blue/White Butterfly VT boy(RIP)
Niko-Steel Blue VT boy(RIP)
Jewel-Orange Cellophane HM boy (RIP)
Lavian-Purple/Blue DT boy (RIP)

No-Name :P-Red/White/Blue VT boy (RIP)

Noel-Green/Red/Clear CT boy (RIP)

Uno-Red CT boy (RIP)

How did U get that?
---
"Do your duty in all things. You cannot do more, you should never wish to do less."
~Robert E. Lee