Awa Sakana
---
Yes. I named him Awa Sakana. The literal translation is "bubble fish" in japanese. It fits well because My dogs name is Shiro which is "white" in japanese, and If this baby Im having is a girl, then her name will be Midori, which is "green" in japanese. Its an awful picture but ehhh. I need to get a camera!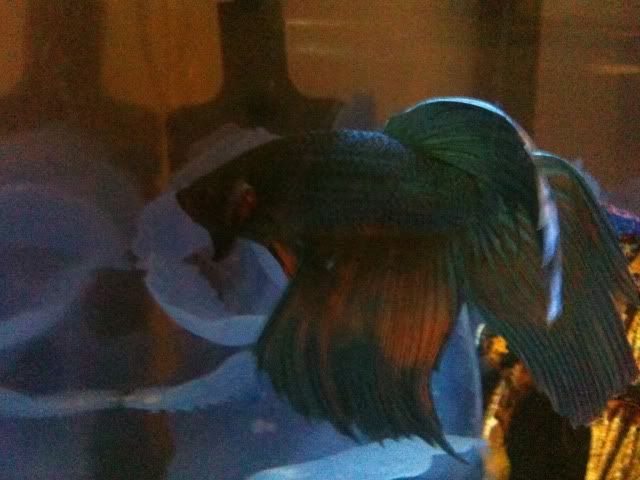 Member
Join Date: Sep 2009
Posts: 3,477
Ahh, another fan of Japanese names xD One of my favorite female bettas is named Midori, I love that name, green is my all time fav color <3

Hes gorgeous BTW xDD Such a pretty boy!
Hes beautiful!
---
1 Crown tail Betta- Haru
10gal Tank
=======================
It is just like man's vanity and impertinence to call an animal dumb because it is dumb to his dull perceptions. ~Mark Twain
Awesome!
---
"Do your duty in all things. You cannot do more, you should never wish to do less."
~Robert E. Lee
I love his colors!!
---
My babies:
Dante CT (m) 3.02.10
Lil Aric VT (m) 9.10.10


R.I.P.
Fishy
Merlin
Blue
Guinevere
Ember
Pearl
Skai
Aqua
Baby Pearlins
Hopefully I can get a better camera soon, Im doing water changes today so maybe i can get a better picture!