Isn't there someone one here who owns a hot pink male betta?
---
---
I had Pallas, a hot pink VT, awhile back. He was the pinkest betta I've seen ... though apparently not a pink betta according to some people (more of a red multi), he sure looked like one! Sadly the little guy has passed on ... and if I ever see a betta his colour again, I will have him.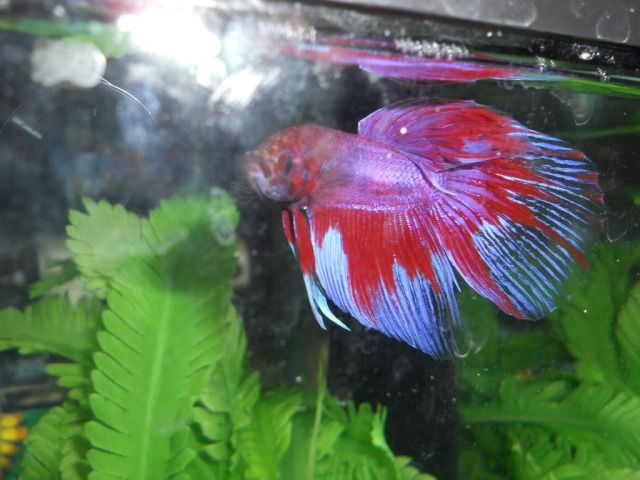 ---
/ Quill (Brown Tabby and White Pancake Monster)[/FONT]
Here is a pic of my pale pink betta male
:
---
I currently own a male betta fish, a female betta fish, two eastern painted turtles, one western painted turtle, one Chinese dwarf hamster, and a whole load of guppies.
"I speak for the trees, for they have no tongues."
Dr. Suess
The other day, at one of the two Petco's I can manage to get to, I did in fact find this rarity color.
I however,
did not grab him
.
He was pink with a darker body coloring, and was a Half Moon to boot!
I was freaking out, because the place restocked. I walked out with my first crowntail that has green pigments in his translucent fins (another rarity), a half moon that is white with yellow accenting, and a half moon that has "big ears", dark blue with white edges on the fins (I guess a butterfly?). I dropped my 25% off a fish coupon and a $5 reward bucks on the counter and essentially got the crowntail at a steal!
Too many good bettas at Petco.
Some flesh-tones are very pinkish in color. I know my marble is a very fleshy pink at times.
---

ô
Wystan -- Pastel DeltaT Male -- 3 gallon
Abel Magwitch -- Wild-type RT King Male -- 20-gallon divided
Unnamed -- Red Butterfly? HM Male -- 20-gallon divided


õ ö
Loki -- American Eskimo Dog -- 8 years
Kiara -- "Domesticated" Feline -- 5 years
Horatio -- Hermit Crab -- 5 years?


Similar Threads
Thread
Thread Starter
Forum
Replies
Last Post
She wanted pink... Help?

MollyJean

The Lounge

20

04-16-2012

09:36 PM