Help me save my moss
---
I had a problem with algae in my 10 gallon a while back. I had to throw out a lot of my java moss. I refused to throw it all out because it was only luck that I got some to begin with.
If it's not java moss someone please let me know what it is if it can be identified by my cruddy pictures..
The algae is getting bad again, now it appears to be grey/green and it has very fine strands of hair like stuff growing out of small glob like places where I am guessing the original algae was.
Does anyone know how I might get rid of this stuff and save my moss? If I pick at it, my moss shreds. Where it is blurry the algae hair is the thickest. This stuff is creeping all over everything and has gotten on my driftwood and java fern. In other tanks it's even gotten all over a marimo moss/algae ball which I know I can't treat with any kind of algaecide. I can get new moss balls if I need to. I can't replace the java moss.
You can see the hairs the best down near the leaf of the java fern in the lower right hand side of the picture.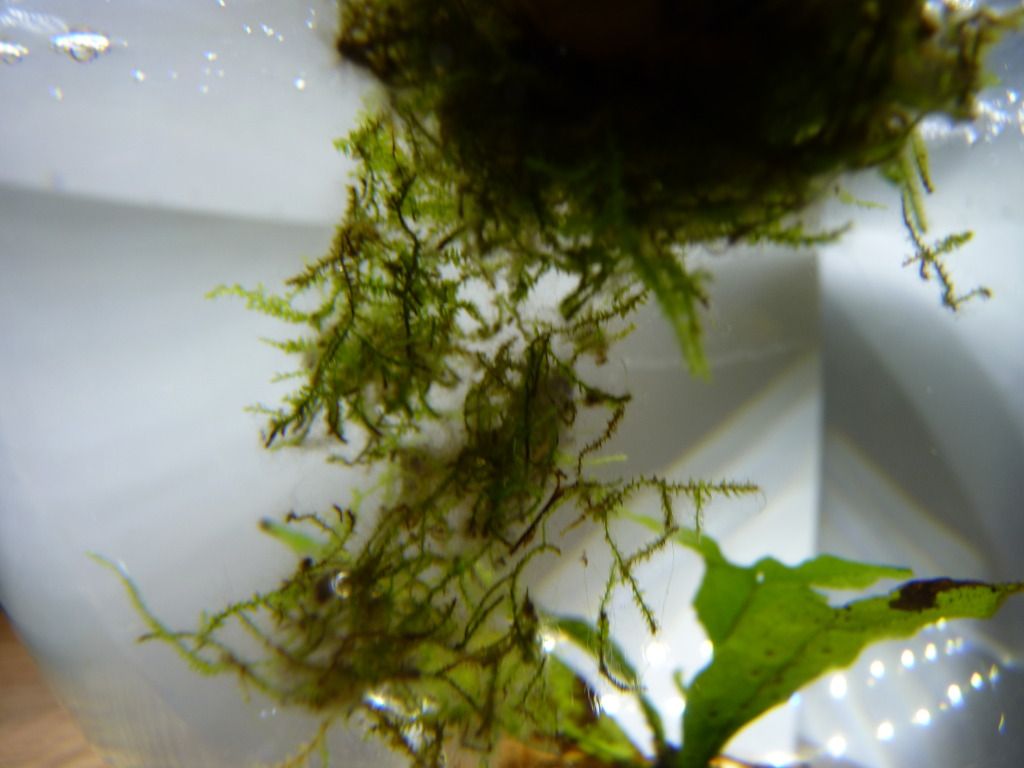 ---
.....Betta Fish are like potato chips, it's hard to have just one!
Arm yourself with knowledge.
Consider advise.
Make informed decisions.
You can do a couple of things..

- reduce your lighting time - how long are lights on these plants per day, and do they get a lot of sunlight?

- get some shrimpies - the Zoidbergs cleaned my algae/wood fungus out in a week, and now I have to feed them pellets...
The moss is getting about 4 hours of LED light its a cruddy light not made for plant growth.

It does get indirect light from the room lamp in a few tanks, NO sunlight at ALL in this room I keep the blinds down most of the time. Even when the blinds are up I only get indirect lighting from outside. The tanks are basically in darkness. The rest are just getting either cheap LED, or light from those incandescent bulbs made for cheap aquarium hoods. I think they are 15 watt.

Would nerite snails eat the algae?

Would ghost shrimps eat the algae do you think? They are pretty much the only shrimp I can readily find around me.

The bettas eat the shrimp eventually so I wouldn't be stuck with shrimp long enough to have to worry about supplementing their food. I do have algae wafers for the snails though.

Is there a chemical I can add to kill that type of algae that won't kill the moss? I can treat everything in a separate container if need be.

Edited to add: I looked up zoidberg shrimp and it came up that those are a threatened marine species of shrimp? (arrhis phyllonyx) It's unlikely they will be in stores here. Or you happen to have a red sea alien from futerama or whatever, in your aquarium lol!
---
.....Betta Fish are like potato chips, it's hard to have just one!
Arm yourself with knowledge.
Consider advise.
Make informed decisions.
---
Last edited by Twilight Storm; 06-18-2012 at

02:27 PM

.
HA! Sorry, I shouldn't call them that by default, that's the name Daughter gave to our 5 red cherry shrimp... she says they all look like tiny Zoidbergs to her.
Okay. So algae are out-competing your plants for nutrients, probably because the plants don't have enough light to grow but the algae does.. get some better lights?
I run my tanks on LED lamps but they are made for marine tanks so actually do have proper kelvins, etc, and my plants are great, no algae. New bulbs are pretty cheap.. I read that incandescents aren't the greatest, though. OldFishLady is the person I would turn to for specifics on bulbs and what to get. She's pretty awesome like that.
Yes, you can get chemicals, but I am hesitant to recommend those, having read a few unfavourable reviews from fish keepers (and anyway, your plants will be happier with better lights).
So that's why I said shrimp, as they do love to munch the algae. Snails, too, I guess, but I can't vouch for those, I don't keep them. Yet. >> Nor have I kept ghost shrimp, but the RCS eat that stuff wherever they find it, I adore them.
Ghost shrimp won't usually touch algae they are scavengers, not plant eaters.

Snails would do a much better job along with better lighting. Algae can grow in almost any light, while plants need specific types of light. You need lights that will give out a color temperature of 6500k
---
15 Gallon NPT
1g no tech bowl in the making
I don't think i've seen any cherry shrimp around here. I can try some more ghost shrimp if all else fails. If my bettas eat ghost shrimp do you think they will eat cherry shrimp? I love my fish but each cherry shrimp costs $4.99+shipping and handling off the internet.... I really can't spend that on a betta snack that will last maybe a week.... Ghost shrimp cost about $1 each (.36 cents each at petsmart atm on sale) no shipping and handling so only about $10 (or less depending on where I go) total.

I can take the $100 and buy myself a freaking prime rib roast if I wanted to spend that much on a meal lol. I love my bettas but jeeze... I'm not discounting the cherry shrimp, and their algae cleanup abilities mind you, they are just crazy expensive.... I'm waiting on a flourescent (one bulb) hood to come in at PetCo. I am hoping that will be ok with plants for the 29 gallon.

I can't really redo 8 tanks worth of hoods right at the moment. I've tried to replace the incandescent lights with fluorescent lights. I have tried 2 brands so far and both produce a horrible deadly/toxic smelling odor when I put them in my hoods. I don't want this smell to kill me or my birds particularly since whatever they pump into fluorescent energy saver type bulbs is toxic to breath. Someone got one of the replacement bulbs from walmart and I am going to try that one next. They said there isn't an odor. I will have to see. I had my entire family see if they could smell the bad smell off the other two and they could, so i'm not nuts. (at least about the bulbs!!! LOL)

That's why I was thinking a chemical that won't kill the moss, I could stick them all in a bucket or something and just treat them. The reduced light has been for a week now and it did slow down the algae a little bit.

Do you know what kind of algae this is btw? It looks like whatever it is, can get dangerous to my fish eventually. It's not normal algae.

Is that java moss btw? or is it one of the other kinds they pass off as java? I got it from Petco. The guy scraped it out of the filter for me, and it ended up doing well before the first incident. I revived it, and now it's being attacked again. (Figured I would ask since it's the first time I bothered to take a picture of it and had been going by word of mouth as to what kind it was.

Edited to add: kfryman posted while I was working on the other post. I am working on better lighting. As soon as that hood comes in I will have one decent light. (god I hope it's decent) I plan on picking up one of the walmart bulbs to try in the other incandescent fixture which are 6500k. If they have the same odor I am running out of flourescent options though.
---
.....Betta Fish are like potato chips, it's hard to have just one!
Arm yourself with knowledge.
Consider advise.
Make informed decisions.
---
Last edited by Twilight Storm; 06-18-2012 at

05:21 PM

.
Will coppersafe kill the moss? I have a bottle of that stuff. Things I came across say it can work on "some algae" but can kill "some plants"......

Also will flourish excel kill off the moss? I heard it works as an algacide on some algae.. I just don't know what the algae is. Or will it kill the moss too? (I know it destroys marimo so I wouldn't use it on that.)
---
.....Betta Fish are like potato chips, it's hard to have just one!
Arm yourself with knowledge.
Consider advise.
Make informed decisions.
I've never used those things with moss in the tank, so sorry, I can't help you with that.

Looks like java to me.. but I'm not a moss expert, some look pretty similar, but that looks like it to me. I have java moss out the ears, it's going mad in my tanks... I'd so send you some, if I was not halfway across the planet.

Ah, at that price for RCS, never mind.. they're pretty cheap here, but obviously not the same for you. If you're going the chemical route, best try a specific algae fix, is my thinking, maybe do some research on what works best, least risk to fish.. I've read some having great success, some not so..

And wow, bad light smells? I hope you find some bulbs that work well for you. And don't smell funny. ><
I think there are some low light algaes. Cherry shrimps are great Java moss cleaners. The problem is if Java moss doesnt get the right amount if lighting, it will be hard for it to out compete the algae :( and instead if cleaning the water it can pollute it when it dies. apparently moss all looks pretty similar in low light, and only show their true characteristics in high lighting. Can you fine any amano shrimps? 1 will clean your tank in no time. Petco usually sells those for about $2
I found this site:
http://www.aquahobby.com/articles/e_...ater_algae.php
My hood still isn't in, it's been 2 weeks, I am wondering if they are ever going to get it in. Or if it was conveniently forgotten, and they are putting in the order today... They don't carry the products at petco that I was looking at on the internet...
From the pictures there, it looks like I have thread algae. The site suggests I take a toothbrish and twirl it around to remove it, (can't do that lol) or get siamese algae eaters.... Thread algae appears to be otherwise impossible to get rid of, unless I misread, but is a very tasty food for those Siamese algae eaters.
Something else I read is if it is Clado algae (it doesn't really look green it looks kind of greyish green/white/clear. I could dip it in bleach for 2-5 seconds and it will kill the algae on the spot if it is this kind. (3 parts bleach: 10 parts water) Does anyone know if this will nuke the moss?
The moss was with moss balls and there seems to be a lot of people complaining that the things introduce this kind of algae to your tank. It could be I have high phosphates and silicates. I think our tap water could be high in those two things. I couldn't get a test though Petco doesn't carry it.
---
.....Betta Fish are like potato chips, it's hard to have just one!
Arm yourself with knowledge.
Consider advise.
Make informed decisions.