Name my two female bettas!
---
I have one female veil tail betta named Teeney. I am going to have a sorority soon!! I just bought two female veil tails from petco and I am going to buy two more at petsmart on Wednesday. Any name ideas?
Betta #1: (she looks blue in the pic, but is more purple in person)
Betta #2: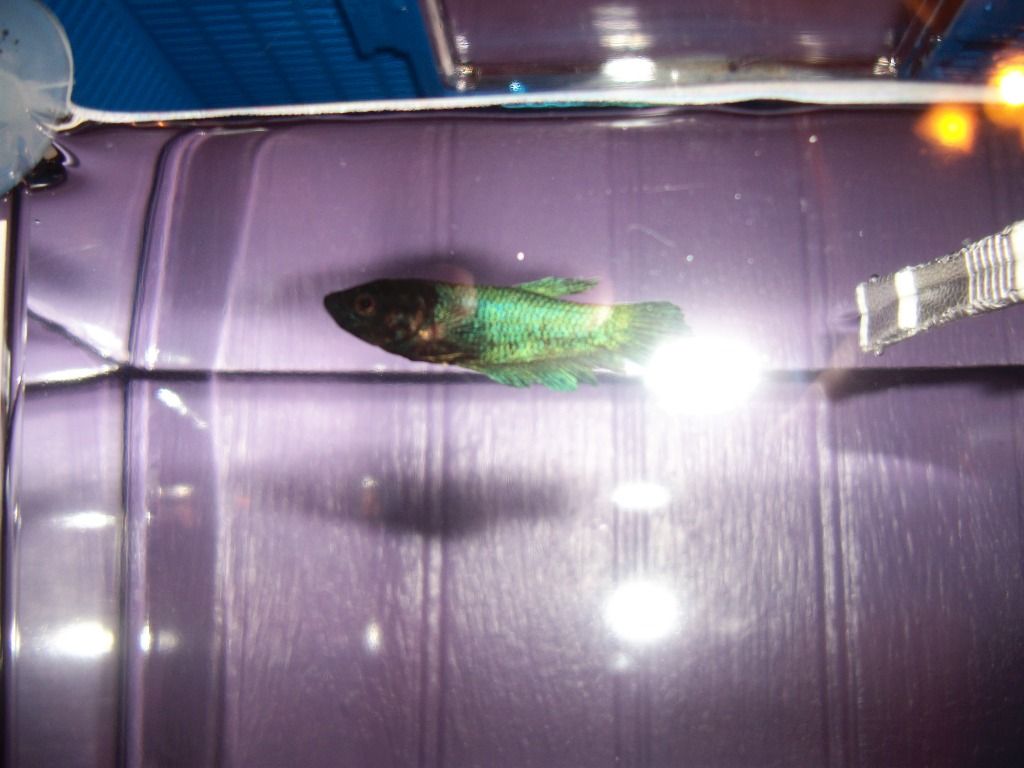 P.S. I almost got a crowntail female. But I heard crown tails tend to be more agressive? Is that true?
---
"Some people talk to animals. Not many listen though. That's the problem."
― A.A. Milne
__________________________________
Espeon female halfmoon / 10G

Jolteon male dumbo plakat / 10G

well i love how vivid their colors are.. here are some names that i like...
1.)chio
2.)nala
3.)rini
4.)ogsley
5.)neolia
---
i have 9 bettas together, i dog named sunny, a few tetras, and a pond out my back door
god made fish to be rainbows under the water
i havent used any of those either so enjoy also 6.)bethany
---
i have 9 bettas together, i dog named sunny, a few tetras, and a pond out my back door
god made fish to be rainbows under the water
Quote:
Originally Posted by
bettafishfinnatic
View Post
well i love how vivid their colors are.. here are some names that i like...
1.)chio
2.)nala
3.)rini
4.)ogsley
5.)neolia
Thanks! Such cute names I dont know which to pick xD
---
"Some people talk to animals. Not many listen though. That's the problem."
― A.A. Milne
__________________________________
Espeon female halfmoon / 10G

Jolteon male dumbo plakat / 10G

haha thanks lol i like to have exotic names for my fish... to really decribe them
---
i have 9 bettas together, i dog named sunny, a few tetras, and a pond out my back door
god made fish to be rainbows under the water
Our list of potential names that didn't get chosen included:

Ripley, Buffy, Starbuck, Uhura, Sarah, Caprica, Trinity
Pebbles, Wilma, Betty, Daisy, Petunia
Lucy, Ethel, Laverne, Shirley, Ginger, Maryann (I couldn't convince my husband that naming them all after classic TV women was cool.)
Birdie, Crocket, Paprika, Fido
Sushi, Samosa, Souffle, Sunshine, Puddles
Boofer, Toot, Cheeser, Fluffy, Rumble, Squeek
Thanks guys! I got a bunch of suggestions from many sites and ended up naming them Monet and Fiona. I'll be back on Wednesday looking for names for the next two! :)
---
"Some people talk to animals. Not many listen though. That's the problem."
― A.A. Milne
__________________________________
Espeon female halfmoon / 10G

Jolteon male dumbo plakat / 10G

Similar Threads
Thread
Thread Starter
Forum
Replies
Last Post
female bettas

tnicholas1970

Betta Fish Compatibility

51

05-30-2009

08:16 AM