Quote:
Originally Posted by
TheCrabbyTabby
View Post
Not as bad as the iPond Aquarium Speakers Apple was attempting to dole out...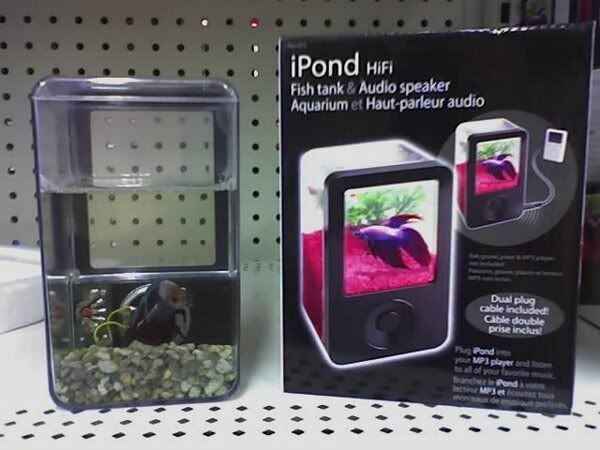 I've actually seen this betta prison in person at one of Paris' chain stores. My boyfriend was shocked. He thought it was so ridiculously awful that he took a photo and sent it to his brother. The two were joking about it all afternoon. It's nice to know that despite not being fish owners, they can see that it's not fit for any fish to live in.
And I'm not sticking up for Apple because I'm not overly fond of them either, but Tazo is right. It's not actually an Apple product. I read the box and it's made by some random Chinese company.
---
The only thing we can do is be polite in our complaints and not buy the products. There are a ton of educated people out their, and their numbers are steadily growing to outmatch those who are clueless.

Eventually everything will settle itself out. Karma is a b****. Excuse my french.
---
~Transformers Is My Twilight~
Portal Prime - HMDT
-.-Dreaming of Koi-colored DTs-.-

Betta: EVOLUTIOOOON *jumps out of tank*
Owner:
Hmm. I don't know French very well, but that doesn't seem like the kind they teach in schools. ;)
Okay, I kid. Yeah, whatever goes around, comes around. If they were Hindu and believed in reincarnation like Hindus do, they would most likely come back as a betta was forced to live in a vase, or the iPond speakers. Then they'd be regretting their ill made decisions in their previous human life.
---
~~~~~~~~~~~~~~~~
"The day the power of love overrules the love of power, the world will know peace."
―
Mahatma Gandhi
~~~~~~~~~~~~~~~~
Quote:
Originally Posted by
TheCrabbyTabby
View Post
I hear it too. Don't worry. Your not going crazy.
Yu can see fear and distress..in their face..and eyes!!..the eyes are the window to the soul and that fish knows hes not spose to b there
---
New Member
Join Date: Jul 2012
Posts: 21
That makes me sick. No plants. No space. No hiding places. Nothing
---
When I was five years old, my mother told me happiness was the key to life,
when I went to school and they asked what I wanted to be when I grew up, I wrote 'happy,'
The told me I didn't understand the assignment, I told them they didn't understand life.
- John Lennon
http://media.glitterfly.com/users/20...343j59vu34.gif