I have a red VT that I thought was going to be one of the easiest fish I've ever had until I realized if I leave him in care of my fiance he chews his tail off. So now I have a VT that wants to be a plakat. I'll post pictures of him in a couple days when his tail somewhat recovers lol.
---
"So God created the great creatures of the sea and every living and moving thing with which the water teems, according to their kinds...And God saw that it was good."
Genesis 1:21
VT's are my favorites :D lol...

I have 3... and there are 4 in the house :P
I want one too, I don't have any. I wanted this guy but I was going on a trip the next day so I didn't get him. Sorry for the blurry picture, I couldn't get a better one.
---
current pets:
Alejandro Marmalade


Rehomed bettas
(
because of my move): Cornelius Buttknuckle, Limoncello Dandy Lion, Cumulus Meriweather, Nimbus McCloud
RIP Pinkerton Flowers and the fish formerly known as Prine Purplius LeGrape
Here is my new VT named Sunset!! I am in love with his color!!!!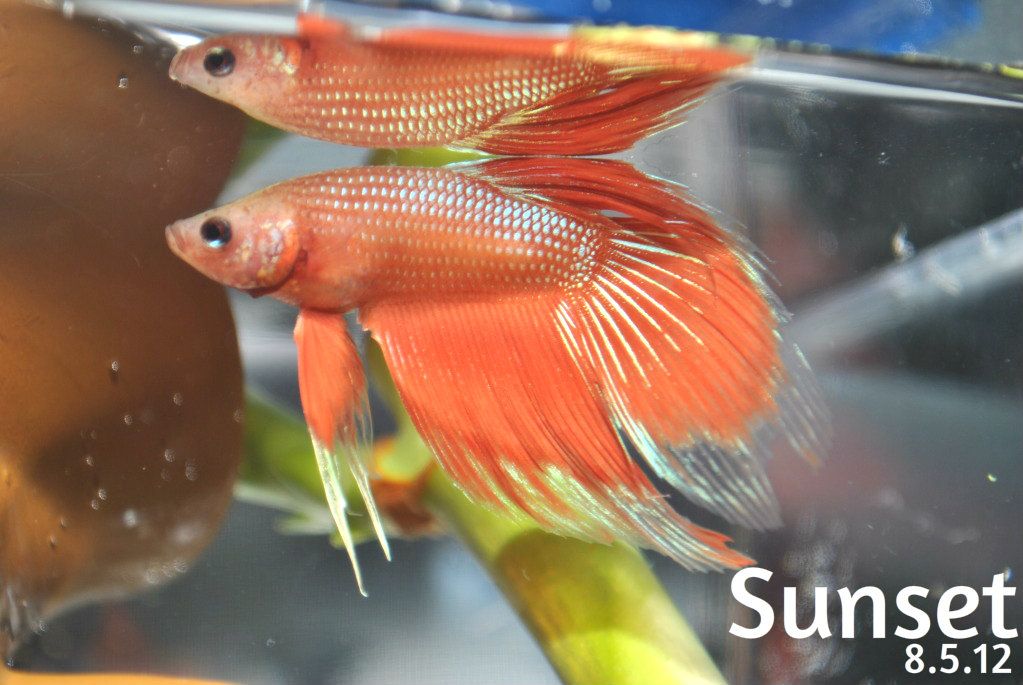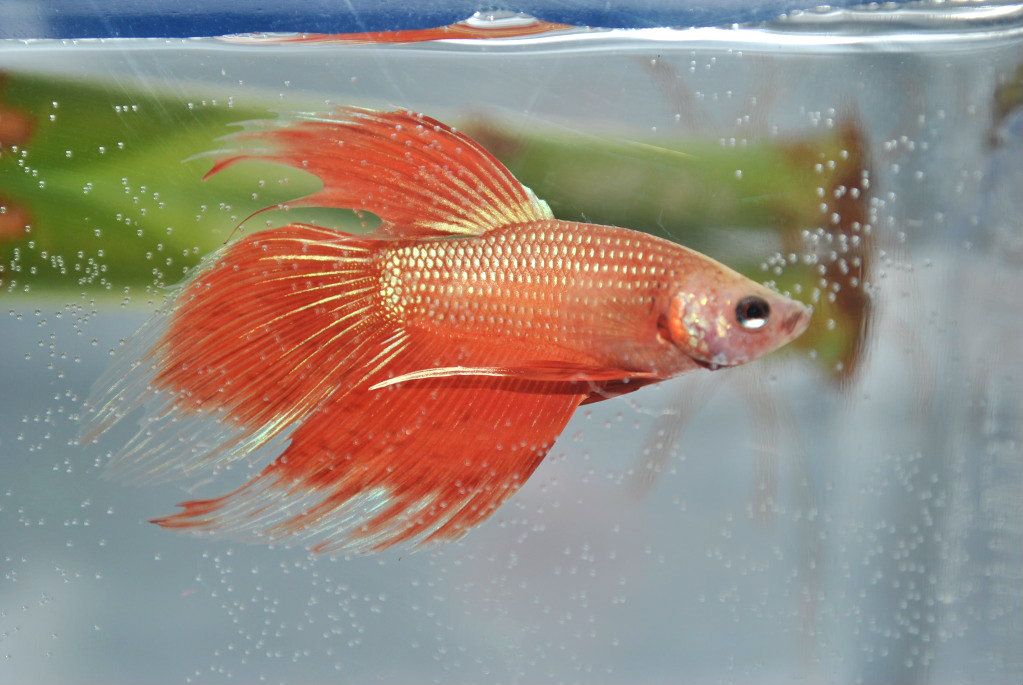 ---
Just because I'm in a cup, does not mean to pass me up, all day long I sit and stare wishing you would take me there. To your home to set me free, in a tank would mean worlds to me. I'll be your friend and loving pet, buying me wont bring regret. I'm just a Betta can't you see, all I ask is you could too love me - CandiceMM
A cold cup was not my destiny-Heart Breaker
---
Quote:
Here is my new VT named Sunset!! I am in love with his color!!!!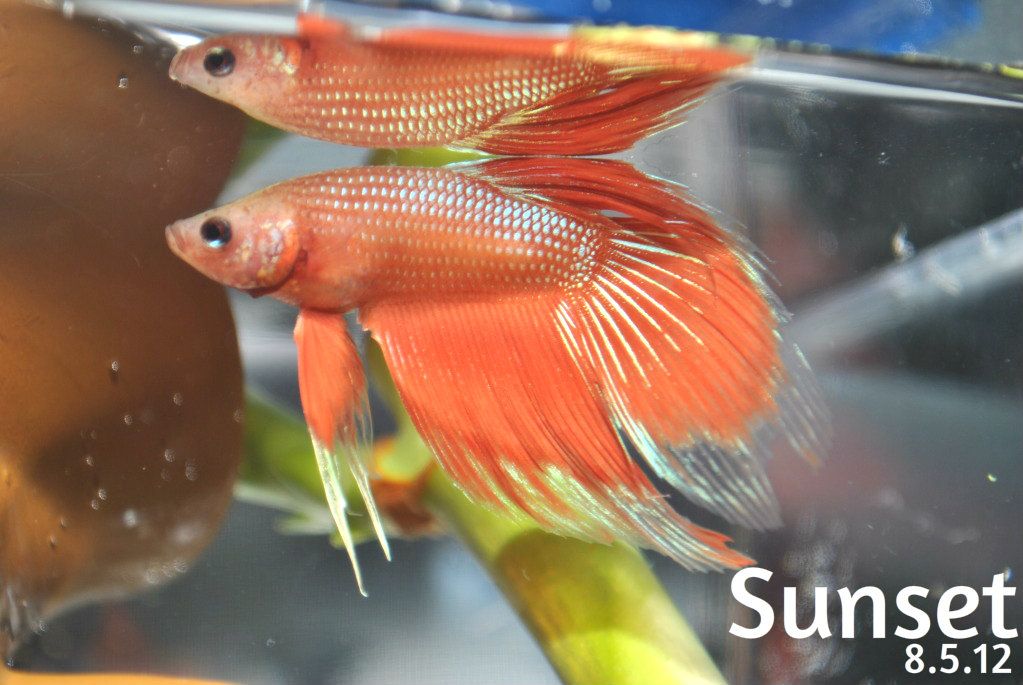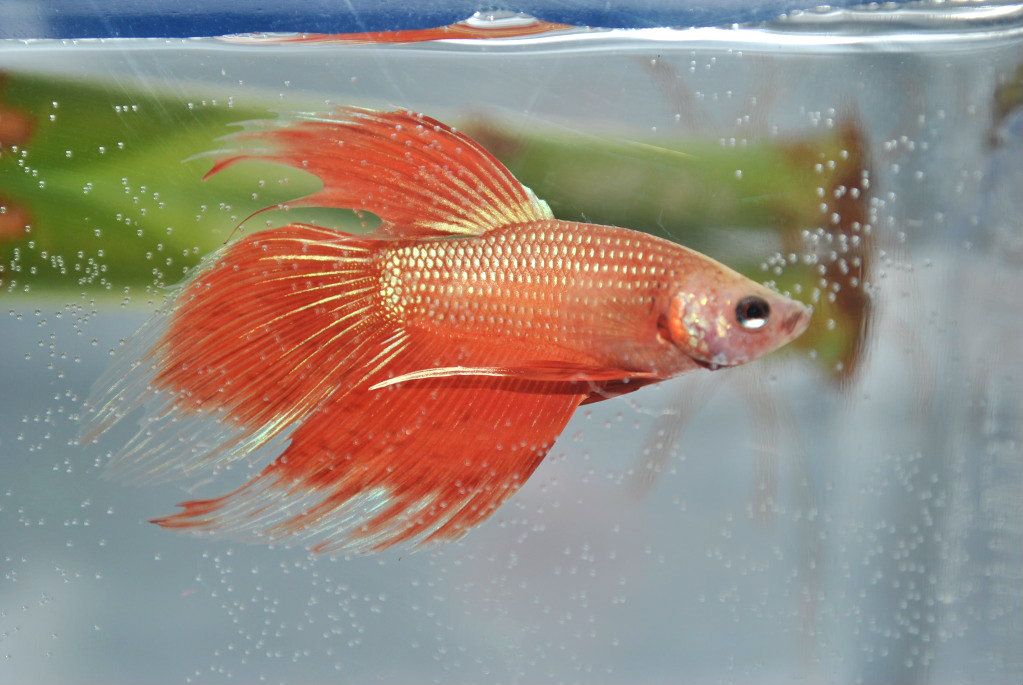 Woww he's soooo pretty! :)
---
"Some people talk to animals. Not many listen though. That's the problem."
― A.A. Milne
__________________________________
Espeon female halfmoon / 10G

Jolteon male dumbo plakat / 10G

Marina, Blayze, Joker, Goldie, Leo RIP
---
Open your eyes
Now is the time
To rise up
With darkness we'll still shine

I have 2 male VTs but like LizzyP said for one of her fish one of mine tried to make himself a plakat too(he didn't like his tank, I later found out) but now his tail is recovering ever so slowly.. their names are Zepher(BF maroon and pink w/ blue wash vt) and Canterville(pink Dalmation possible marble w/ blue/purplish wash*is getting black scales like spots on his body*)
wow that sounds beautiful, Marvel! When I get a VT I plan on getting one from my feedstore, there were lots of baby ones and I wanted to rescue one but right now I don't have the room:(
---
LillyMae~ It's two L's not one :)
At work, so I don't have my photos of mine.. but I love VTs, love the "classic" look to them. Currently I have five of them :)
---
Breeder so I have too many to count and too many named to list here!
that's awesome, I feel so weird, having two bettas is a full space for me right now, and other people have like twelve and stuff:)
---
LillyMae~ It's two L's not one :)
Similar Threads
Thread
Thread Starter
Forum
Replies
Last Post
Age thread?

SillyCone

The Lounge

14

05-22-2011

07:14 PM