Wild Betta Fish?
---
I own betta splendens, but lately I have heard of different species of betta fish generally referred to as wild betta fish... I may be interested in some since I saw some in Aqua Bid, but I know nothing about them, so buying some is not going to happen anytime soon. However, I am curious and would appreciate any info people may be able to give me referring to wild types of betta fish, such as what they actually are, differences between wild betta varieties and betta splendens, and if there are any similarities between the two.

Thank you for any help given!

-Joelouisvachon
I know of one member that will be great here lol. She has tons of wilds!

Usually wild bettas tend to be much more peaceful and usually can live in pairs and sometimes groups. however there are always some that will be a bit more aggressive that would need to be housed alone.

One key thing, almost every single one needs soft ,acidic water. If you don't have that type of water you would want to use distilled water and get a supplement that adds essential minerals back in without raising the hardness or anything. Also the don't like bright light so tanned water and floating plants to block out the light is preferred, lighting should be soft. Things in the tank is usually driftwood, leaf litter (Usually IAL, but other leaves can be used, just make sure they are safe for them), and peat. These should all help stain the water.

Most species won't accept pellets, live and frozen food is best unless you can some how get them on a pellet.

Research the individual needs of the species you might decide on. Some only like 4-5 pH which is very hard to achieve, so setting up the tank and testing the pH, GH, and KH will help you know what species is best for you.
---
15 Gallon NPT
1g no tech bowl in the making
Thank you for the help, they sound like they would be good in a planted community tank.
That would be me! I keep eleven species of wild bettas, most from the coccina complex, and breed a few of them as well.
Most wilds do prefer softer water, but some captive bred species will do fine in neutral/slightly harder water. They probably just won't spawn.
I keep my set-ups very natural looking, with tannin-stained water, lots of java moss and dim if any artificial lighting. Not only does this make the fish feel more comfortable, but it will show off their best colours. If your tank is too bright or sparsely decorated, wilds tend to look like either big brown stripy fish or little brown stripy fish.
Wilds are easy as to spawn once you get your conditions right. The bettas from the coccina complex do not usually eat their fry so I raise mine alongside their parents. It can be a little harder with mouthbrooders though, as they tend to swallow their eggs/fry if disturbed.
I highly recommend browsing the IBC species index and the profiles of Seriouslyfish.com. This will answer around 99% of your questions.
As an aside here is a picture a quite rare species, Betta persephone. They are only found in one place now in the wild I believe.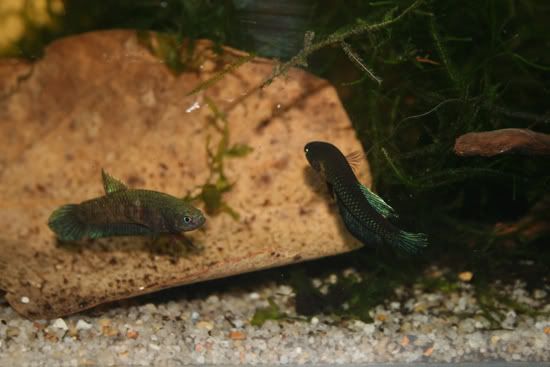 They have three batches of fry that I am currently rearing.
Just read your above. Only certain species would be good for a community set-up. I would not put any of the coccina complex in your average community setting as they have specific needs. However, some of the other hardier and more peaceful species like channoides and albimarginata should do fine.
---
Wild betta varieties seem to be a bit more work than betta splendens, but definitely sound worth it. What do you think from your experience is the best wild betta variety for someone whom is just starting out with them?
Those betta persephone look beautiful! Will you be selling the fry, or keeping them?
---
Last edited by Joelouisvachon; 08-18-2012 at

07:43 PM

.
Nah, I keep most if not all of my coccina complex fry. I get too attached, and they don't need much tank space for a group so I end up with them everywhere haha. Persephone are definitely one of the most beautiful wild species available. That photo doesn't even show how rich their colour is as the LED washes them out.

Wild bettas once settled in are more robust and less neurotic than splendens. They can be harder to switch onto pellets, but I have lots of live food cultures and they get frozen as well so it's not so bad. Most of mine will take pellets but only the ones I have actually bred are enthusiastic about it.

Betta channoides and betta albis are great for beginners. They are hardy, tolerate a wider range of conditions and spawn as easily as livebearers. Plus they are two of the most peaceful species of wilds. Mine lived with all sorts of smaller fish and never had any issues with them.

Some of the bigger mouthbrooders like unimaculata are easy care as well. You just really need a tight-fitting lid that covers absolutely every last inch of your tank though as wilds will get out of gaps that seem to tiny for them to fit through.
---
ha ha, it was worth a try to get one of those Betta Persephone. :3

i'll do more research on betta albis and betta channoids and see which are better for me. thanks for the help and please don't stop giving tips!
I'm in Australia anyways so my persephone are safe haha. But wild bettas are awesome. So much better than splendens although don't tell mine I said that. Just be aware if they do spawn wild fry grows nowhere near as fast as domesticated splendens. I think it takes like a year for a coccina complex betta to reach full maturity.
Here's a picture of my now sold channoides male in breeding colours
As you can see they are a nice fish.
---
So they get brighter coloring in breeding season? Cool!
Wild Betta fish just get better and better! It sounds like you can keep more than one in a large tank, unlike splendens.
---
Last edited by Joelouisvachon; 08-18-2012 at

08:45 PM

.
They don't really have a breeding season, but whenever they do want to spawn both genders will become much richer in colour.

You can keep most wilds in male/female pairs as long as you have enough cover. I do keep three males in a tank with a female but they do fight and I have had some bad fin damage from it. However, they usually do not fight as tenaciously as splendens and I have never had any fish die from fighting.

Do be aware that it is best to get a reverse trio of fish if they are mouthbrooders. This is one female to two males. Because they do not eat when they are holding eggs males can starve or waste away because the female will always be ready to spawn. Having two males generally means one of them gets a break every now and then.
---
Similar Threads
Thread
Thread Starter
Forum
Replies
Last Post
pet fish in the wild

kamez

The Lounge

8

11-22-2010

04:45 AM