My first betta is Prince Charming:) I got him with my friend at meijer, like last year in January, they just got a new shipment of bettas and we were looking at the cup and 2 of them caught my eye and black and orange veil tail and a very pink butterfly veiltail. I had no idea which one to pick because orange and black were our towns colors, but the pink butterfly was adorable and his colors are so pretty, so I had to go with him:). Now Prince Charming is my forever first betta:)
---
Prince Charming- VeiltailElla- Veiltail FemaleNeptune-Double TailVenus- Veiltail FemaleIsabel- Crowntail FemaleCherokee- Double TailHimalaya- HMPKRasputin- HMPKPeaches- Veiltail FemalePocahontas- Veiltail FemalePrecious- Veiltail Female
I was just about to make a thread about this! lol!

My very first Betta was back when I was about 7 years old (i'm almost 22 now). He was more so my mothers fish, since she was the one who took care of him but he was my friend. He would follow your finger around the outside of the tank and yell at you like they do lol.

From what I remember he was a blue and black Veiltail and we named him Pish. He lived in a 10 gallon tank but I don't really remember there being any plants in there, maybe about one or two stringy plastic ones. I don't remember there being a filter either or a lid on the tank, but Pish wasn't the jumping type..

My mom got him a girlfriend (oh boy) and put them together, unknowing that they would fight -remember this was back in the 90s lol-, Pish was the one who got beat up, not a scratch was on the female, he didn't fight back. They were only together for acouple days before the female jumped one night and didn't survive.

I don't know really what got Pish but he didn't survive for much longer after that I don't think. I'm pretty sure he died because the girl tore him up so bad he got an infection or something and got sick and passed away.

They can't always be happy endings, which is unfortunate but it happens.
It's nice to read about other people's first time being fishie parents! Homegrown terror and I really are the "crazy fish people," but luckily our son loves them about as much as we do. He'll be ten months old on the 9th, and we're going to get him a tank for his bedroom for his 1st birthday. He loves to stand at our tanks and stare at the fish, and he will talk to them all the time with his little baby squeals. He gets so excited and it's the cutest thing! So we thought a tank for his room would be perfect for him to look at while he's falling asleep, because as we all know, they are very relaxing. Lucian even tries to pet our fancy goldfish! He'll stand in front of our 30 gallon and when one of the goldfish swims by, he puts his hand on the glass and "pets" the fishie!

Our son Lucian has actually been a big help at the pet store on a couple of occasions. There have been times when we were having trouble deciding which betta to get, so we would hold up both cups and Lucian will put his hand on one of them. Whichever one he chooses is the one we get. Our son, the fish master, at such a young age! Haha!
I don't remember how it came about, but about 8 years ago I bought a blue and turquoise betta and named him Sunshine Spacetweezers (from an episode of "Dharma and Greg". lol). I knew nothing about bettas so he was in a ridiculously tiny container that I kept on top of my TV. He didn't live very long. Only a couple of months or less, I think.
My next betta was a red and turquoise guy named Bert. I had him in a slightly larger tank than my first betta, but it was still less than a gallon, he didn't have a heater, and I changed his water once every 10 days or so.
I had him for over 3 years. I have no idea how he survived that long.
Now I know MUCH more about how to take care of bettas and I feel bad about the way I treated my first two bettas. I didn't know any better back then but I should have done my research like I did this time before buying another betta. Now I have 2 bettas who are happy in their 5 gallon (cycled) and 2.5 gallon tanks with their heaters and proper water changes and live plants and moss balls and leaf hammocks and betta logs. lol. My mom told me I sound like a doting mother now when I talk about the stuff I do for my fish.
New Member
Join Date: Sep 2012
Location: Graham, WA
Posts: 61
Admiral <3

14 or 15 my best friend and I decided to breed bettas together. Good ol admiral was a common greenish veil tail, but I'd have slapped you if you suggested he was somehow less than perfect. I poured over books on betta care, offered him a special diet, hand caught live food for him, and purchased a plakat female from Thailand for him.

He produced many veil tail replicas of himself, all purchased by a very patient LFS for the princely sum of 25 cents each.
Member
Join Date: Apr 2009
Location: USA
Posts: 642
Wantai
---
I had already had a 10 gallon fishtank, housing 4 cory cats and 2 tetras. We were getting our water checked when I walked by the betta section, and immediately a little betta caught my eye. While all the other bettas were sulking and bored in their 1-liter tanks (Preuss Pets is nicer to bettas and puts them in bigger cups), there was one little betta who was going insane. Literally. He was small compared to the other betta fish, but I admired his personality. If you looked from more than 20 feet away you could still tell him from the others because of his constant action. I didn't want him to get bored like the rest of them.
We talked to the petstore workers if a betta would be okay with us, and they said that a betta should be fine. When we asked about agressiveness, they said that the energetic ones may be the most agressive. But we decided to take our chances, and we brought him home. It was a good call.
Since then, I've become obsessed with entertaining him. I've had him for two months and since then he's perfected all his tricks and more. He's very good to the other fish and likes to watch the cories.
---
-Wantai's Entertainer...
Now sadly I do not remember getting my first betta but I will explain how I got my oldest and largest betta Nemo: I was at a local petco going through the betta department when a little slightly pink VT caught my eye. He was just sitting there looking so sad and I just could not stand there and not take him home. So I bought him and put him into a 2.5 gallon betta bowl with large pebbles and a silk plant for half of his life. His bowl then cracked and was unable to hold any water. So I moved him to my filtered 5 gallon. At first he did not know what to do with all this extra space he had. It was hilarious watching him investigate his new surroundings. His 5 gallon has real gravel, couple live plants, and a cave with multiple entrances that he loves. He's like an eel with his cave, he will go inside and sit in there and then he will poke his head out of one of the holes like an eel. LOL! He even dances to the sound of my voice and when I watch him swim. Here's a pic of him in the bowl with his favorite ping pong ball that he would bounce across the bowl, playing with it: [IMG]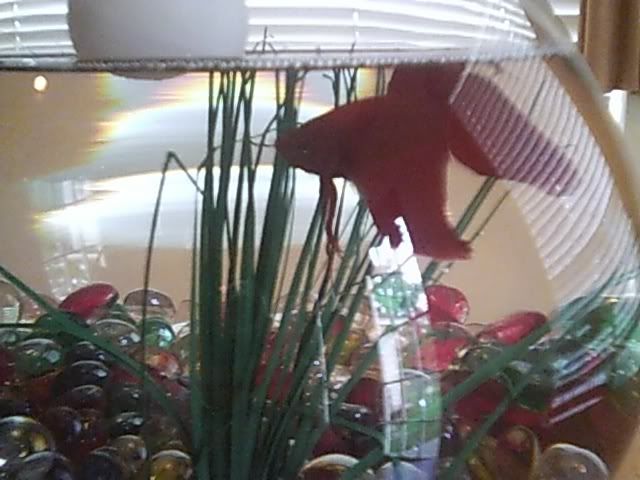 [/IMG]
Similar Threads
Thread
Thread Starter
Forum
Replies
Last Post
Story of a Betta

gidgeystartedit

Betta Art

3

11-23-2011

09:59 PM

Betta Story

bettaloverforever16

Betta Art

135

10-01-2011

06:51 PM

A Betta Story

BettasForever

Betta Art

31

04-12-2011

11:30 PM