New Betta...Color/Gender?
---
Hey everyone,
I recently posted a picture of my new betta Miyagi in the betta photo section. After posting it the question arose from some of my friends on this forum as well as other on different forums as to whether or not this new betta who was sold as a male is actually a female? Many agree that its probably a male but Ive never had a plakat before and ive recently read that petstores can sometimes mislabel the plakats (male/female) ...Im pretty determined in finding out what gender Miyagi is...I took some photos and video and perhaps some of you may be able to help me distinguish Miyagi's true gender. Also, as well as figuring out whether or not Miyagi is a male or female, I would love to know what color you think he/she may be.
Im sure Miyagi is a bit of a mutt since he was a petstore Betta but it would still be nice to have some idea of what gender and color he/she is.
Thank you in advance!
Video (relaxing music included)
http://www.youtube.com/watch?v=VaSuQ...ature=youtu.be
Photos: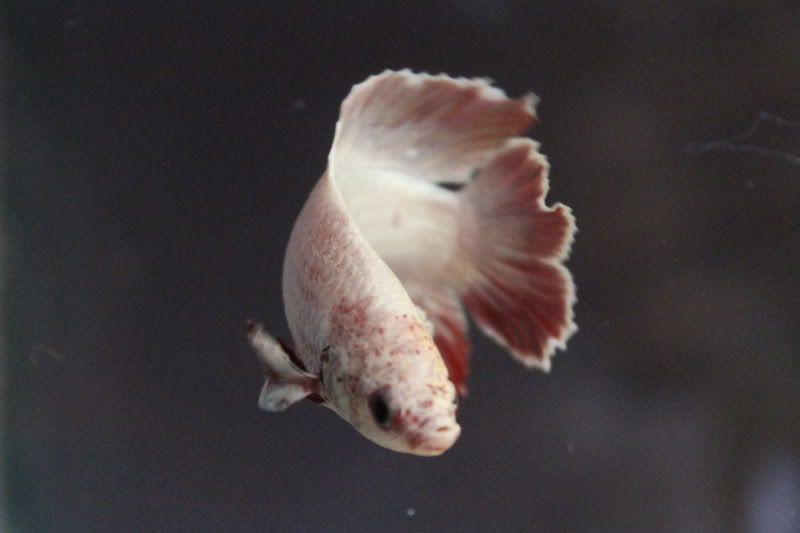 ---
Last edited by Friendlyfishies; 09-10-2012 at

08:30 AM

.
Member
Join Date: Jul 2010
Posts: 3,026
I vote male, he acts like one. I hope my new baby DT grows up to look like him, he reminds me of strawberry ice cream
Male, you can see his beard
---
Open your eyes
Now is the time
To rise up
With darkness we'll still shine

Definitely a male, and a very pretty one! As for color I'm really nice sure, some sort of cambodian butterfly maybe?
---
One hand reaches out and pulls a lost soul from harm. While a thousand more go unspoken for, they say what good have you done? By saving just this one... It's like whispering a prayer in the fury of a storm. And I hear them saying... You'll never change things...
MoonShadow Betta Fish Rescue
Saving the world one innocent life at a time

Banned
Join Date: Jul 2008
Location: Central Texas
Posts: 27,607
Very pretty! He looks a lot like my dt plakat, Journey.
He is so cute! I want him!
---
Current Betta:
Mulan: Blue/Green/Red HM Male

Those who now swim in the Rainbow Ponds:
Spike: VT Purple Male
Glaedr: CT Yellow Male
Ezio: DeT Dragonscale Male
Stu (Founder of the obsession): CT Blue Male