Why do people think female bettas are boring and ugly?!
---
OBVIOUSLY they've never seen a happy female!
All 8 of mine are very active and brightly colored, just like the males but with shorter fins.
Just needed to comment on this, because it's annoying!
I just came across a website on how to tell the difference between male and female bettas, and someone said that "female bettas are smaller with greenish or brownish small fins. they look like a different species" and had this photo to go along with it:
FEMALE BETTAS ARE SUPPOSED TO LOOK LIKE THIS:
*Niether of these fish are mine, just had to make a point. Obviously everyone who uses this forum knows the real truth behind female bettas, but you know...ranting was necessary. LOL. Even my mom and boss were like " why would you ever want to start a tank with mostly female bettas? Aren't they boring?"
NO! The best part is, now that my mom has seen my tank with my girls in it, she thinks they are gorgeous. :)
I love female bettas! Whoever says they're ugly and colourless has never seen a tank full of fat, sassy lady bettas <3
I will admit that I was once one of those people who thought females were dull and boring (please don't kill me). Then I picked up a little red/blue traditionally colored gal from Walmart who tried to eat me when I picked up her cup and have been a convert ever since - she's now one the most personable betta I have the pleasure of caring for. lol There may or may not be thoughts of a sorority in my future...

It just seems like a lot of pet store females, at least the ones I've seen, aren't as colorful as the males and are less active. They'd probably color right up and start acting like the females we know and love if put in clean, warm water with more room, but the average person doesn't seem to see that.
Posted via Mobile Device
I will agree with you there. The ones I picked for my sorority were all active and pretty colorful, but MAN are they gorgeous now that they're in a big warm tank! My first female was a drab purple color when I was younger, and I will admit she was nothing special, but I also didn't properly house her - she lived in an unheated bowl. Regardless, she was feisty, and killed my male (I was young and tried to breed them and it was a disaster, don't judge, lol).

I talked to a woman at Petsmart last night who was just raving about females and how gorgeous they were...you don't hear that very often, probably because most bettas aren't properly cared for while at the store. It's too bad, because they really are little gems.


By the way, I think starting a sorority was one of the best ideas I've had. I love it, and my girls have only been in the tank since Sunday!
---
Last edited by carbonxxkidd; 12-27-2012 at

11:41 AM

.
Member
Join Date: Nov 2012
Location: Ohio
Posts: 185
I have some females with coloration like the first picture, and I don't think they're boring at all! That picture looks like an immature female as well, which is going to look more drab. Actually, females were duller than males up until recent breeding efforts brought forth more color.

However, the looks of females are good whichever way (IMO), but their personalities are the real reason to keep them. They're spunky, fiesty, and just generally fun. Also, females are in most need of rescue - I found my first betta ever, a female, shoved in the back of a shelf at petsmart.

Maybe there is something wrong with me...I am fascinated by my girls with stripes. They are young, so it's interesting to see how their colors change over time, if they change at all. The real draw, whatever color they are, is the personality and intelligence of betta fish, male or female.
Females with wild type colouring (like the one in the first picture) do tend to look very drab and 'ugly' when they are washed out and stress striped like that. Unfortunately, in most stores I've been to, females are kept altogether in bare, cramped sorority tanks where they are usually extremely stressed and usually have big chunks taken out of their fins.
I actually prefer female bettas over males. Unfortunately, males seem to usually be the ones that are preferred by stores and sellers here, and most of the females are fairly ordinary in comparison.
This was my sorority full of imported and locally bred females. You cannot tell me that they are boring or ugly!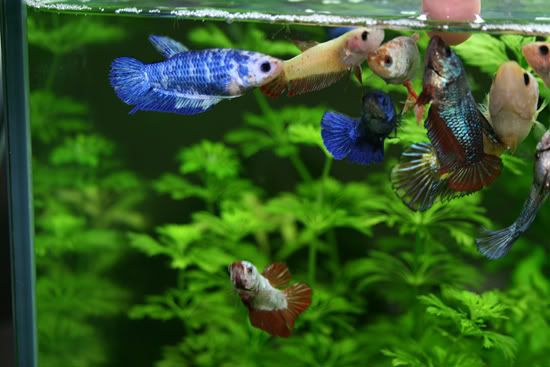 I once
---
Member
Join Date: Nov 2012
Location: I wonder how long and boring this location can be before bettafish.com makes me stop typing this sen
Posts: 300
Quote:
Originally Posted by
LittleBettaFish
View Post
This was my sorority full of imported and locally bred females. You cannot tell me that they are boring or ugly!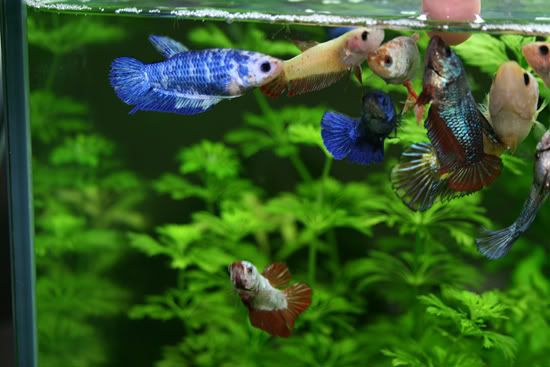 They're adorable!
Also, it seems like 90% or more of females at the local Petcos and Petsmarts are rust-colored cambodians. I have nothing against cambodians, but they're not everyone's cup of tea - especially if youre looking for variety. Has anyone else seen something like this?
Posted via Mobile Device
Petsmart has crap for females. Like you said, cambodians or ones that have so much fin rot you can't tell what color they are. There was a really cool chocolate or mustard gas female there last week, but she basically had no fins and I don't have room to do a rescue otherwise I would have saved her...I bet she's still there. I did get a really nice dark blue one with red fins there though, all my other girls came from Petco. I've seen some very nice ones at Petco, but still A LOT of cambodians! I tried to get a variety for my tank, all different colors, and ended up with two of the same color anyway...they looked slightly different in their cups, but ended up exactly the same, lol. I have photos of all of them in my sorority album, except I don't think I have a solo shot of the girl from Petsmart.

LittleBettaFish, your sorority girls are gorgeous! I especially love that little blue and white marble! I have actually only seen one sorority tank in a LFS around here, and all 6 of the girls were deep purple...I'm thinking they must have been from the same spawn. 3 of my girls came home a bit washed out with stress stripes, but those are gone and they've really brightened up after only 5 days in my tank. :)
Two HUGE fins up! I love female bettas! I DID buy a Cambodian girl from Petsmart; she differs in that her fins are a lovely purple w/white rays. She's getting some black spots, so she's not exactly a Cambodian any more.
I just posted a thread about finding some slightly more exotic-looking girls for my sorority. Males are all the rage. What few advertised females there are cost $$$, and are either paired w/ a male, or intended as single breeding stock. I don't want to be a breeder, just have cute fish! LBF, WHERE did you get those gorgeous girls?!
Female bettas: the Rodney Dangerfeilds of the Betta world- we don't get no respect- no respect at all...