Petsmart...UGH
---
So I went to Petsmart tonight, with the intentions of coming home with one, possibly two bettas. There has been this little mustard gas/chocolate female there -she's brown with orange fins, not sure what color that makes her - and every time I go there I feel like I need to take her home...so I did. My sorority will now have possibly 10 females (if my baby betta is a female), and I'm done with female bettas now, LOL.


Anyway, there was this orange dragon boy there who has been there forever also. He just lays on the bottom of his cup and looks sad, and upon closer inspection there was obvious fungus growing on all of his fins. It almost looked like someone had stuck cotton balls to the ends of his fins, and I pointed it out to a girl there and asked her if she'd give him to me at a discount because I wanted to try and save him. She went to ask her manager, and came back and told me they can't sell sick animals and they'd need to QT him in the back for a few days and see if they could help him. I talked to the manager, her name is Steph, and she's actually really cool most of the time, and she said that she CAN adopt out really sick fish but they need to try to help him first. She also said this particular betta eats very well, and that all the bettas look sad in their cups. Didn't say anything when I mentioned the fungus. I'm kind of mad, because if I would have known they would have said that I would have just sucked it up and paid $10 for him, lol! Plus, 90% of the bettas there have fin rot...so TECHNICALLY they're sick. I didn't say anything about that though, I should have.

I fully plan on going back in a couple days and seeing if he's still there, if so, I'm buying him. I don't even have another tank to put him in at the moment (my 2g will be freed up soon though, once my HMDT's fin rot is cured) but I am fully prepared to go buy another 5g set up and just put him in my bedroom. I just feel so bad for the poor guy.

Betta fever, what have you done to me?
Banned
Join Date: Jul 2012
Location: Virginia
Posts: 9,050
Chocolates have a blue tint. I only have one and put so much money into him.
Haha! I'm experiencing betta fever too! It's hard. But y'know, certain ones you can't say no to.

I really would love a dragon scale, I think Zippy maybe a HMDS but I'm not for certain. Also, if you get him I want pics. You don't see orange bettas often.
---

Dei Vallie ~ HM M Pinkster ~ VT M Rheya ~ CT F Stardust ~ CT M Koi ~ HMPKEE M Zippy ~ HM M Princey ~ PKEE M Zeke ~ HMPK M Toothless ~ HM M Celestial ~ VT F Frost ~ HMPKEE M Unnamed ~ DT M PeachyKean ~ HMEE M Pongo ~ HM M JellyBeanRayne ~ VT F Unnamed ~ DeltaTDS M
Banned
Join Date: Jul 2012
Location: Virginia
Posts: 9,050
I am dying for either Betta Fighter ot Imbellis. They look alike.
I really want him, so if he's back on the shelf in a day or two I will buy him. He looks just like this photo, except he was so clamped and has the fungus growing on his fins, but he will be a very good looking plakat boy when he feels better!
My mom thinks I'm nuts, lol. I currently have 3 tanks set up in my house, including the one for QT, but I really want to put another 5 or 10g in my bedroom. My divided 5g is in my kitchen and my 29g is in my living room, so obviously another is needed somewhere! LOL I want one in every room!
Banned
Join Date: Jul 2012
Location: Virginia
Posts: 9,050
I love that fish. Its not Chocolate though.
Quote:
I love that fish. Its not Chocolate though.
No, that is the orange dragon boy that I wanted to save.
Here is a photo of my girl - now that she's warming up the edges of her orange fins are blue-ish, kind of hard to see if the pic though. She's just going to float in my sorority for a couple days though, want to fatten her up a bit before releasing her to the wolves...haha.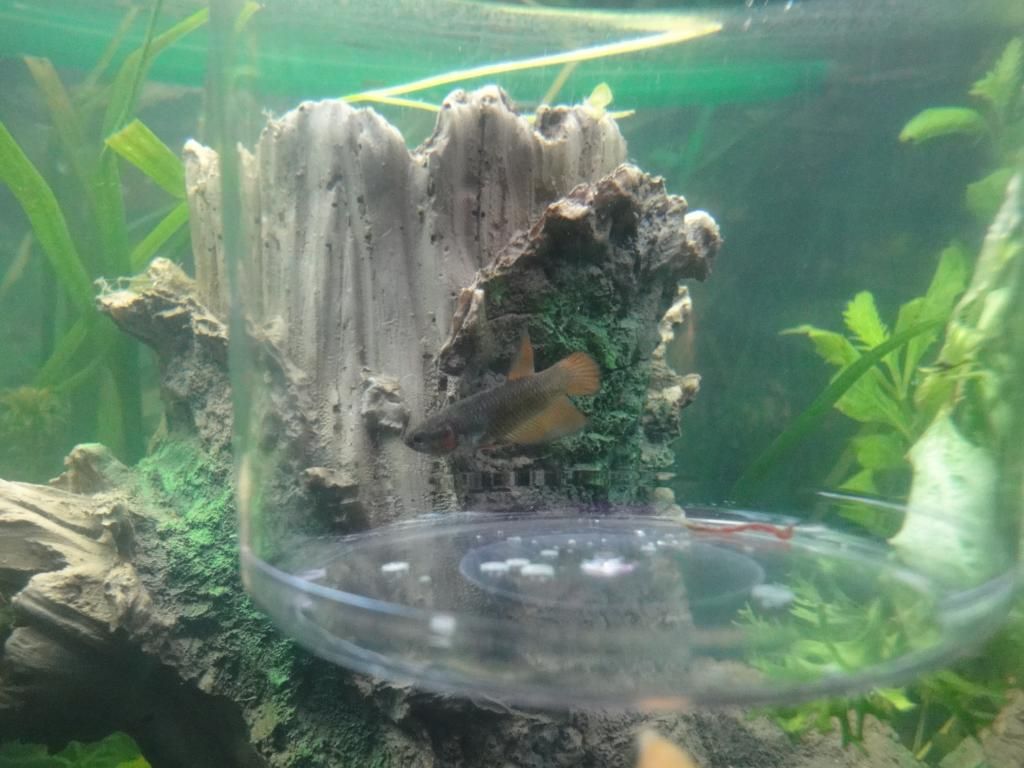 Banned
Join Date: Jul 2012
Location: Virginia
Posts: 9,050
Love that one. It looks Mustard. But the blues hard to catch. So it might be Chocolate. Move the tank around like the decorations then add her.
Yeah, I figured she was either mustard or chocolate, either way she was unique and had been sitting there for a while - there was actually a second one just like her there today too, all the other females were cambodian or blue.

It's basically impossible for me to redecorate my tank, the only movable object that is not a plant is my fake tree log! I'm going to just float her for a while so the other girls can see her and to QT her first and then release her...hopefully all the plants will provide enough cover.
Similar Threads
Thread
Thread Starter
Forum
Replies
Last Post
Petsmart.

Bettawolf19

Betta Chat

21

06-13-2011

11:27 PM

Petsmart

Noko

Betta Chat

8

03-05-2010

07:16 PM