Plenty of room for a little miss then! And all the plants too keep it nice and proper. What do you think Vic? Would a girl work?
Posted via Mobile Device
I had prior been planning a sorority tank for my 10 gallon and hunting for females. Only girls on aquabids have jumped out at me but I am trying to spend money wisely because right now I am paying a fortune in live plants to make sure the 10 gallon was planted heavily before getting more girls. I don't know...my mother wants to take me to a betta shop tomorrow and see if replacing Aquarius would help me but honestly...you can't go and replace him. Just like you can't replace your grandmother or your father. They don't understand what he meant to me I guess.
---
IBC Member since 2013
I get it, but this little girl can be solo. Not a sororiety girl, just a buddy for Bil. Maybe even a mutt with no special colors or pedigree, but who looks at you and makes you smile. She wont replace him. She will be someone new to love and love you back. To train and talk to and learn about
Posted via Mobile Device
Sorry for your loss. I accedentally killed one of my bettas once by over dosing on some medicine by accident I think it was melafix.....:( She wouldnt eat for two weeks. But I eventually got back into bettas, their just so cute! My condolences.
I sucked up one of my best fry last week while doing a water change. Betta can be curious and like to play while doing water changes. It was an accident that has happened to many betta keepers I assure you. Dont beat yourself up. You giving him excellent care. There is another fish out there that needs a person like you!
---
Proud IBC member
You could always give him another ADF to play with. Your tank is plenty big. I hear at petsmart they done have anything to do with ACF, so you wouldn't need to worry too much about QT with them...just a thought since it sounds like you need a short break from bettas for now.
---
10 HM, 3 HMPK, 5 HMPK fry
8 German Blue Ram, 5 Green Dragon BNP, 4 Albino BNP, 4 Calico BNP, 6 Red BNP, 5 Kuhli Loaches, 2 ADF, 7 Peppered Cories, & 6 Tiger Endlers + Fry
12 full time tanks, 4 NPT, 6 QT/Breeders
Member IBC
I wish I had gotten to breed him before this happens, at least then I would have had some part of him with me still.
I'm going to try and see if I can find another fishy to live with Froggins. He's still wedged under the temple Aquarius use to occupy and wont move even if I offer food. I hope he will be alright over the night.
I was driven in my grief to listen to one of my favorite soundtracks and came up with these from two songs on it. He Lives in You and Shadowland from the Lion King musical.
I felt compelled to make that sitting in my room screaming and crying. I started listening to my Lion King sountrack (the musical) when Simba is mourning over his fathers death and doesn't want to go back to pride rock until he is reminded Mufasa isn't dead because he lives on through him. His strength, his memory, and his spirit.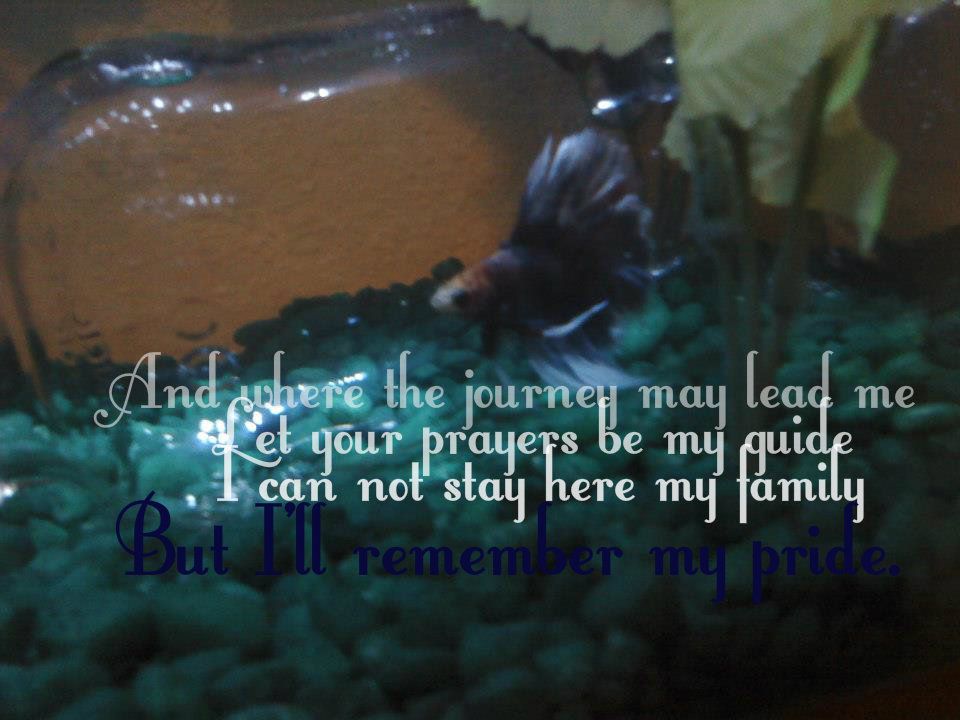 ---
IBC Member since 2013
Member
Join Date: Nov 2012
Location: Santa Ana, CA
Posts: 215
As much as I risk making a mess I always keep the house ready to be clamped in one hand. Having minnows which seem to lack the ability to decide where they wanna dart off to I rather have a quick way of stopping the pressure should one of those buggers gets to close. And mine isn't to easy to clamp it's one of the petco ones sucks really hard. Accidents happen it does not make you a bad betta owner, it does not make it easy either. I'm sorry for your loss but you shouldn't give up on your other bettas. Think about the fishy that past do you think he'd want you to give up on the others?
hope today is a brighter day for you.
---
bettas-goldfish-shrimp-snails-planted tanks
I would agree with a lady frog for Bilbo, a 5 is plenty of space for two.

I felt the same way after something broke into my rabbit's cage and killed my baby, Minion. I had my other rabbits to get me through it though.

Just hang in there, don't give up just yet. Accidents happen, and while it can be hard to deal with (especially with depression), you can keep going. I did.
---
IBC Member