Time to name the baby need help please
---
Sorry for it being long but I want to name him good so I'm telling his story.
Ok I do not name betta fish I get from petco till I know they will live. As its heart breaking to name them then loose them. I have never had a petco betta live more then a week. Usly buy from local or walmart in my area as I personly have better luck there. So the babys caught my eye one day while I was in petco. Before this didn't even know they sold babys. So I sat there shorting thru them all till my other gets cranky Im taking to long lol. wanted one that would be male and not double or crown. so they all had to be looked over carefully sadly some looked like they might not last much longer. so I pick my little one. brought him home did research was horrified to find out how young it was. made me want to cry for all the ones left. where I live I know few if any will find a good home people up here jam them in the damned little jars and will not listen when you tell them its bad all I ever get is its just a fish my kid will probably kill it anyway type answers.
So I set up my 2gal jar thing (had animal crackers in it originally) put the heater in it decorated it up and added the little one. Feed him crushed betta flakes as he is to small for anything else and start up some brine shrimp. So he is for the next 2 weeks fed brine shrimp once a day in the morning and crushed flake at night. After the fisrt couple weeks its brine shrimp every other day and flakes twice a day. The change was amazing to watch he went from a timid little white betta with thos dark stripes to a beautiful bold betta with dark brown body with red fins tipped in brown. after he started coloring up I showed him a mirror to see what would happen. It was funny to watch this teeny little fish try to scare off his refection like he was the baddest fish that ever was. It looked like he was tripping on himself and just flopping around so haphazardly like his fins wer new it was so cute. His tinny neck ruffle puffed up. After that day he got a few minuets of mirror time every day for exercise. flares around the jar after I take it off like hes so proud of scaring off the other fish. comes back to where the mirror was flares a bit more then goes about back to normal. he comes over and shows off when I watch him dosnt seem to get tired of dancing for me begging for more food. I feel I won the baby betta lotto when I got this little one. So far he is second to none. Iv been taking care of betta since I was 5 and he is by far my favorite so he needs a good name. Hes maybe an inch and a half now fins and all. Sorry the pic arnt any good its a phone camera
a couple days out of the store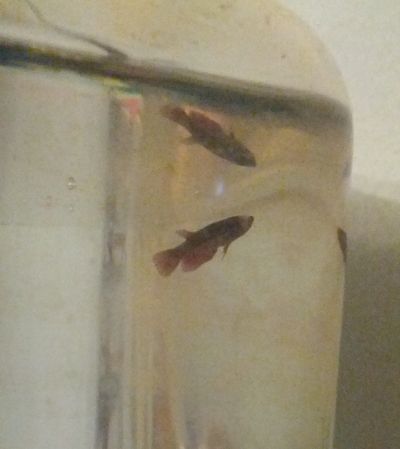 a couple weeks after that
now
---
fish:1 6yr goldfish, 2 1+yr goldfish, 1 molly, 7 guppys, 1 danio, 1 betta(baby), 4 apple snails, red ramshorn snails, 15-20 red cherry shrimp
other: 1 Pomeranian(4yr), 1 cat, 4 parakeets (6mo-3yr), 2 mice
If I owned him, I'd name him either Tobias, Taz, Logan, or King.
---
Flame - Red and Blue Veiltail Male
Oswald - Blue Halfmoon Male