Pass the one month mark!
---
well, its been 1 month+ since I got Sully, and thats quite a big achievement for me already!
Betta's in my country tend to have a life span of up to 1 year (info gathered from other SG keepers)
most of my older bettas tend to live up to 3 weeks with me (die from disease ><) and i'd only had 1 that lived a full year +
is already been 33 days since i last got Sully from the aquarium pet store. and till today he's acting pretty normal : D spread out fins and swimming around looking for food he might have missed around the plants in my aquarium.
and hanging around the corner closest to me when he notices that i'm staring at him, or when he's unhappy that i'm fasting him for blood worms the next day. (he'll clamp his fins and look sick and stare at me for a whole day but then perks up when there's food and becomes completely normal afterwards)
still have a bit more to learn though, all i know is that if i ever see something wrong, its better to up the water changes then randomly find medication in the store. Hopefully he'll pass the 6 months marker, i would be extremely happy if he lives as long as the betta's in the states.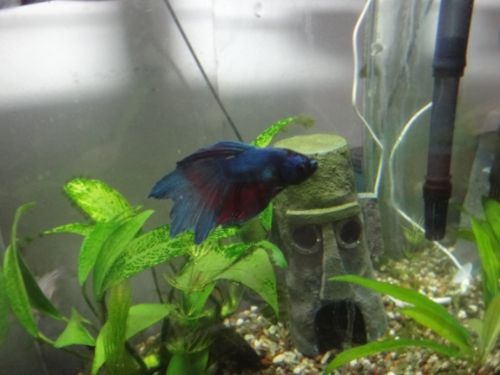 Great job, keep up the good work. I'm sure with a good consistent care schedule he will easily pass the 6 month mark. :)
---
~Budgies and Bettas~